Kiss Rocks Vegas
Artist:
Kiss
Release Date: August 26, 2016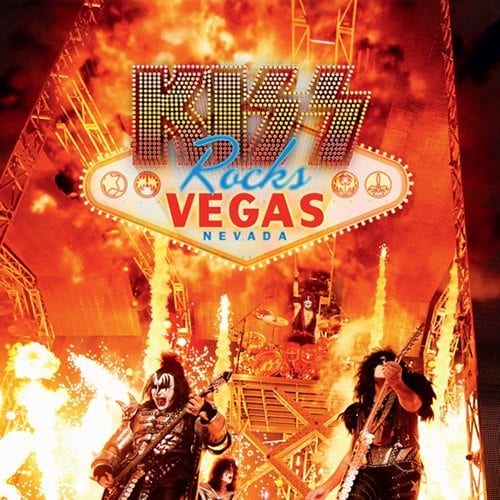 Amazon
Track Listing
1. DETROIT ROCK CITY
2. CREATURES OF THE NIGHT
3. PSYCHO CIRCUS
4. PARASITE
5. WAR MACHINE
6. TEARS ARE FALLING
7. DEUCE
8. LICK IT UP
9. I LOVE IT LOUD
10. HELL OR HALLELUJA & TOMMY SOLO
11. GOD OF THUNDER
12. DO YOU LOVE ME
13. LOVE GUN
14. BLACK DIAMOND
15. SHOUT IT OUT LOUD
16. ROCK AND ROLL ALL NIGHT


ACOUSTIC SET:
1. COMING HOME
2. PLASTER CASTER
3. HARD LUCK WOMAN
4. CHRISTINE SIXTEEN
5. GOIN' BLIND
6. LOVE HER ALL I CAN
7. BETH
About the Album
On August 26, 2016, Eagle Rock Entertainment will unleash KISS Rocks Vegas on DVD+CD, Blu-ray+CD, DVD+2LP, and Deluxe Edition DVD+Blu-ray+2CD.
Captured in the midst of their 40th Anniversary World Tour, the Rock and Roll Hall of Famers sonically shook Vegas during their residency at The Joint at Hard Rock Hotel and Casino in November 2014. This Sin City set sizzles with KISS classics from across their 44 album legacy: "Rock And Roll All Night," "Detroit Rock City," "Shout It Out Loud," "Love Gun," and more. As a bonus feature, Kiss Rocks Vegas includes a seven-song acoustic set. Punctuated with pyrotechnics galore, the film presents the fire, electricity, and one-of-a-kind rock experience that earned KISS over 100 million sales globally.
The Deluxe Edition of KISS Rocks Vegas is presented as a hardcover package with a 12X12 book, boasting photos from the show and an exclusive CD.
more...
"We Rocked and Vegas Rolled ! This was Epic In Your Face KISS ! We got Up close and personal, I think Rock and Roll fans will really enjoy this spectacle that only KISS can deliver." – Paul Stanley
"KaBOOM! We blew up the Joint at The Hard Rock in Vegas like never before. We are very proud of this and know that you will be blown away as well." -Gene Simmons
KISS has been a solid mainstay in the music industry for four decades, and were recently honored by their peers with the illustrious ASCAP Founders Award in 2015. With over 40 years of record-breaking global tours and the expanse of loyal KISS Army members worldwide, KISS continues to entrance generations with their mammoth live prowess, which is on big, bold, LOUD display on KISS Rocks Vegas.
KISS (Gene Simmons, Paul Stanley, Tommy Thayer, Eric Singer) is dedicated to numerous Veterans Organizations including: The Wounded Warriors Project, The USO, The U.S. Chamber of Commerce "Hire A Hero" program, The Legacy Organization in Australia, Help for Heroes United Kingdom and The Dr. Pepper Snapple Groups Wounded Warriors Support Foundations
Image Gallery
Kiss Videos
Kiss Headlines
Alice Cooper will return to the road in 2021 along with longtime friend and KISS guitarist Ace Frehley. The Godfather of Shock Rock announced a 26-date tour this week that will kick off September 17th in Atlantic City. Ace Frehley will join Cooper for 24 dates beginning September 18th in Gilford, Ohio. See below for … Continue reading Alice Cooper Announces Fall Tour with Ace Frehley →

Kiss will team up with Japanese rock star Yoshiki on Tuesday for a New Year's Eve broadcast performance on Japan's NHK network. The performance is part of the annual New Year's Eve "Red and White Music Battle," the country's most-watched television program. The program is also broadcast worldwide. The New Year's Eve performance isn't the … Continue reading Kiss To Appear with Yoshiki for NYE Television Event →