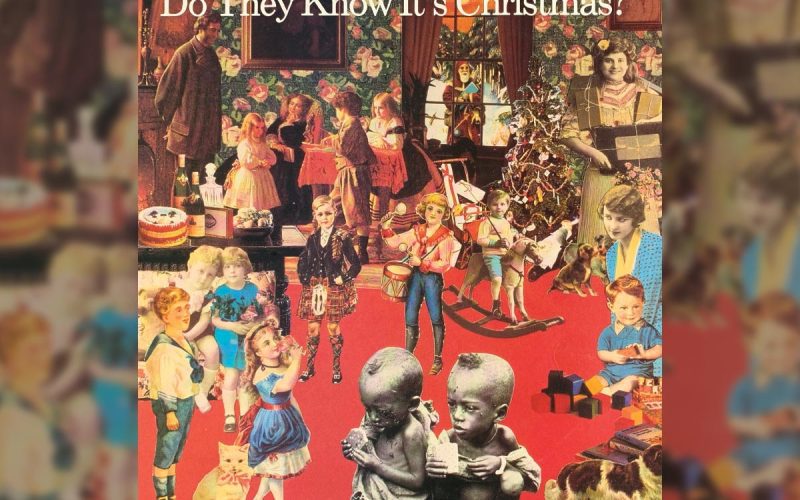 There we were, in mid-December 1984, and Christmas songs were in heavy rotation everywhere. Sleigh bells, reindeer, Santa, and chestnuts roasting. 'Twas the season, and the season was jolly — until good tidings were suddenly being interrupted by a new Christmas song with a decidedly unjolly message of "clanging chimes of doom," "bitter sting of tears," and a "world of dread and fear."
What the hell?
Bob Geldof and Midge Ure were the perpetrators of this new Christmas song, and even they recognize the shortcomings of their holiday creation, "Do They Know It's Christmas?"
"I am responsible for two of the worst songs in history," said lyricist Geldof in 2010 in Australia's The Daily Telegraph. "The other one is 'We Are the World.' Any day soon, I will go to the supermarket, head to the meat counter and it will be playing. Every f—ing Christmas."
Ure, who wrote the music and produced the single, said in his autobiography (If I Was, 2004), "It is a song that has nothing to do with music. It was all about generating money…the song didn't matter: the song was secondary, almost irrelevant."
Okay, so if you're keeping score with us at home, we have a Christmas song with some dark, dark lyrics, and songwriters who volunteer that "Do They Know It's Christmas?" is one of the "worst songs in history" and only "about generating money."
Maybe not the perfect recipe for becoming one of the most enduring songs in the rock & roll era, but certainly one worthy of examination as a classic rock landmark.
Under that examination, "Do They Know It's Christmas?" earns landmark status for two defensible reasons: 1) It's been ubiquitous each and every holiday season since December 10, 1984, the day it landed in America, and 2) It single-handedly started a movement that has raised hundreds of millions of dollars for the betterment of mankind.
And the story of how it came about is remarkable.
Band Aid – Do They Know It's Christmas (1984)
Geldof, who fronts Dublin, Ireland's The Boomtown Rats, was shocked on October 23, 1984, as he watched a BBC News television report on the ongoing famine in Ethiopia. Forty-one days later, "Do They Know It's Christmas?" was in British record stores and on its way to becoming the biggest-selling single ever in England (later topped by Elton John's "Candle In The Wind 1997").
From instigation to release in 41 days is unheard of, especially when the recording involved three dozen musicians, many of them the biggest names in the U.K. at the time, one of whom (Boy George) was asleep in New York City mere hours before he recorded his vocal in London, and all of whom agreed to earn exactly no money for their efforts.
From 1983 to 1985, Ethiopia, a country of nearly 40 million in central-eastern Africa, suffered its worst famine in a century. With approximately one in five Ethiopians affected (7.75 million people), 1.2 million died, 2.5 million were left homeless, and nearly 200,000 children orphaned.
Still reeling from what he'd seen on the BBC 13 days earlier, Geldof met on November 5 with Ure, the singer and multi-instrumentalist in England's Ultravox, to discuss recording a charity record.
The clock started clicking — loudly — after their talk, and both men dove forthwith into this unfathomable project. Geldof took on the role of ringleader and immediately began recruiting for a song that didn't yet exist. Sting and Duran Duran's Simon Le Bon said yes right away, and then kismet joined the fun.
"The same day I was passing by this antique shop and who is standing in there but [Spandau Ballet guitarist/keyboardist] Gary Kemp," Geldof told Melody Maker in 1984. Spandau Ballet were heading off on a short tour of Japan, but if Geldof could wait 10 days until they got back to London he could count on their help. "Suddenly it hit me," Geldof said in Melody Maker, "I thought, 'Christ, we have got the real top boys here,' all the big names in pop are suddenly ready and willing to do this…I knew then that we were off, and I just decided to go for all the rest of the faces and started to ring everyone up, asking them to do it."
Over the next 20 days, Geldof and Ure wrote the song — covering a standard would require proceeds-eating royalties — which turned out to be easier than expected because Geldof already had a song called "It's My World" that the Rats had rejected. "I knew it would be suitable," he's said, "if I just changed the words a bit and called it 'Do They Know It's Christmas?'" Ure wrote some music with a Christmassy feel and voilà! "Do They Know It's Christmas?" was born.
Then the real work began. The song still needed to be arranged, recorded, mixed, pressed, publicized, and released, with no time to spare. While Ure spent the next few days creating the backing track, Geldof got busy contacting as many of the British and Irish elite as he could, asking each of them to donate their time and voice for the cause.
And nearly all of them said yes. Bowie, McCartney, and The Thompson Twins couldn't make it but would have if they could have, and Geldof said that three unnamed artists flat turned him down. "No, thank you, I don't want to be a part of history whilst doing something incredibly nice for humans who are suffering greatly" is what their refusal amounted to.
The 36 artists who assembled at Sarm West Studios in London on Sunday, November 25, 1984 — just 20 days after Geldof and Ure first discussed doing the song — were the top of the recent U.K. pop charts anthropomorphized. Paul Young, Boy George of Culture Club, George Michael of Wham!, Simon Le Bon of Duran Duran, and Bono of U2 took turns on lead vocals, Sting, Tony Hadley of Spandau Ballet, Paul Weller of The Style Council, and Glenn Gregory of Heaven 17 shared harmony vocals, and the larger-than-life "Feed the world" chorus featured all of those singers plus Geldof, Ure, Phil Collins of Genesis, Bananarama, Duran Duran, Robert "Kool" Bell of Kool & The Gang, and members of Status Quo, Ultravox, The Boomtown Rats, Culture Club, and Spandau Ballet.
Because the song had to be recorded and mixed in just 24 hours, no time could be wasted on egos or eccentricities, but with that many people in tight quarters under that kind of pressure, quibbles were inevitable. Ure had to repeatedly tell Geldof to leave the control room and quit telling the singers how to sing their parts; Weller and Michael got into a bit of a dustup; and Bono wanted no part of the line Geldof had chosen for him, the condescending, "Tonight, thank God, it's them instead of you." "It's the most biting line," Bono is quoted in the book U2 By U2, "and actually reveals how selfish a mindset we all have underneath. I told him I didn't want to sing the line. [Geldof] said, 'This is not about what you want, OK? This is about what these people need.'" In the end, Bono accepted his lot and ultimately made it one of the more powerful moments of the song. "I knew it needed some force, the line," he said in the book. "I kind of did an impersonation of Bruce Springsteen, that was really what was in my mind."
Recorded and mixed in an absurdly short period of time, "Do They Know It's Christmas?" was pressed and released in an even more absurdly short period of time. Amazingly, the single arrived in U.K. record stores just eight days after it was recorded, on December 3, 1984, and in American stores a week after that (a typical single might have taken a couple of months or more to get into stores after it was recorded). England's BBC Radio 1 started playing it every hour, which led to advance U.K. orders of 250,000; five days after its release, record store orders had topped a million. A #1 song in 14 countries, "Do They Know It's Christmas?" had sold nearly 12 million copies worldwide by 1989.
Not only had all those recording stars come together on short notice and donated their time, the people of the world came together in a show of unprecedented solidarity and compassion. What Bob Geldof and Midge Ure had envisioned over lunch on November 5 had truly become an overnight sensation on a scale unlike anything before it.
Geldof hoped that "Do They Know It's Christmas?" might raise £70,000 for Ethiopia. Instead, it raised £10 million (about $13 million in U.S. dollars at the time, roughly $45 million in today's dollars).
Beyond the millions of dollars that it raised for Ethiopian famine relief, "Do They Know It's Christmas?" paved the way for Geldof and Ure to dream up Live Aid, a pair of simultaneous, star-studded benefit concerts held in London and Philadelphia on July 13, 1985, in front of a combined audience of 162,000 people. On that same day, concerts inspired by Live Aid were also held in the Soviet Union, Canada, Japan, Yugoslavia, Austria, Australia, and West Germany. Live Aid, also a monumental broadcast success, was watched on TV by an estimated 1.9 billion people in 150 nations — nearly 40 percent of the world's population — and raised a couple of hundred million dollars for famine relief. And hundreds of millions more dollars came in from the United Nations, world governments, and other relief organizations.
"Do They Know It's Christmas?" at Live Aid, July 1985
In the months following "Do They Know It's Christmas?" the template created by Geldof and Ure was used several times to add to Ethiopian famine relief: American music stars calling themselves USA For Africa recorded "We Are The World"; "Tears Are Not Enough" was recorded by a Canadian supergroup under the name Northern Lights; "Cantaré, Cantarás" was done by a group of iconic Latin American and Spanish singers called Hermanos; Chanteurs Sans Frontières did "Éthiopie" in France; and Fondation Québec-Afrique's recorded "Les Yeux De La Faim" in Quebec, Canada.
We Are The World: In Order of Appearance
It's truly a testament to what one person can do if amply motivated. In less than a year, Bob Geldof, with the help of many, raised an unbelievable amount of money to help millions of suffering humans and in the process altered the collective consciousness of planet Earth.
"We took an issue," Geldof has said, "that was nowhere on the political agenda and, through the lingua franca of the planet — which is not English but rock & roll — we were able to address the intellectual absurdity and the moral repulsion of people dying of want in a world of surplus."
And sadly, Geldof wasn't able to revel in his magnificent accomplishment. According to Songfacts, when he was asked by Radio Times in 1985 if he was proud of his work to end hunger, he replied: "Not at all, it's exhausting and a total bore if you want to know truth. It's not fulfilling at all. I'm endlessly frustrated."
Thirty-five years later he told The Associated Press that he "hated" the praise he received over "Do They Know It's Christmas?" and Live Aid. "It became impossible," Geldof said. "For a while I was bewildered. I didn't have much money at the time. It impinged entirely on my private life." Bob Geldof may have saved the lives of countless people, at the cost of his own marriage and career. "I wasn't allowed to go back to my job. I'm a pop singer. That's literally how I make my money. That's my job," he said. "And no one was interested. Saint Bob, which I was called, wasn't allowed to do this anymore because it's so petty and so meaningless. So, I was lost."
Despite his personal losses, Geldof has teamed with Ure to resurrect "Do They Know It's Christmas?" several times since; the original version was rereleased the following year, and they've rerecorded it in 1989, 2004, and 2014 with different lineups (as Band Aid II, Band Aid 20, and Band Aid 30, respectively). In 2024, Geldof and Ure will have the opportunity, if they choose, for Band Aid 40.
Band Aid was an apt name for Geldof's and Ure's pop-up supergroup, because as Geldof and Ure well knew in the fall of 1984 "Do They Know It's Christmas?" was only ever intended to help save lives in the moment. Like a band-aid does nothing to stop the cause of the bleeding, they knew they wouldn't be solving the root cause of the famine.
Ure told Songfacts in 2015 that the song "did its job phenomenally." That job, Ure has said, was to "touch people's heartstrings and to loosen the purse strings."
To many, the 1980s were epitomized by the "greed is good" attitude of Michael Douglas' ruthless Gordon Gekko character in the film Wall Street. But Geldof saw the decade differently. "To me, the '80s were characterized by overwhelming generosity and kindness," he's quoted in the book I Want My MTV. "For whatever reason, this song — not a particularly good song — tapped into a groundswell of compassion.
"We never said we'd eliminate world hunger, but we could draw attention to a monstrous human crime, a moral and intellectual absurdity. It worked."
The Band Aid Story (2004 documentary)