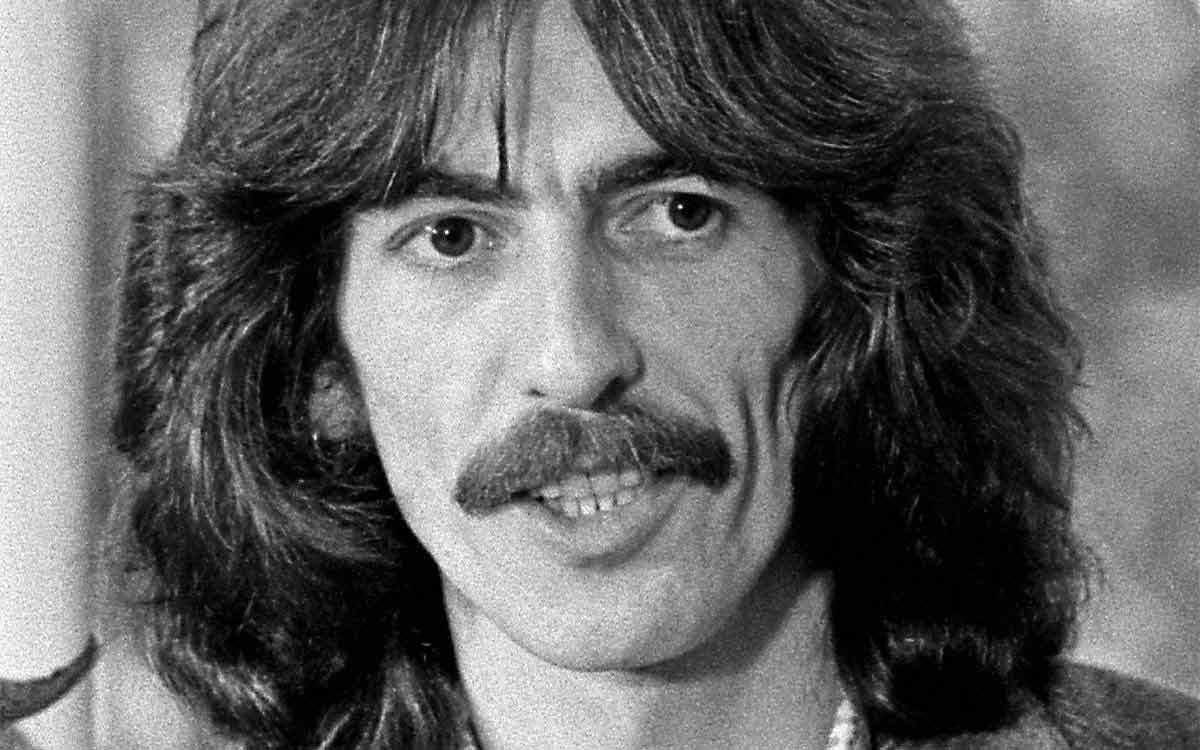 George Harrison was often referred to as "the quiet Beatle" — but context is important. When he got that nickname, George was not only the youngest member of the band, he was also — to use his words — "an economy class Beatle," forever in the shadows of John Lennon and Paul McCartney. In fact, he was far from quiet. Michael Palin, a member of the Monty Python comedy troupe and a good friend of George's, once said, "He never stopped talking when I was with him." Fellow Traveling Wilbury Tom Petty was even more direct:, claiming "He never shut up." It just took him a while to come into his own.
George was born on February 25th, 1943, the youngest of four children and the only Beatle to grow up in a loving household. Beyond his extensive musical legacy, he was one of the first Western celebrities to practice TM (Transcendental Meditation) and he organized what was arguably rock and roll's first massive benefit with 1971's Concert for Bangladesh. He was also the first Beatle to release a solo album and the first to score a #1 hit. He was a complex guy: spiritual but sarcastic, a man whose hobbies outside of music ran the gamut from gardening to auto racing. It's hard to believe that George was not yet 59 when cancer claimed him in late 2001. But if Ben Franklin was correct when he said, "Wish not so much to live long as to live well," he had a pretty great life.
In honor of what would have been George's 79th birthday, we have compiled a list of 20 essential Harrisongs. These songs are taken from his years with The Beatles, his solo career and even from his third act with the Traveling Wilburys.
Listen to our 20 Essential Harrisongs on Spotify >
20

Blue Jay Way (1967)

George's contribution to The Beatles' Magical Mystery Tour soundtrack was a spooky, psychedelic tune that he wrote based on an actual experience. He was in Los Angeles, reportedly waiting for Beatles' press officer Derek Taylor, to arrive. It was a foggy night, and Taylor (a fellow Liverpudlian) had gotten lost. Hence the song's opening line, "There's a fog upon LA/And my friends have lost their way."
---
19

This Song (1976)

"This Song," from George's 1976 solo album Thirty Three & 1/3, was another autobiographical tune. A catchy song, it was written in response to the recent high profile court case in which he was sued for plagiarizing the melody to "My Sweet Lord" from The Chiffons' 1962 hit "He's So Fine."
---
18

Handle With Care (1988)

In addition to just being a great pop song, "Handle With Care" has the distinction of being the first track ever recorded by The Traveling Wilburys. Originally intended as a throwaway B-side, it prompted Harrison and Jeff Lynne (his then-producer and ELO leader) to compile a supergroup. Along with Harrison and Lynne — AKA Nelson and Otis Wilbury — this group included Lucky Wilbury (Bob Dylan), Lefty Wilbury (Roy Orbison) and Charlie T. Wilbury Jr (Tom Petty). So much talent, so little ego!
---
17

I Want To Tell You (1966)

"I Want To Tell You" was one of three songs George contributed to Revolver (which happens to be this writers' favourite album by the Fabs!). It was the first time he had been allowed more than two songs on an album. "I Want To Tell You" featured appealingly off-kilter piano chords and lyrics that reflected some of the thoughts George had had while on LSD.
---
16

Crackerbox Palace (1976)

Another entry from George's Thirty Three & 1/3 disc, "Crackerbox Palace" was a whimsical, midtempo song and a moderate hit. It was inspired by his encounter with another George — George Greif, who had managed one of the former Beatle's favourite comedians, the late Lord Buckley. Upon hearing this, Greif invited George to Lord Buckley's house — which was nicknamed Crackerbox Palace.
---
15

The Inner Light (1968)

"The Inner Light" did not appear on any of The Beatles' original studio albums. Rather, it was the B-side of their 1968 single "Lady Madonna." This was George at his most spiritual. To wit: "Without going out of my door, I can know all things of Earth/Without looking out of my window, I could know the ways of heaven/The farther one travels, the less one knows/The less one really knows."
---
14

If I Needed Someone (1965)

"If I Needed Someone" was one of two Harrisongs featured on The Beatles' Rubber Soul album. It featured a distinctly Byrds-y guitar line and some great harmonies from Lennon and McCartney. Ironically, it was written not long after "I Need You" (see #13).
---
13

I Need You (1965)

"I Need You," which appeared on The Beatles' Help! soundtrack, was only the second song George wrote for the band. A mid-tempo love song, it was notable for the way John Lennon adjusted the guitar volume pedal throughout. Tom Petty and the Heartbreakers performed "I Need You" at The Concert for George in 2002, while it has also been covered by Steve Perry and the late Phil Seymour.
---
12

Devil's Radio (1987)

Though it wasn't a single, 'Devil's Radio" — from George's 1987 comeback album, Cloud Nine — got some airplay on AOR stations back in the day. It's an excellent rocker about the perils of gossip.
---
11

Piggies (1968)

George's four contributions to 1968's The Beatles (better known as "The White Album") were all excellent and all distinct from each other. "Piggies" was a short piece of social commentary in which he compared the farm animals to "the bigger piggies in their starched white shirts." Orwell would have approved.
---
10

Give Me Love (Give Me Peace on Earth) (1973)

"Give Me Love (Give Me Peace on Earth)," a plaintive plea for peace, appeared on 1973's Living in the Material World. It became George's second #1 hit. 
---
09

Any Road (2002)

The jaunty "Any Road" has many distinctions. It was the opening track from George's final album, the posthumous Brainwashed. It was nominated for a Grammy for Best Pop Male Vocal Performance. And it features his son Dhani on electric guitar. "Any Road" managed to be catchy and existential at the same time.
---
08

All Things Must Pass (1970)

The title track of George's first "official" solo album, "All Things Must Pass" actually had its origins while The Beatles were still together. Another existential song, it was given a majestic production treatment by Phil Spector.
---
07

While My Guitar Gently Weeps (1968)

"While My Guitar Gently Weeps" was by far the most popular of the four tracks George contributed to The White Album. He wrote it while visiting his parents in Cheshire,  shortly after returning from a trip to India. Ironically, the song's lead guitar parts were played not by George himself but by his good friend (and fellow guitar legend), Eric Clapton.
---
06

Got My Mind Set on You (1987)

George returned from a five-year hiatus in 1987, with the Cloud Nine album (which was indeed his ninth solo album, not counting the two instrumental efforts he released while still with The Beatles). Cloud Nine was a critical and commercial success, spawning his third #1 single, "Got My Mind Set on You." It may have seemed an unlikely choice for a comeback hit, as it was actually a cover of an obscure tune from 1962. The song was originally recorded by R&B singer James Ray and relegated to B-side status!
---
05

Here Comes the Sun (1969)

If there was any doubt that George's songwriting was growing by leaps and bounds, The Beatles' 1969 album Abbey Road put them to rest. George wrote "Here Comes the Sun" — which opens side two — while sitting in Eric Clapton's garden one afternoon, feeling encouraged by the arrival of spring and a temporary respite from The Beatles' business dealings. It remains one of Abbey Road's most popular songs — and it's the lesser of his two contributions!
---
04

Within You Without You (1967)

George had dabbled with Indian music before — but on "Within You Without You," he went all in (to use an extremely Western phrase!). This was his sole contribution to The Beatles' landmark album Sgt. Pepper's Lonely Hearts Club Band — but that hardly mattered. "Within You" sounded like nothing else — either on the album or on the pop charts. It was five minutes of sitars and Eastern philosophy.  "When you've seen beyond yourself then you may find peace of mind is waiting there," sang George. "And the time will come when you see we're all one and life flows on within you and without you."

Sgt. Pepper by the Numbers:
Every character on the Iconic Beatles album cover
---
03

My Sweet Lord (1970)

A simple song with a complicated history, "My Sweet Lord" got George's solo career off to a cracking start. It was his first single as a solo artist and both it and All Things Must Pass (the album from which it was taken) topped the charts. "My Sweet Lord" became the biggest selling single of 1971 and made George the first of the Fabs to have a #1 hit. Not bad for a song that he almost gave to Billy Preston and which had simple lyrics about wanting to be closer to God.

It wasn't the lyrics that caused the problem, however. As early as 1971, Bright Tunes Music Corporation filed suit against Harrison, alleging copyright infringement of "He's So Fine," a song written by the late Ronnie Mack which was a hit for The Chiffons in the early 1960s. The lawsuit dragged on for years and, when all was said and done, George had to pay more than half a million dollars in damages for unconsciously plagiarizing that song's melody. He addressed the whole episode five years later in "This Song" (see #19).
---
02

Taxman (1966)

On the 1966 album Revolver, George not only got three songs on a Beatles record for the first time, he also scored the opening track — and it was a great one! "Taxman" was a snappy rocker that he wrote after learning that The Beatles were paying more than 90 percent of their earning to the English Treasury. Although written by George, it featured a guitar solo from Paul McCartney.
---
01

Something (1969)

As if "Here Comes the Sun" wasn't enough, George also contributed "Something" to The Beatles' 1969 album Abbey Road. Generally considered a love song for George's first wife, Pattie Boyd, it was released as a two-sided single with John Lennon's "Come Together" and topped the charts here and abroad.

"Something" also has the distinction of being one of The Beatles' most widely covered songs, second only to "Yesterday." It has been recorded by everyone from Smokey Robinson to Joe Cocker, from Elvis Presley to Shirley Bassey, and from Booker T. & the MG's to Frank Sinatra. Sinatra, in fact, called it "the greatest love song of the past 50 years" (although he mistakenly thought it was written by Lennon and McCartney!). In any case, it stands as George's crowning achievement and one of the best love songs ever written.

Backstage Access:
George Harrison – The Beatles' Secret Sauce and So Much More!
Listen to our Essential George Harrison list on Spotify