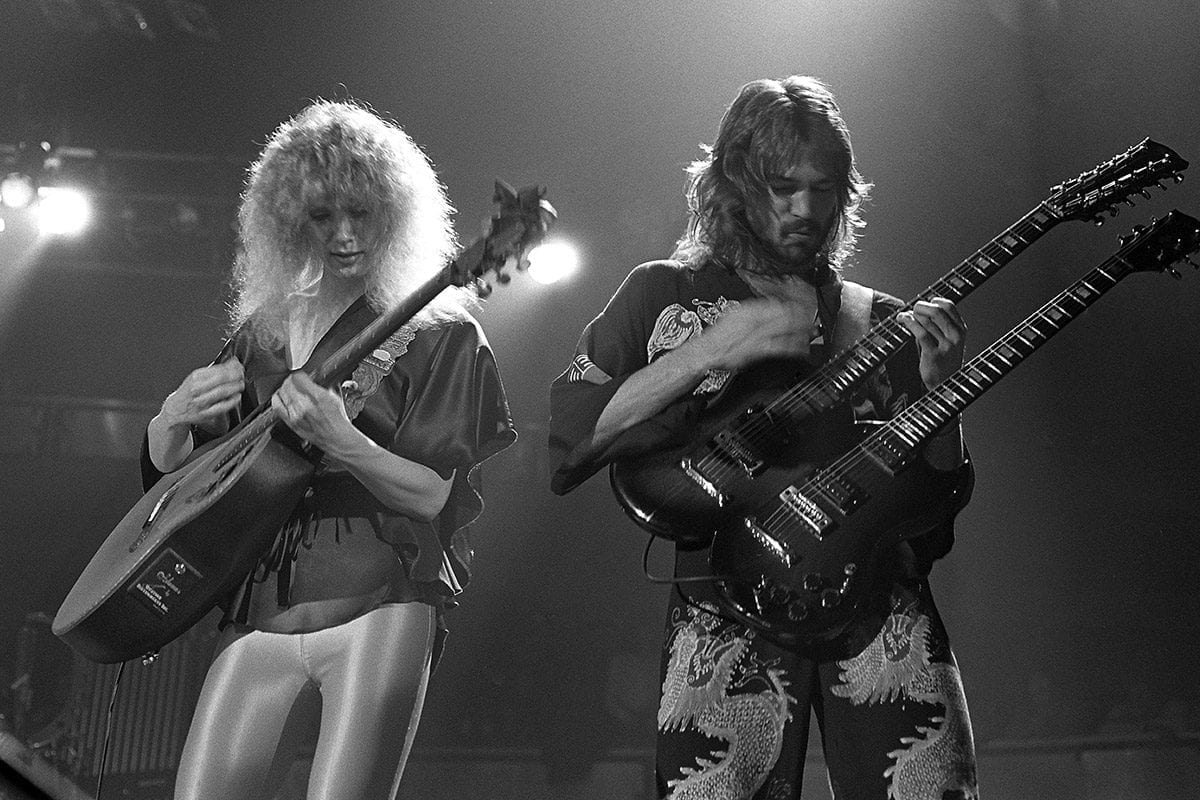 Yeah, you may say you're over Valentine's Day, but what if your significant other showed up with a throwback boombox and cranked one of these for you? Admit it…you'd love it! Here's our list of the ten most romantic classic rock songs to impress even the most icy heart.
10

"Crazy on You" by Heart

This debut single from Heart starts off acoustically slow and then builds into a straight ahead rocker. Lead singer Ann Wilson was at the time dating Heart guitarist Mike Fisher, who had fled to Canada to avoid the draft.
---
09

"More Than Words" by Extreme

Extreme departed from their funk/rock style with this straight ahead ballad extolling that love is "more than words" and simply saying the overused "I love you." Described as both a "blessing and a curse" by the band when it first was released, it nevertheless catapulted them into international stardom and now is a key part of their live show.
---
08

"Keep On Loving You" by REO Speedwagon

On their 9th album release, REO Speedwagon finally broke through the radio clutter with their first #1 song. It propelled their album Hi Infidelity to sales of over 10 million, and cemented the band as an MTV staple in the early 80s.
---
07

"All I Want is You" by U2

Written for singer Bono's wife Ali, this beautiful ballad features string arrangements from Van Dyke Parks, frequent Beach Boys collaborator. The Edge frames the song at the end, echoing Bono's final screams.
---
06

"Sweet Child O' Mine" by Guns N' Roses

Initially just a "circus" melody that Slash was messing around with in a band warmup, this song became Guns N' Roses' first #1 hit from their debut album. A true collaboration between all the members, Axl fashioned the lyrics around his relationship with then-girlfriend Erin Everly. "Where do we go? Where do we go now?"
---
05

"Something" by The Beatles

This was the first time the Beatles released a George Harrison song as their lead single. The song was a tribute to Harrison's two loves, his wife Pattie Boyd and God. Boyd was also a muse to Eric Clapton (her future husband) who wrote "Layla" for her. Lucky lady!
---
---
04

"Wonderful Tonight" by Eric Clapton

Wait, yet another song about Pattie Boyd? Yes, it's true. While waiting to attend a party at Paul and Linda McCartney's house, Clapton said he "knocked this song out" while waiting on Boyd to get ready. After their divorce, Boyd said, "'Wonderful Tonight' was the most poignant reminder of all that was good in our relationship, and when things went wrong it was torture to hear it."
---
03

"You Make Lovin' Fun" by Fleetwood Mac

Although Christine and John McVie were married for 8 years while in Fleetwood Mac, this is McVie's tribute to her new love, Curry Grant, who was the band's lighting director. Did you know that McVie was also engaged to Dennis Wilson of The Beach Boys for 3 years?
---
02

"Faithfully" by Journey

Lighters up! If you've ever experienced Journey performing this song in an arena, it's a beautiful sight. Written by Jonathan Cain, the song came together in a matter of hours and was about how difficult it is to remain faithful as a touring musician. Ironically, soon after the song's release, he and his wife divorced.
---
01

"I Wanna Know What Love Is" by Foreigner

This #1 worldwide hit was written by Foreigner founder Mick Jones and became their biggest hit. Jones said, "I think there was something bigger than me behind it. I'd say it was probably written entirely by a higher force."