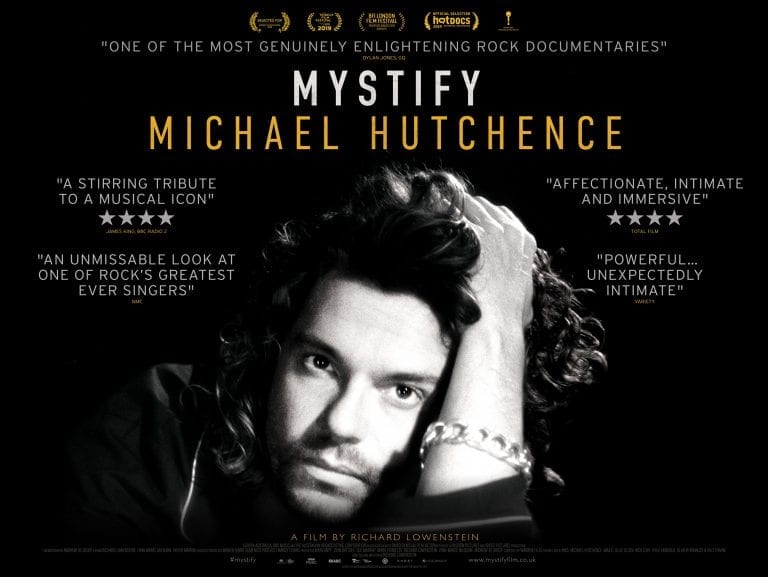 An October release has been set for the new documentary Mystify: Michael Hutchence. Written and directed by Richard Lowenstein, the film delves into the life story of the charismatic INXS frontman and the events leading up to his untimely death in 1997.
Using rare archival footage, the doc offers unique insights from friends, family, colleagues and even Hutchence himself. It examines his fractured childhood and tracks his life as he reaches the peaks of rock stardom, through to his growing depression and the subsequent unraveling of his personal and professional life.
Mystify also features interviews with Tina Hutchence, Rhett Hutchence, Garry Garry Beers, Kirk Pengilly, Michele Benett, Helena Christensen, Bono, Kathy Lette, and Kylie Minogue, among others.
Minogue, who was in a relationship with Hutchence from 1989 to 1991, even shared personal photos and home videos with the film's director. In an interview with NME, Lowenstein describes how "terrified" he was of losing his suitcase on the trip home after Minogue turned over the images.
"I'm like, 'are you insane?' The tabloids will go mad. If the wrong people get their hands on this it could go crazy," Lowenstein said. "I was taking this footage on the aeroplane and felt like I should have a briefcase handcuffed to my wrist. What if I was to leave it above the seat? She was just incredibly trusting and a completely wonderful person. I don't think the film would have been the film if it wasn't for her and her faith. I can't say enough."
Lowenstein – who directed the majority of INXS and Hutchence's music videos as well as the 1986 feature film, Dogs in Space, in which Hutchence played the lead – also discussed how he first contacted Minogue after twenty years apart.
"We had been friends back in the Michael days, and we'd spent a fair bit of social time together, we went on holiday to Michael's villa in the south of France," he explained. "We hadn't kept in contact for 20 years, so I put in the normal request with her management, expecting her to be friendly but guarded.
"But Kylie is renowned to be an incredibly lovely person and always has been. Within ten minutes of the audio-only interview in a dark studio, she just felt safe and we knew each other and she'd seen the film's pitch trailer. She had this belief and faith that we were going to do something from an honest and an authentic position."
He added: "She just opened up and offered me her footage that she'd only recently re-discovered. She then came to Melbourne six months later and did another long interview, and had four-five hours of her being incredibly honest about her own feelings and what had happened."
Mystify debuted at this year's Tribeca Film Festival where it was nominated for Best Documentary and will be released on October 18 in the UK, no word yet on the U.S. release date. Check out the trailer below.