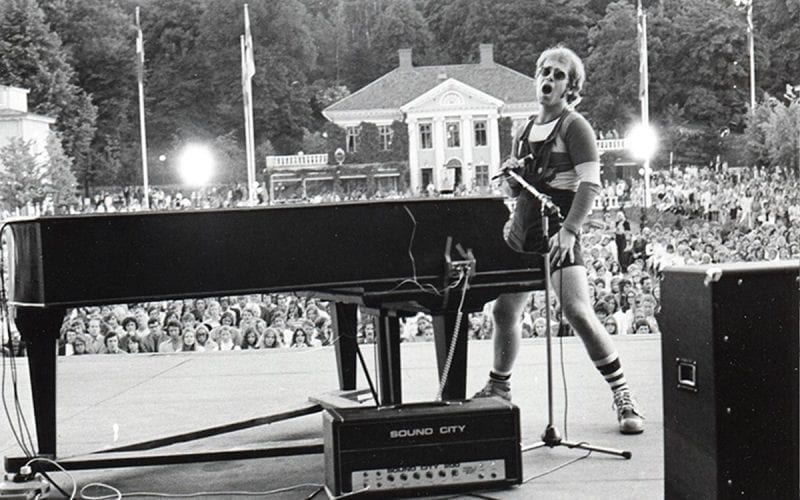 "Hold me close, young Tony Danza."
In a 1996 episode of Friends, Phoebe Buffay, the endearing knucklehead played by Lisa Kudrow, said that the most romantic song ever was the one Elton John wrote for the guy on Who's The Boss. "Hold me close, young Tony Danza."
Never mind that Tony Danza, who first gained national notoriety in 1978 on the hit TV series Taxi and later starred on Who's The Boss, was an unknown college student in 1970 when Bernie Taupin wrote the lyrics to "Tiny Dancer."
The actual lyrics, "Hold me closer tiny dancer," were written by Taupin during the Englishman's first trip to the U.S., and the song made its relatively unassuming world debut on November 5th, 1971, as the opening track on Elton John's fourth album, Madman Across the Water.
Okay, so "Tiny Dancer" wasn't written for Tony Danza. Sorry, Pheebs. But who was Elton John singing about in the song that 50 years after its release Rolling Stone magazine named the 47th greatest song of all time?
Would you believe that when Elton recorded "Tiny Dancer" at London's Trident Studios in August of '71 he crooned those tender, loving words about Bernie Taupin's wife Maxine?
Well, sort of.
Taupin was a would-be poet in 1967. Just 17, he answered a Liberty Records ad in England's New Musical Express newspaper; the label was looking for songwriters, so he sent in some of his words. A 20-year-old piano player named Reggie Dwight saw the same ad. He was backing Long John Baldry at the time but looking to branch out on his own, so he sent in a tape of his music. Taupin didn't play music and Dwight didn't write words, so someone at the record label gave Reg a random sealed envelope from among the submitted lyrics — by happenstance, it was Bernie's.
Twenty-five years later, Taupin and Dwight, who changed his name to Elton Hercules John shortly after their chance meeting, were inducted into the Songwriters Hall of Fame. And the process has always pretty much been the same: Taupin writes some words, and Elton adds some music. They've done this together hundreds of times, and occasionally that has put Elton in the awkward position of singing words that are quite personal to Bernie. Such is the case with "Tiny Dancer."
Elton John played his first show in America in August of 1970 at the famous Troubadour club in West Hollywood, California (which has hosted early shows for a startling number of future superstars, including Jackson Browne, The Byrds, Carole King, Bonnie Raitt, James Taylor, Eagles, and Linda Ronstadt). Bernie Taupin wrote the words to "Tiny Dancer" around this time.
"It seemed like sunshine just radiated from the populace," Taupin once said. "I guess I was trying to capture the spirit of that time, encapsulated by the women we met, especially at the clothes stores and restaurants and bars all up and down the Sunset Strip. They were these free spirits, sexy, all hip-huggers and lacy blouses, very ethereal the way they moved. They were just so different from what I'd been used to in England. They had this thing about embroidering your clothes. They wanted to sew patches on your jeans. They mothered you and slept with you. It was the perfect Oedipal complex."
When he started writing the lyrics, Taupin's "blue jean baby" wasn't one woman, but rather a fusion of the women he was encountering. One of those women, Maxine Feibelman, soon became Taupin's girlfriend, and by the time Elton recorded the song she was Mrs. Taupin ("you'll marry a music man"). Though Maxine was initially just one of the California women who had inspired Taupin's lyrical musings, "Tiny Dancer" wound up being dedicated to her in the liner notes on Madman Across the Water. And why not? Maxine, so the story goes, actually did sew patches on Elton's clothes ("seamstress for the band") and the Rocketman has been quick to credit her with inspiring his lavish stage get-ups.
Producer Gus Dudgeon, who had also helmed Elton's previous three albums, arranged "Tiny Dancer" around Elton's circular piano figure and his soft, vulnerable voice (as if he's singing to a lover lying next to him). As the song builds, his voice ultimately surges into an authoritative falsetto just as the arrangement explodes into an onslaught of Elton's piano stabs augmented by an understated choir of 10 and Paul Buckmaster's dramatic strings. An ever-present pedal steel guitar gives the song an underlying Americana feel, a carry-over from John's Tumbleweed Connection LP from the year before.
"Tiny Dancer" runs a lengthy 6-plus minutes and because of the way it builds from soft to heavy there was no effective way to cut it down to the three-minute presentation that radio demanded. Moreover, too many radio programmers freaked out over the line, "Jesus freaks/Out in the streets," so "Tiny Dancer" never really stood a chance of being a hit single when it got its shot in 1972; its #41 showing on the U.S. pop chart was disappointing and anything but indicative of the song's popularity. Fortunately, the nascent progressive FM rock radio format wasn't off put by the length or the politically incorrect line, so "Tiny Dancer" got a chance to be heard by a growing audience.
But despite "Tiny Dancer" being a favorite of classic rock radio for decades, it took on a whole new life in 2000 when writer/director Cameron Crowe used it in a pivotal moment in his semi-biographical, rock & roll-insider flick Almost Famous. With the movie's fictional band Stillwater fractured after the guitarist had fallen victim to a stereotypical rock star moment, the band finds itself on the tour bus in a make-or-break situation when Elton's piano begins to play softly underneath the palpable awkwardness. Viewers knew in that moment, even if the band didn't quite yet, that everything was going to be okay. It's truly one of the great scenes in rock & roll movie history.
"Tiny Dancer" in the film Almost Famous
It's not as though "Tiny Dancer" was a forgotten song until Almost Famous (just ask Phoebe Buffay), but the movie gave it a life it had long deserved but never fully enjoyed.
Just ask Elton Hercules John.
"I used to play 'Tiny Dancer' in England and it would go down like a lead zeppelin," he told Rolling Stone in 2011. "Cameron [Crowe] resurrected that song."
Dave Grohl covers "Tiny Dancer" on Craig Kilborn