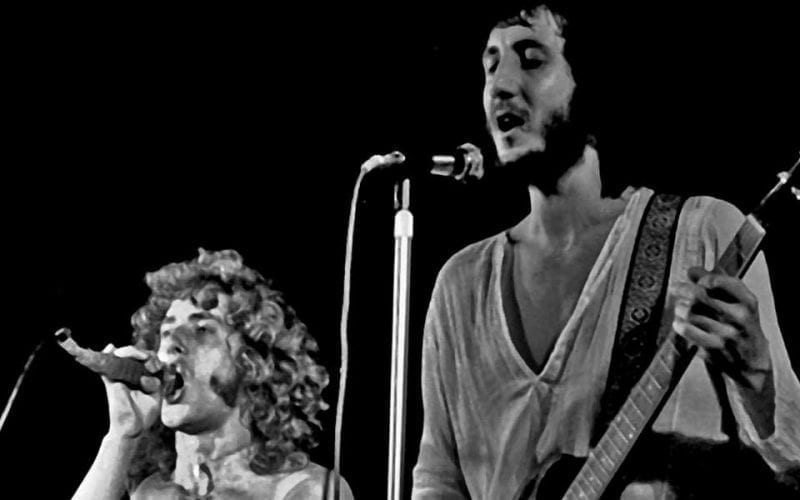 Roughly a thousand years ago, the elite class in Ireland began taking surnames that began with O' — O'Sullivan, O'Brien, O'Connor —with the O' translating to "grandson of."
Before we approach the complexities of "Baba O'Riley," one of The Who's — and, indeed, all of rock music's — most lasting songs, it bears explaining the first of those complexities: the title. It doesn't appear anywhere in the song's lyrics, so what's it all about?
For starters, in parts of southern Asia Baba is a term of respect, loosely translated as father. More specifically, Who songwriter/guitarist Pete Townshend is a student of Meher Baba, a spiritual teacher from India who died in 1969. A countryman and contemporary of Paramahansa Yogananda and Mahatma Gandhi, Meher Baba's name means "compassionate father." Meher Baba is known for many things, among them a life approach that became a common catchphrase: "Don't worry—be happy," which Bobby McFerrin turned into a 1988 Grammy winner.
So now we know where the Baba in the song's title comes from. What is the O'Riley part all about?
It's about a pioneering minimalist composer from California named Terry Riley, whose avant-garde late-'60s music captivated Townshend. Riley's undeniable impact on Townshend plays out in those first 41 seconds of "Baba O'Riley," before the piano joins in.
Add it all up, and with "Baba O'Riley" as part of his unrealized multimedia vision called Lifehouse, Townshend had the notion of inputting the spirit, the essence of Meher Baba as data into a computer and listening to it output as insistent, minimalistic music in the style of Riley. Baba of Riley, if you will, or "Baba O'Riley."
There's no denying the legend that is "Baba O'Riley" half a century after its release: it remains on Classic Rock radio playlists; Time magazine included it on its "All-Time 100 Songs" list; Rolling Stone placed it top 160 of all time; and the Rock and Roll Hall of Fame calls "Baba O'Riley" one of the 500 Songs That Shaped Rock and Roll. And that's despite so many people thinking it's called "Teenage Wasteland." (If you're keeping score with us at home, "Teenage Wasteland" was a working title for "Baba O'Riley" initially, but that title eventually got used for a related-but-different song; that's another of the complexities of "Baba O'Riley.")
"Teenage wasteland," Townshend has recalled, came from the impact of having seen the sheer volume of rubbish created by fans at The Who's 1969 Isle of Wight Festival set and by "the absolute desolation of teenagers" at Woodstock, where The Who played at 5am Sunday morning. "The dichotomy was that it became a celebration," said Townshend. "'Teenage wasteland! Yes. We're all wasted!' People were already running toward the culture and its promise of salvation. But not everyone survived."
12 Most Influential Live Classic Rock Albums of All Time
"Baba O'Riley" is one of eight tracks on the 1971 juggernaut Who's Next that had been slated for Townshend's Lifehouse, a would-be science fiction rock opera follow-up to their Tommy phenomenon. It was on the Tommy tour where Townshend began to imagine Lifehouse. "I've seen moments in Who gigs," he's said, "where the vibrations were becoming so pure that I thought the whole world was just going to stop, the whole thing was just becoming so unified."
Lifehouse would have centered, Townshend has recalled, on a "self-sufficient drop-out family group farming in a remote part of Scotland." Farmer Ray and his wife Sally pack up and head south to London after they hear of a "subversive concert event that promises to shake and wake up apathetic, fearful British society."
Ray would have sung "Baba O'Riley" at the beginning of Lifehouse as he gathered Sally and his family to set out on their 450-mile exodus through, as Townshend has put it, "the scarred wasteland of middle England." In this futuristic tale, pollution had gotten so deadly that people had to wear Lifesuits, which could simulate any experience so vividly that no one needed to go outside.
Eventually Townshend had to let go of Lifehouse; his frustration at not being able to aptly communicate the complex ideas in his head finally drove him to a nervous breakdown. Lifehouse songs were ultimately disbursed among various albums and singles by The Who, on Townshend solo albums, and on Lifehouse Chronicles, which in 2000 culled six discs of music related to the project.
For "Baba O'Riley," Townshend was trying to replicate "the electronic music of the future" so he holed up in his home studio learning to make his Lowrey TBO-1 organ sound like a synthesizer. The result was the swirling, repetitive foundation of the song. The band whittled the nine-plus-minute demo down to the taut, five-minute version that opens Who's Next, Daltrey's explosive voice bringing life to Farmer Ray's storytelling and Keith Moon's frenzied drum attacks adding to the propulsive tension of "Baba O'Riley." The violin stampede that takes over the final minute of the song was played by Dave Arbus, who lucked into the prime gig when his band happened to be recording in the same studio as The Who.
"Baba O'Riley" was released as a single in several European countries in October of 1971, when Townshend, Daltrey, Moon and bass player John Entwistle were all in their mid-20s. There would be no single in the band's UK homeland or in the US; in those two countries, it was only available on Who's Next.
Between its five decades of rock radio popularity and its hallowed place in Who concert setlists, "Baba O'Riley" has been beloved by innumerable Who fans the world over. Including, apparently, the song's author and guitar player. "I just hope that on my deathbed," he once told Rolling Stone, "I don't embarrass myself by asking someone, 'Can you pass me my guitar? And will you run the backing tape of 'Baba O'Riley'? I just want to do it one more time."
Photo credit: Heinrich Klaffs
More Classic Rock Landmarks:
Stairway to Heaven