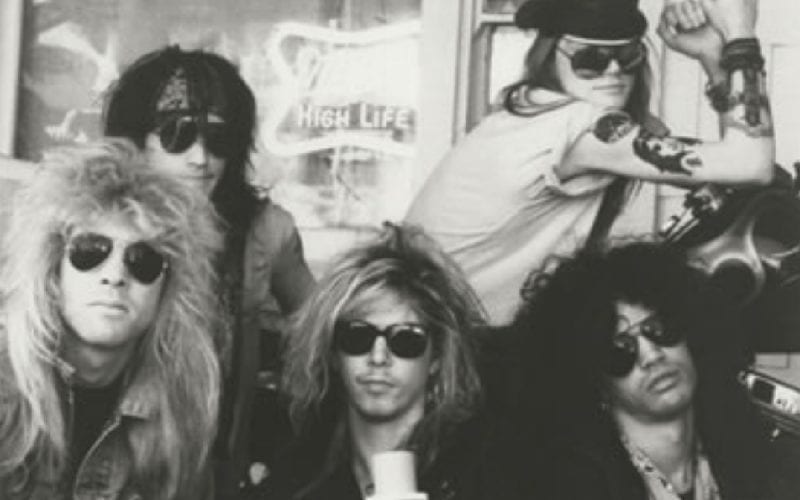 "I was f@#king around with this stupid little riff," Slash has said of the origins of Guns N Roses' "Sweet Child O' Mine."
That "stupid little riff" is, by the way, the riff that in 2004 Total Guitar magazine readers voted the greatest guitar riff of all time, beating out the opening riffs of Nirvana's "Smells Like Teen Spirit," Led Zeppelin's "Whole Lotta Love," Deep Purple's "Smoke on the Water," Black Sabbath's "Iron Man," Ted Nugent's "Stranglehold," and every other great guitar riff going through your head right now.
It's about perspective in the end, and clearly Slash's perspective on the riff differs from that of a lot of other people.
But before we get to the end, how about the beginning?
In the summer of 1986, Guns N' Roses was roughly two years removed from the L.A. Guns/ Hollywood Rose merger that had given the band its new name and, after much restructuring, a lineup of five ex-Hollywood Rose members — singer Axl Rose, guitarists Slash and Izzy Stradlin, bassist Duff McKagan, and drummer Steven Adler. A ragtag bunch of early twenties rockers (Rose and Stradlin were 24, the rest 21 or 22), GN'R succeeded in becoming the most dangerous band on Hollywood, California's famed Sunset Strip with drink, drugs, and damsels their weapons of choice. Fittingly, home base was a two-story Hollywood pad known as The Hellhouse.
Their explosive live sets got people talking which got GN'R signed to Geffen Records which got them moved out of The Hellhouse and into movie director Cecil B. DeMille's old place in LA's distraction-free Griffith Park neighborhood. In this place fewer than 10 miles and many lightyears from the Sunset Strip, Slash began to play that stupid little riff. Their debut album, Appetite for Destruction, was effectively finished, but with a day of writing still on the calendar he warmed up his fingers with that riff.
"It was an interesting sort of pattern," Slash told Rolling Stone. "But Jesus Christ, I never thought it was going to become a song."
The rest of the band had their own perspective of that circular arpeggio figure that Slash had going, and rhythm guitarist Stradlin soon joined in with some chords. McKagan fell in next with a cascading bass line during the second round of Slash's riff. Adler gave it a beat and a jam was officially happening.
As the four players riffed, Rose was up in his room being inspired. The music got him thinking about some previously abandoned words he'd jotted down for his then girlfriend, Erin Everly. "I had written this poem, reached a dead end with it, and put it on the shelf," Rose said at the time. "Then Slash and Izzy got working together on songs…all of a sudden this poem popped into my head."
Not at all known for tender, intimate words, Rose nevertheless let flow a set of vulnerable lyrics that spoke of childhood memories, eyes of the bluest skies, and warm, safe places. This renegade frontman from Hollywood's most take-no-prisoners rock band was getting all soft and mushy.
"For me, at the time," Slash has said, "it was a very sappy ballad."
"It was like a joke," is how McKagan once put it. "We thought, 'What is this song? It's gonna be nothing.'"
But Rose had a different perspective, so he doubled down by heading to a familiar touchstone for more inspiration. "I'm from Indiana, where Lynyrd Skynyrd are considered God," said Rose at the time Appetite for Destruction came out. "I went out and got some old Skynyrd tapes to make sure that we'd got that heartfelt feeling."
Classic Rock Landmarks:
A deep dive into Lynyrd Skynyrd's "Free Bird"
It was August of 1986 when GN'R and producer Mike Clink recorded "Sweet Child O' Mine" at LA's Rumbo Studios. "'Sweet Child O' Mine' was easy to record," Slash told Q magazine in 2005, "apart from the guitar intro. It took me all afternoon to time it out and be at the right place when the drums came in."
When they finished it, Guns N' Roses had a six-minute mid-tempo rocker with one of the last great extended guitar solos, built on Slash's stupid little riff, the band's forceful music, and Axl's sensitive words.
"That song made the hairs on my arms stand up," producer Clink told Q. "It was magical."
It did the same thing for the American public when it was released as a single in June of 1988. Despite losing chunks of the instrumental intro and of Slash's guitar solo to the editing room floor, the "Sweet Child O' Mine" single resonated almost at once.
Guns N' Roses was on the road opening for Iron Maiden when the single landed, and everything changed quickly. McKagan, in Stephen Davis's exhaustive 2008 tome Watch You Bleed: The Saga of Guns N' Roses, noted how "before, only the people in front even knew who we were. They came to see us because they were our fans, all two dozen of them. Afterward, when [we performed 'Sweet Child O' Mine'], everybody was on their feet with their cigarette lighters switched on. It was amazing, night and day. It happened that quickly."
Three months after its release, on September 10th, 1988, "Sweet Child O' Mine" began a two-week stay at #1 on the Billboard Hot 100 singles chart. Three months after that it was #5 on Billboard's 1988 year-end chart. The radio airplay and the simple black & white video helped turn Guns N' Roses into a household name, and on the broad shoulders of "Sweet Child O' Mine," Appetite for Destruction has sold over 18 million copies in the US and 28 million worldwide.
More than three decades hence, it's a breeze to assess the song's place in rock & roll history. "Sweet Child O' Mine" shows up on a whole bunch of all-time lists, perhaps most notably Blender's index of 500 Greatest Songs Since You Were Born, where it's #3; Q magazine's 100 Greatest Guitar Tracks (#6); and Rolling Stone's 40 Greatest Songs that Changed the World.
Top 20 Best Rock Albums of the '90s
But it still boils down to perspective. Everybody's got one. "One of the things that always bugged me about 'Sweet Child…' was that it was an up-tempo ballad, which didn't fit what Guns N' Roses was all about as far as I was concerned," Slash has said. But as he told Q, "It would cause such a reaction — just playing the first stupid notes used to evoke this hysteria — so I've finally gotten to appreciate it."
And for one final perspective, Axl eventually married Erin, the inspiration for "Sweet Child O' Mine." Though the marriage failed before the one-year-anniversary, the song is one for the ages.