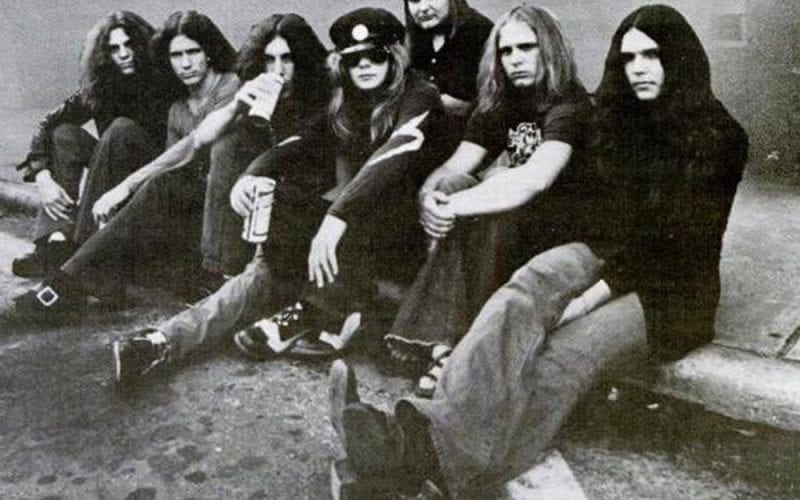 "What song do you wanna hear?" singer Ronnie Van Zant asks the crowd before Lynyrd Skynyrd kicks into 14-minutes of "Free Bird" on their 1976 live album, One More from the Road.
He was speaking rhetorically.
By then, the whole world knew what song everyone wanted to hear at a Lynyrd Skynyrd concert.
Hell, that's what people still want to hear at everyone else's concerts. Haven't we all heard someone yelling for "Free Bird" at some random show? More than once?
It happened when Nirvana played MTV Unplugged (they surprised with a bit of "Sweet Home Alabama," something they'd previously done at a few in-stores); and one spring evening in 2016 at a Bob Dylan concert in Berkeley, California, the call came out for "Free Bird" — and he famously obliged, working a snippet into his show-closing performance of "Love Sick." And then there's The Boy Who Cried Freebird: Rock & Roll Fables and Sonic Storytelling, a fiction in which MAGNET writer/NPR storyteller Mitch Myers imagines the guy who first requested "Free Bird" at an unrelated concert.
Singer Ronnie Van Zant met guitarists Allen Collins and Gary Rossington in high school in mid-'60s Jacksonville, Florida, and together they started a band called My Backyard. For the next few years, they built up a circuit of small venues where they played under various names and lineups until 1969, when they settled on a bastardization of their gym teacher's name, Leonard Skinner, a man with a penchant for making life difficult for the long-haired boys in his classes.
One night in 1972, as Lynyrd Skynyrd played an Atlanta bar, they drew the attention of Al Kooper (a founding member of Blood, Sweat, & Tears and session player, it was Kooper who played that memorable organ line on Bob Dylan's "Like a Rolling Stone"); now he was scouting bands for MCA's new Sounds of the South label, and he liked what heard so he signed them to the label and signed on to produce their debut album, Pronounced Leh-Nerd Skin-Nerd.
America first heard Pronounced Leh-Nerd Skin-Nerd on release day: August 13, 1973. "Tuesday's Gone," "Gimme Three Steps," and "Simple Man," three consecutive rock-radio-playlist numbers, were stacked up on side one. It was an in-your-face opening, but those three songs were merely table setters for the 9:08 guitar masterpiece that ended side two of this impressive debut.
"Free Bird," sometimes spelled "Freebird," was started by Collins, probably in 1970, not long after they'd settled on the name Lynyrd Skynyrd. The thing is, when he played it for Van Zant, remembers Rossington, the singer insisted that it "had too many chords to write lyrics for."
A breakthrough happened a few months later, Rossington told Blender magazine. "We were sitting around, and [Ronnie] asked Allen to play those chords again. After about 20 minutes, Ronnie started singing, 'If I leave here tomorrow,' and it fit great.
"It wasn't anything heavy, just a love song about leavin' town, time to move on. Al [Kooper] put the organ on the front, which was a very good idea. He also helped me get the sound of the delayed slide guitar that I play — it's actually me playing the same thing twice, recording one on top of the other, so it sounds kind of slurry, echoey."
That opening line, "If I leave here tomorrow, would you still remember me?" came courtesy of Collins' then-girlfriend, ultimately wife Kathy, who had asked Allen that question one time in the midst of a fight.
"Free Bird" was recorded as a ballad sans solo as far back as 1972. That triumphant, 4-minute guitar work-out that wound up bringing "Free Bird" to its glorious climax was pure function over form, added initially for the benefit of Van Zant's throat at a time when Skynyrd was playing set after set every night in the clubs.
By the time "Free Bird" came out on that first album in August of '73, the last four minutes had transformed into rock & roll history. And despite the presence of three guitarists in the band — Collins, Rossington, and newcomer Ed King — Rossington told Guitar World that "the whole long jam was Allen Collins himself. He was bad. He was super bad! He was bad-to-the-bone bad. When we put the solo together, we liked the sound of the two guitars, and I could've gone out and played it with him. But the way he was doin' it, he was just so hot! He just did it once and did it again and it was done."
On the front end, producer Kooper suggested an organ intro for "Free Bird" (just as he'd done on "Like a Rolling Stone") and it's his playing, credited as "Roosevelt Gook," that opens Lynyrd Skynyrd's signature song, a song that put Skynyrd at the forefront of the growing Southern rock music wave in the 1970s, a song that The Rock and Roll Hall of Fame calls one of the 500 Songs that Shaped Rock and Roll.
Another connection between "Free Bird" and Dylan's "Like a Rolling Stone" was their exorbitant time consumption; at just over nine and six minutes, respectively, each song was much too long for radio in the day, causing their record labels to initially balk at the idea of releasing them. Listeners put an end to that nonsense, though, and ultimately, it's the full-length version of each song that rock radio has been playing for decades.
On October 20, 1977, Lynyrd Skynyrd was in a private jet on their way to a show in Baton Rouge, Louisiana, when it ran out of fuel and went down in the woods just outside Gillsburg, Mississippi. Gone on impact were singer Ronnie Van Zant, guitarist Steve Gaines (who had replaced Ed King), Steve's sister Cassie, a backing singer, assistant road manager Dean Kilpatrick, pilot Walter McCreary, and co-pilot William Gray. The surviving band members were all badly injured. Four years and five albums into a promising career that had them on pace for generational greatness, Lynyrd Skynyrd was no more.
Today, nearly five decades after its release, "Free Bird" remains one of the most classic of classic rock songs. It's left a lasting impression in so many ways, including on a generation of rock concertgoers who found a new way to express themselves. "Free Bird" was released the same year that BIC introduced the first adjustable-flame lighter, and it helped turn "flick your BIC" into a thing at thousands of concerts over the years.
Cell phones may have replaced the BIC these days, but legend has it that if you flick your BIC at a concert today, you may just hear someone shout out, "Free Bird."