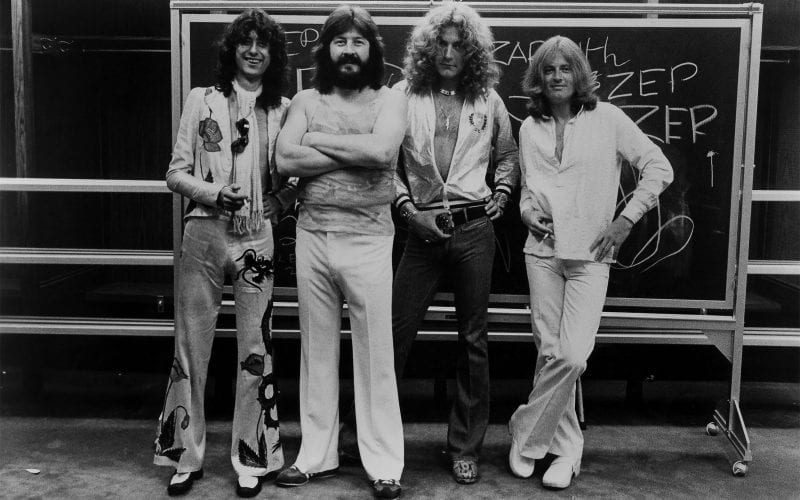 Stairway to Heaven. Is this Led Zeppelin classic the greatest rock & roll song ever?
Possibly. Who's to say?
It turns out that plenty of people have had something to say about it. To wit, "Stairway" was the most requested song on FM radio stations in 1970s America, despite never having been released as a single in the States; it's in the Grammy Hall of Fame; the Recording Industry Association of America called it the #53 song of the 20th century; VH1 had it as the #3 "Greatest Rock Song of All Time"; and the Rock and Roll Hall of Fame included it on its unnumbered list of the "500 Songs that Shaped Rock and Roll." In the UK, Q magazine listed it #8 on its 2006 index of the "100 Greatest Songs of All Time."
But maybe the most eye-popping indication of just how popular "Stairway to Heaven" has been during its half-century on planet Earth is this: By the time the song celebrated its 20th anniversary on November 8, 1991, "Stairway to Heaven" had been played on American radio nearly 2.9 million times.
To bring clarity to that nebulous number, consider that if, on that eighth day in November of 1991, you had set out to play "Stairway" 2.9 million times in a row you would still be playing it. In fact, you wouldn't finish until 2035.
"Stairway to Heaven" was written in 1970 by guitarist Jimmy Page and singer Robert Plant. Page's guitar parts came first, as scattered fragments taped here and there on his ubiquitous cassette recorder, while he and Plant were holed up in a waterless, powerless, Welsh cottage called Bron-Yr-Aur that Plant's family had previously used as a vacation home.
Later, Plant began writing the words in the glow of an evening fire at Headley Grange, the 18th-century, three-story workhouse-cum-recording venue in rural East Hampshire, England, where they had recorded part of Led Zeppelin III. There beside crackling logs, Page strummed the chords as Plant captured his spontaneous thoughts on paper. Page has recalled that most of Plant's lyrics came right then.
"Depending on what day it is, I still interpret the song a different way," Plant once said, but he does recall his initial response that night next to the fireplace. "My hand was writing out the words," he said of his opening line: "There's a lady who's sure all that glitters is gold, and she's buying a stairway to heaven," and he says he "just sat there and looked at them, and almost leapt out of my head…it was some cynical aside about a woman getting everything she wanted all the time without giving any thought or consideration. That first line begins with that cynical sweep of the hand… and it softened up after that."
Produced by Page, Led Zeppelin's fourth album was recorded between December 1970 and February 1971. Sessions began at Island Records' new Basing Street Studios in London, which is where they started work on "Stairway to Heaven"; at the time, Plant and drummer John Bonham were 22, bassist/keyboardist John Paul Jones was 24, and Page was 26. They went back down to Headley Grange for more recording, before finishing up back at Island's new studio.
"Stairway to Heaven," which ends side one on the original vinyl version of Zeppelin's untitled fourth LP, encompasses three distinct sections, each one faster, louder, and more densely arranged than its predecessor. The acoustic beginning with the Renaissance-style recorders gradually gives way to a slow electric middle section; it's here when the drums finally introduce themselves, more than halfway through the song's nearly eight minutes. Then, five and a half minutes in, it kicks into overdrive with Jimmy Page's for-the-ages, 70-second guitar solo played on a 1959 Fender Telecaster that Jeff Beck used extensively with The Yardbirds before gifting to Page. Page laid down three takes of the solo that is largely considered the greatest of all time, and he then reportedly agonized over which one to use.
Coming in like a gentle lamb, "Stairway" winds on down the road into rock & roll glory, steadfastly building to a dramatic, powerful release, before Plant softly, gently brings it all back home.
And she's buying a stairway to heaven.
Led Zeppelin first played "Stairway" live in public in Belfast, Northern Ireland, in early March of 1971, eight months before the album came out. Bassist Jones recalls the crowd being "bored to tears waiting to hear something they knew." They played it together as the original four-piece for the last time nine years later in Berlin, Germany, in July of 1980. And somewhere in between, "Stairway to Heaven" cemented its standing as arguably the greatest rock song ever.
For his part, Jimmy Page has said he didn't really see it coming. "I knew it was good, but I didn't know it was going to be almost like an anthem."
Led Zeppelin – "Stairway to Heaven"