From The Vault: No Security, San Jose '99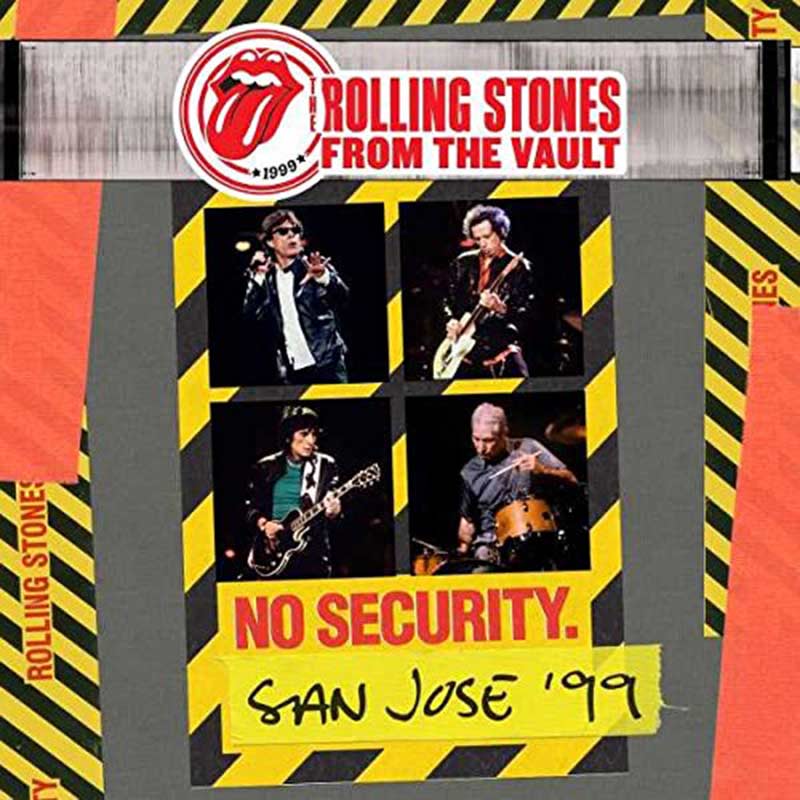 Amazon
iTunes
Track Listing
DVD Track Listing
(CD 1)
1. Jumpin' Jack Flash
2. Bitch
3. You Got Me Rocking
4. Respectable
5. Honky Tonk Women
6. I Got The Blues
7. Saint Of Me
8. Some Girls
9. Paint It Black
10. You Got The Silver
11. Before They Make Me Run
(CD 2)
12. Out Of Control
13. Route 66
14. Get Off Of My Cloud
15. Midnight Rambler
16. Tumbling Dice
17. It's Only Rock 'n' Roll (But I Like It)
18. Start Me Up
19. Brown Sugar
20. Sympathy For The Devil

Track Listings
Disc: 1
1. Jumpin' Jack Flash
2. Bitch
3. You Got Me Rocking
4. Respectable
5. Honky Tonk Women
6. I Got The Blues
7. Saint Of Me
8. Some Girls
9. Paint It Black
10. You Got The Silver
11. Before They Make Me Run
Disc: 2
1. Out Of Control
2. Route 66
3. Get Off Of My Cloud
4. Midnight Rambler
5. Tumbling Dice
6. It's Only Rock 'n' Roll (But I Like It)
7. Start Me Up
8. Brown Sugar
9. Sympathy For The Devil
Recommended Releases
About the Album
No Security captures a stand-out Stones show, with the band on searing form during the closing leg of their American tour in San Jose.
Treating the crowd to an up-close and personal experience and leaving a frenzy in their wake.
The set list spans from the mid-sixties hit singles to the Bridges to Babylon album, including a bluesy, dramatic version of 'Midnight Rambler', a dark and swaggering 'Out of Control', and the rarely performed live, 'Some Girls' and 'Saint of Me'.  The show was an electrifying, anthem-packed, cross generational hot ticket, concluding yet another chapter from the band that wrote the book on rock 'n' roll.
Available on: DVD, Blu-ray, DVD+2CD, 3LP, Digital Audio, Digital Video.
more...
Line-Up: Mick Jagger (vocals, guitar, harmonica); Keith Richards (guitar, vocals); Charlie Watts (drums); Ronnie Wood (guitar). With: Darryl Jones (bass, backing vocals); Chuck Leavell (keyboards, backing vocals); Bobby Keys (saxophone); Tim Ries (saxophone, keyboards); Michael Davis (trombone); Kent Smith (trumpet); Lisa Fischer (backing vocals); Bernard Fowler (backing vocals, percussion); Blondie Chaplin (backing vocals, percussion, acoustic guitar)
Videos
In the Spotlight
Rolling Stones Headlines