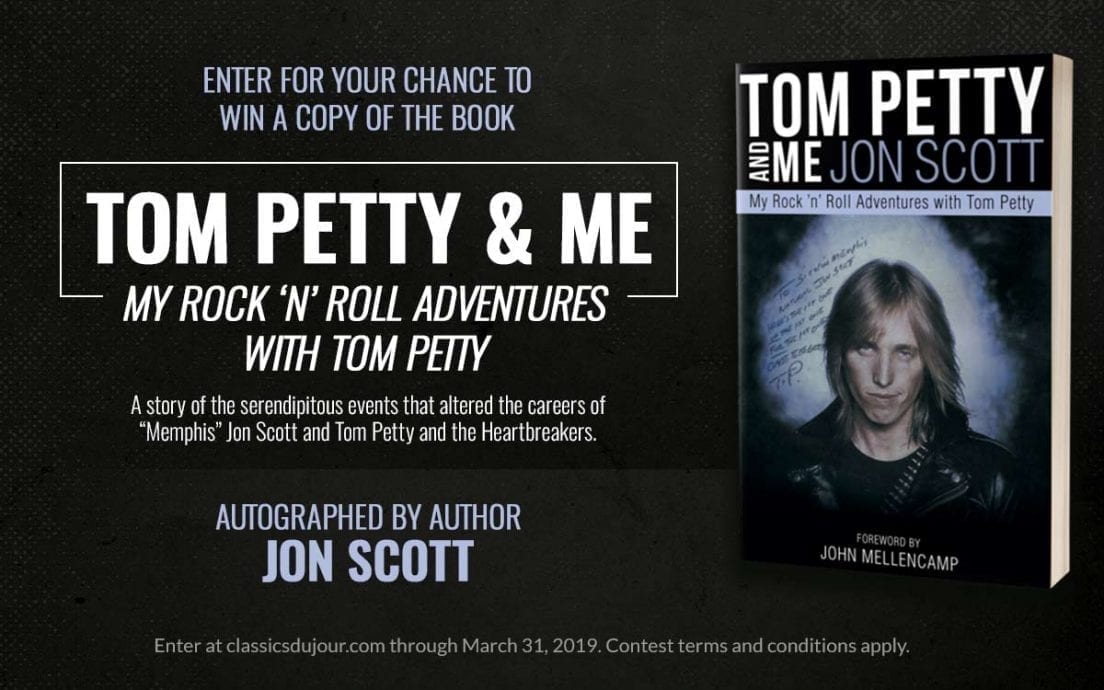 Enter to win a copy of 'Tom Petty & Me' signed by author Jon Scott
In 1974, Jon Scott went to work for MCA Records as a promo man. The very first record that he was given to promote was from a band called Mudcrutch; a single named "Depot Street". Jon liked what he heard and got the record played at a station in Nashville. However, the label dropped Mudcrutch at that time and Jon moved on to do promotions for artists such as Lynyrd Skynyrd, The Who, Elton John, Steely Dan, John Mellencamp, Billy Thorpe, Jimmy Buffett and many others.
Along the way, he moved to ABC Records, where he met Tom Petty. Coincidentally, Tom had started out in Mudcrutch. The coincidences and serendipity with Tom and Jon did not end there as a series of events occurred that altered the careers of Jon as well as Tom Petty and the Heartbreakers.
"Six weeks before our record was going to be dropped from ABC Records, Jon Scott went to radio stations with a vengeance and got our record played and on the charts. Because of that, we are forever grateful to him." – Tom Petty
Enter by March 31, 2019 for your chance to win 1 of 10 copies of Tom Petty & Me: My Rock 'n' Roll Adventures with Tom Petty, autographed by the author Jon Scott.
CONTEST DATES: Feb 20, 2019 - Mar 31, 2019
---
This contest is now closed. Please
click here
to view our current contests!
Congratulations to our winners!
Vickie J - San Antonio, TX
Renee S - Murrieta, CA
Sandra M - Rochelle, IL
Hester M - St Petersburgh, FL
Cathy W - Phoenix, AZ
Shelly C - Ewa Beach, HI
Vaughn S - Ogden, UT
Bob M - Powell, TN
Barbara W - Dalton, GA
Debbie W - Odessa, FL