Still On The Road To Freedom
Artist:
Alvin Lee
Release Date: August 27, 2012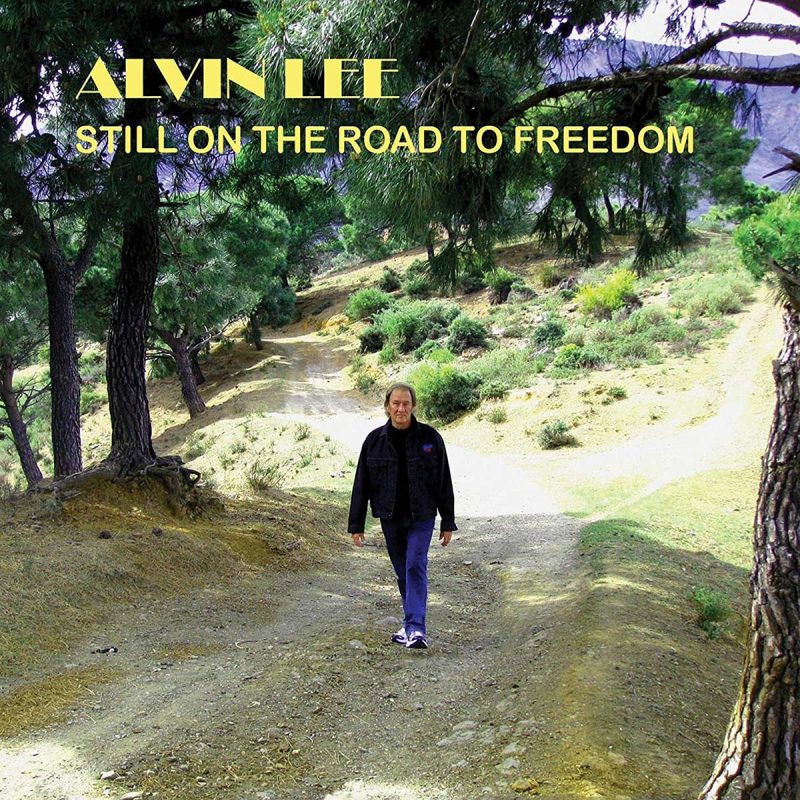 Amazon
Track Listing
1. Still On The Road To Freedom
2. Listen To Your Radio Station
3. Midnight Creeper
4. Save My Stuff
5. I'm A Lucky Man
6. Walk On, Walk Tall
7. Blues Got Me So Bad
8. Song Of The Red Rock Mountain
9. Nice & Easy
10. Back In 69
11. Down Line Rock
12. Rock You
13. Love Like A Man 2
About the Album
More than four decades have passed since Alvin Lee stood front and center at the famed Woodstock festival with his band Ten Years After and told half million or so fans, "I'm Going Home . . . by helicopter."
Forty-three years later, Alvin Lee hasn't arrived at his destination yet, as the title of his new solo album, Still on the Road to Freedom, available August 27, 2012 on Rainman Records, will attest. "I don't think I ever will," he laughs.
Recorded at Space Studios 3 in Spain, Still on the Road to Freedom finds Lee returning to his original inspirations. Longtime band members bassist Pete Pritchard and drummer Richard Newman, along with keyboardist Tim Hinkley, join Lee in a musical travelogue that is a tribute to the roots music that firstinfluenced him.
"I got my start in music listening to my dad's jazz and blues 78s when I was eight years old," says Lee, who continues to follow his inspirations. "It's about the freedom to make music of my own choice without worrying about what other people thought or expected," he writes in the album's liner notes.
more...
Still on the Road to Freedom nods to country-blues, embodied by Alvin's gutbucket harp on "Save My Stuff" ("I was a big fan of Big Bill Broonzy, Sonny Terry and Brownie McGhee") and the delta stomp "Blues Got Me So Bad" ("My blues name is Deaf Lemon Lee"). He evokes a folksy feel in the stark acoustic "Walk On, Walk Tall," perfects the sensuous slow blues style of J.J. Cale in "Nice and Easy," and strums Spanish rhythms in the instrumental "Song of the Red Rock Mountain," a song he made up on the spot while testing a microphone.
Leecontinues to explore that creative freedom with the tribal African drums of"Listen to Your Radio Station," which includes a sample loop from the late Ian Wallace, the gospel organ of "Midnight Creeper" and the surprising funk of the rousing "Rock You."
Thealbum also features "Love Like a Man 2," a remake of the song on the band's 1970 album Cricklewood Green, inspired, according to Lee, by New Orleans R&B player Smiley Lewis' "I Hear You Knocking," with a nod towards seminal influence Chuck Berry.
Asked how he'd describe himself, Lee pauses: "A musician . . . who leans towards blues, but likes rock and roll, country, funk, jazz — anything with a guitar in it.
After all these years, Alvin Lee's still going home.
Image Gallery
Alvin Lee Videos
Alvin Lee Headlines
Alvin Lee, English guitarist, singer and co-founder of Ten Years After, has passed away unexpectedly at the age of 68. A message posted on his official website earlier today reads: "With great sadness we have to announce that Alvin unexpectedly passed away early this morning after unforseen complications following a routine surgical procedure." Alvin Lee … Continue reading Alvin Lee Dies at Age 68 →

More than four decades have passed since Alvin Lee stood front and center at the famed Woodstock festival with his band Ten Years After and told half million or so fans, "I'm Going Home . . . by helicopter." Forty-three years later, Alvin Lee hasn't arrived at his destination yet, as the title of his … Continue reading Alvin Lee is Still on the Road to Freedom →