Pet Sounds (Classic Albums)
Artist:
Beach Boys
Release Date: September 23, 2016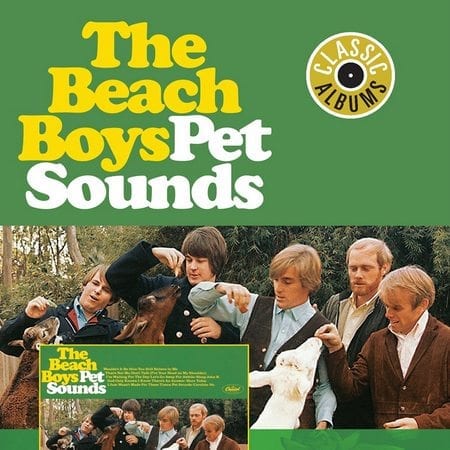 Amazon
iTunes
Track Listing
Features cuts from: Wouldn't It Be Nice, God Only Knows, Sloop John B, I Know There's An Answer, Let's Go Away For A While and I Just Wasn't Made For These Times.
About the Album
The latest addition to the acclaimed & award winning Classic Albums series tells the story behind the making of The Beach Boys ground breaking album Pet Sounds, which celebrates its 50th anniversary this year. Pet Sounds was recorded in late 1965 and early 1966, about a year after Brian Wilson had withdrawn from playing live with The Beach Boys in order to concentrate on composing and studio work. While the rest of the band were out on tour, Brian Wilson worked in the studio creating multi-layered compositions with painstaking attention to detail utilizing orchestration, sound effects and unusual instruments. When the band returned from tour they went into the studio to add their trademark complex vocal harmonies.
The new direction of the music caused some consternation within the group and the program explores the band's relationship at this time as well as the creation of the music through interviews with all the surviving Beach Boys and others involved in the creation of the album. The US press didn't know what to make of the album at first, although it later became acknowledged as both important and influential. In the UK the album was immediately acclaimed and commercially successful, peaking at No.2 in the albums chart and remaining in the Top 10 for 6 months. Pet Sounds is now universally regarded as one of the finest albums of the sixties and thoroughly merits its place in the Classic Albums series.
more...
Bonus Features:
Over 30 minutes of additional interviews not included in the broadcast version.
Image Gallery
Beach Boys Videos
Beach Boys Headlines
Brian Wilson has postponed his upcoming June tour, saying he feels "mentally insecure". The man who was the genius behind The Beach Boys has famously struggled with mental illness for decades. "As you may know in the last year or so I've had 3 surgeries on my back. The surgeries were successful and I'm physically … Continue reading Brian Wilson Cancels Tour Due to 'Mental Insecurity' →

Surf rock pioneer Dick Dale has died at the age of 81. Affectionately known as "The King of the Surf Guitar", he is credited with originating surf-style music. Dale was born 'Richard Anthony Monsour' in Boston, MA in 1937. The son of a Lebanese immigrant, he grew up in Massachusetts but relocated to Southern California … Continue reading Dick Dale, Surf Rock Pioneer, Dead at 81 →