Long Wave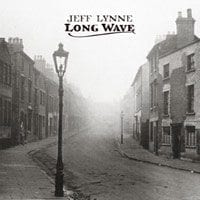 Amazon
iTunes
Track Listing
She
If I Loved You
So Sad
Mercy Mercy
Running Scared
Bewitched
Bothered and Bewildered
Smile
At Last
Love Is A Many Splendored Thing
Let It Rock
Beyond the Sea (Bonus)
Listen
About the Album
"It all comes down to what you truly love doing, and what I love doing is overdubbing and making new sounds out of things that are sometimes quite ordinary on their own, but when you put them together, they make something new–or something that sounds new. Just discovering things like that musically is a pleasure." — JEFF LYNNE, 2012
JEFF LYNNE, one of rock's most iconic figures, is returning to make some new waves and shed a little electric light.
The creative force of ELECTRIC LIGHT ORCHESTRA and the singularly accomplished singer, songwriter, guitarist and producer will release two albums on October 5th in G.A.S, October 8th in the UK and Rest of Europe, October 9th in North America via Frontiers Records: the solo disc LONG WAVE, a heartfelt and vivid tribute to some of the very songs that originally inspired him, and MR. BLUE SKY – THE VERY BEST OF ELECTRIC LIGHT ORCHESTRA. For the latter album, the British artist has artfully revisited and re-recorded–at his home studio in Los Angeles– the greatest hits of Electric Light Orchestra, actually improving on some of the most classic and beloved recordings ever.
The release of LONG WAVE and MR. BLUE SKY – THE VERY BEST OF ELECTRIC LIGHT ORCHESTRA mark the 40th anniversary of ELO. LYNNE's legacy will further be celebrated with releases in 2013 including ELO Live! plus expanded reissues of the ELO's 2001 album Zoom and LYNNE's first solo album in 1990, Armchair Theater. For up to date info on all things JEFF LYNNE and ELO, go here: www.elo.biz
more...
LONG WAVE powerfully celebrates the music of a time when LYNNE's lifelong passion for music began, evoking an era back when old standards were just giving way to rock & roll. He somehow makes pre-rock standards like "Bewitched, Bothered And Bewildered," "Smile" and "Love Is A Many Splendored Many Thing" — along with a few of his favorite gems from the Sixties such as the first single "Mercy, Mercy," "Let It Rock" and "So Sad" — his own with these loving versions. LYNNE's deeply felt and musically brilliant one-man-band takes add up to an inspired love letter to music itself — and an exquisite reflection of the way songs grace and change our lives.
"I call this new album Long Wave because all of the songs I sing on it are the ones heard on long wave radio when I was a kid growing up in Birmingham, England," LYNNE explains. "These songs take me back to that feeling of freedom in those days and summon up the feeling of first hearing those powerful waves of music coming in on my old crystal set. My dad also had the radio on all the time, so some of these songs have been stuck in my head for 50 years. You can only imagine how great it felt to finally get them out of my head after all these years."
Outside of the success of ELO, LYNNE has led a remarkable career that has found him taking the lessons learned leading ELO and using them to help produce and collaborate with many of the greatest musical artists of all time, including a number of LYNNE's all-time heroes including Roy Orbison, Del Shannon, George Harrison, Paul McCartney, Ringo Starr, and remarkably, even the Beatles themselves, as well as contemporaries like Tom Petty and Joe Walsh, whose new album Analog Man LYNNE recently helped produce. Together with Harrison, Orbison, Petty and Bob Dylan, LYNNE was, of course, a member of the Grammy award-winning Traveling Wilburys –a super group like no other.
"I've been in love with music since I was probably just five years old," says LYNNE. "I was made for music then — and I still am today."
Image Gallery
Jeff Lynne Videos
Jeff Lynne Headlines
Jeff Lynne, best known as a founding member of Electric Light Orchestra but whose contributions to music extend far beyond the progressive pop-rock band, has received an O.B.E. (Order of the British Empire) for his services to music. Lynne was named on the Queen's Birthday Honours list this weekend along with an unusually extensive list … Continue reading ELO's Jeff Lynne Receives OBE for 'Services to Music' →

Jeff Lynne's ELO has released the second single from the forthcoming album From Out of Nowhere. In the new track, titled "Time of Our Life," Lynne shares his appreciation for fans and the enthusiasm he felt when the band headlined London's Wembley Stadium in 2017. The official video for the song, released October 24th, shows … Continue reading Watch Jeff Lynne's New "Time of Our Life" Video →