Privateering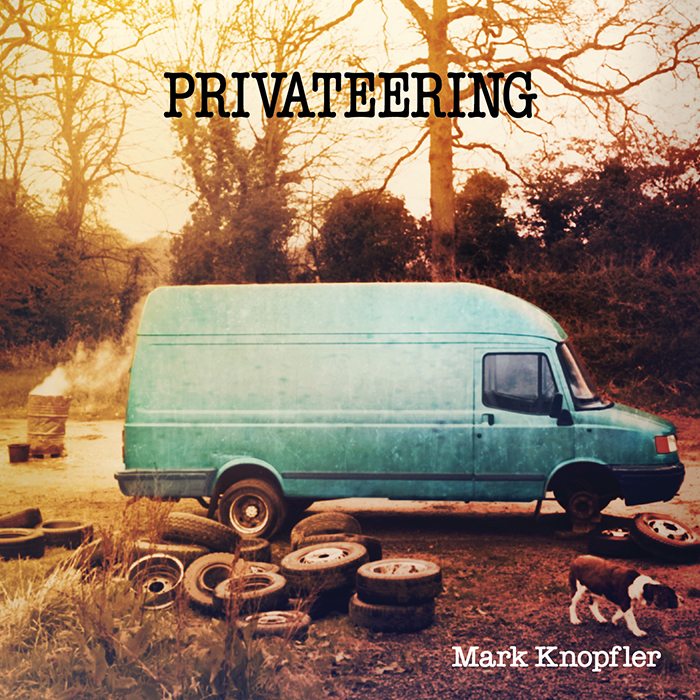 Amazon
iTunes
Track Listing
DISC ONE
1. Redbud Tree
2. Haul Away
3. Don't Forget Your Hat
4. Privateering
5. Miss You Blues
6. Corned Beef City
7. Go, Love
8. Hot or What
9. Yon Two Crows
10. Seattle

DISC TWO
1. Kingdom of Gold
2. Got To Have Something
3. Radio City Serenade
4. I Used To Could
5. Gator Blood
6. Bluebird
7. Dream of the Drowned Submariner
8. Blood and Water
9. Today Is Okay
10. After The Beanstalk

DELUXE BONUS DISC - Rehearsal Desk Mixes
1. Why Aye Man (Live From Music Bank London/2011)
2. Cleaning My Gun (Live From Music Bank London/2011)
3. Corned Beef City (Live From Music Bank London/2011)
4. Sailing To Philadelphia (Live From Music Bank London/2011)
5. Hill Farmer's Blues (Live From Music Bank London/2011)

SUPER DELUXE BOX SET BONUS DISC
1. Occupation Blues
2. River of Grog
3. Follow The Ribbon
Recommended Releases
Listen
About the Album
Universal Music Group announces a worldwide deal with legendary musician and songwriter Mark Knopfler. Knopfler's new record Privateering will debut on UMG's Verve Records on September 10th after a 35 year relationship with Warner Brothers Records.
Recorded at Knopfler's award-winning British Grove Studios in West London, Privateering is a collection of tough tales of real people, living hard lives in difficult times. The record features musicians Knopfler has been working with for years — Guy Fletcher (keyboards), Richard Bennett (guitar), Jim Cox (piano), Glenn Worf (bass), Mike McGoldrick (whistle and flute), John McCusker (fiddle) and the recent addition of Ian Thomas (drums). Special guests include Paul Franklin (pedal steel), Kim Wilson (harmonica), Tim O'Brien (mandolin), and rising singing star Ruth Moody, who is also a member of the leading roots group The Wailin' Jennys.
Of the new release, Knopfler explains, "I chose to make a double album this time just because of the sheer volume of material. I didn't want to separate songs into genres and I didn't want to leave too many songs on the shelf. I just wanted it to be a reflection of the fantastic sessions we had. With a great bunch of players, it's the same as a great group of actors reading a script from the page, the thing can come alive in ways it just never has before. this is the band I have been working towards my whole life."
more...
A multiple Grammy award winner as the lead singer/songwriter for Dire Straits, Knopfler combined his wry lyrics with his guitar prowess to create such major hits as "Money For Nothing", "Sultans Of Swing", "Romeo and Juliet" and "Walk of Life". He has collaborated with artists such as Bob Dylan, Randy Newman, Emmylou Harris and Van Morrison, as well as scoring several films including Cal, Local Hero, Princess Bride and A Shot at Glory.
Image Gallery
Mark Knopfler Videos
Mark Knopfler Headlines
Mark Knopfler has announced a 2019 world tour in support of his forthcoming solo album Down The Road Wherever. The guitarist, known for his solo work and with Dire Straits, will kick off the tour on April 25th in Barcelona and continue throughout Europe and the UK through July 22nd. After a short break, he'll … Continue reading Mark Knopfler Announces 2019 World Tour →

Mark Knopfler has announced the details of his ninth solo album, Down The Road Wherever. Due out on November 16th, the 14-track follow-up to his 2015 album Tracker will be released through Knopfler's own British Grove label via Blue Note Records and will be available in four formats including Standard CD, Deluxe CD, 2LP and … Continue reading Mark Knopfler Announces New Album 'Down The Road Wherever' →