Santana IV: Live at the House of Blues Las Vegas
Artist:
Santana
Release Date: October 21, 2016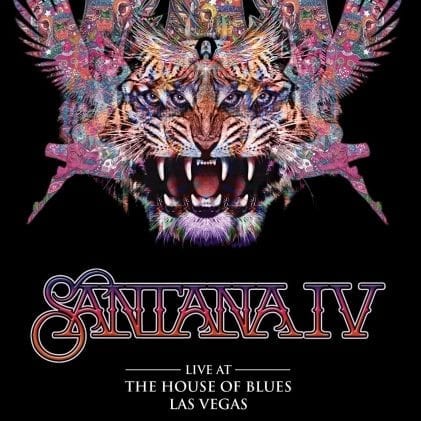 Amazon
iTunes
Track Listing
1) Soul Sacrifice
2) Jingo
3) Evil Ways
4) Everybody's Everything
5) Shake It
6) Anywhere You Want To Go
7) Medley: Choo Choo / All Aboard
8) Samba Pa Ti
9) Medley: Batuka / No One To Depend On
10) Leave Me Alone
11) Sueños
12) Caminando
13) Medley: Blues Magic / Echizo
14) Come As You Are
15) Yambu
16) Medley: Black Magic Woman / Gypsy Queen / Third Stone From The Sun / Oye Como Va / I Feel The Earth Move
17) Medley: Love Makes The World Go Round / Shout / Them Changes (w/ Ronald Isley)
18) Freedom In Your Mind (w/ Ronald Isley)
19) Toussaint L Overture

About the Album
On March 21st, 2016, a few weeks prior to the release of the Santana IV album, the classic line-up of Santana (Carlos Santana (guitar, vocals); Neal Schon (guitar, vocals); Gregg Rolie (keyboards, vocals); Michael Shrieve (drums); Michael Carabello (congas, backing vocals); with Karl Perazzo (percussion, vocals), Benny Rietveld (bass) with special guest vocalist Ronald Isley) took to the stage at the House Of Blues in Las Vegas.
The show they delivered combined tracks from the new album with the classic hits from the band's first three albums, to which Santana IV is the natural successor. This was a hugely anticipated reunion of a line-up that had not performed and recorded together since the early seventies. It brought back the scintillating combination of rock, Latin, blues, jazz and African rhythms which was the band's trademark and made them truly unique. The concert was a celebration of the chemistry, dynamism and pure musical joy that had made the original band so special and earned them a place in so many fans hearts. It is a show to be enjoyed over and over again.
Image Gallery
Santana Videos
Santana Headlines
Santana will head out on a 32-date tour this summer along with Earth, Wind & Fire. The Miraculous Supernatural 2020 tour will kick off June 19th in Chula Vista, CA and wrap up August 29th in Tampa, FL. In addition to dates across the U.S, the tour will make stops in 2 Canadian cities. See … Continue reading Santana Announces 2020 Summer Tour with Earth, Wind & Fire →

Ringo Starr and his All Starr band are heading back out on the road in 2020. The drummer announced a 15 city, 20 concert tour launching on May 29th at the Casino Rama in Ontario and finishing up on June 28th at the Ruth Eckerd Hall in Clearwater, Florida. The tour will feature a number … Continue reading Ringo Starr Announces 2020 Tour →