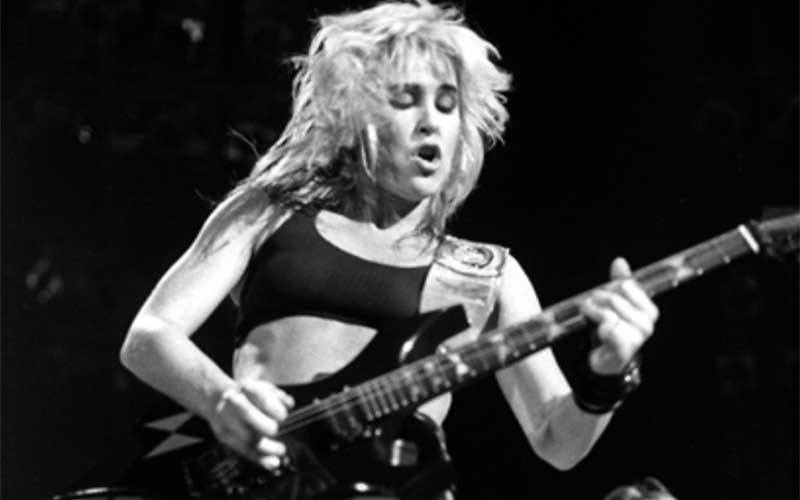 September 19, 1985 – Dee Snider, Frank Zappa and John Denver testify before the Senate Commerce, Science and Transportation Committee against the Parents Music Resource Center's plans on demanding warning labels on albums. Frank Zappa says that, "The PMRC proposal is an ill-conceived piece of nonsense which fails to deliver any real benefits to children, infringes the civil liberties of people who are not children, and promises to keep the courts busy for years dealing with the interpretation and enforcement problems inherent in the proposal's design." John Denver says he is, "Strongly opposed to censorship of any kind in our society or anywhere else in the world" and Snider testifies that, "The full responsibility for defending my children falls on the shoulders of my wife and I, because there is no one else capable of making these judgments for us." The RIAA later agrees to put "Parental Advisory" labels on selected releases at their own discretion.
September 19, 1979 – The 5-concert No Nukes event begins at New York's Madison Square Garden. Performers include Stephen Stills, David Crosby, Jackson Browne, Bonnie Raitt, The Doobie Brothers, Poco, Tom Petty, Carly Simon, James Taylor and Bruce Springsteen.
September 19, 2003 – Cream bassist Jack Bruce undergoes a liver transplant after being diagnosed with liver cancer earlier in the summer. His body rejects the new organ, infection sets in and he suffers kidney failure. After remaining critical for weeks, Bruce stabilizes and makes a full recovery.
Classic Rock Birthdays
September 19, 1958 – Lita Ford, guitar, vocals (The Runaways, solo)
September 19, 1934 – Brian Epstein, manager (Beatles) (d. 1967)
September 19, 1941 – "Mama" Cass Elliott (born Ellen Naomi Cohen), vocals (Mamas & the Papas) (d. 1974)
September 19, 1951 – Daniel Lanois, producer (Peter Gabriel, Brian Eno, U2, Bob Dylan)
September 19, 1945 – David Bromberg, vocals, guitar (Bob Dylan, George Harrison, Jerry Garcia)
September 19, 1947 – Lol Creme (born Laurence Neil Creme), vocals, guitar, keyboards (10cc)
Rock Remembrances
September 19, 2020 – Lee Kerslake, drummer and backing vocalist for Uriah Heep and Ozzy Osbourne, dies of prostate cancer. He was 73. Although the bulk of Kerslake's career was with Uriah Heep, he took a successful detour in the early 80s to play with Ozzy Osbourne on his first two solo records, before resigning to take care of his ailing mother.
September 19, 1973 – Country rock singer Gram Parsons (born Ingram Cecil Connor III), formerly of The Byrds and The Flying Burrito Brothers, dies in Joshua Tree, California. He was 26. The official cause of death was an overdose of morphine and alcohol. In a strange twist, his coffin was stolen by two of his friends, manager Phil Kaufman and Michael Martin, a former roadie for The Byrds, and was taken to Cap Rock in the California desert, where it was set on fire, allegedly in accordance with Parson's wishes. The two were later arrested by police, but only fined $750 for stealing a coffin, since there was no law against stealing a dead body. Parsons was a favorite of the critics and also became close friends with Mick Jagger and Keith Richards.
September 19, 2008 – Drummer Earl Palmer dies in Los Angeles after a long illness. He was 83. Palmer's list of work includes songs with The Beach Boys, Little Richard, Frank Sinatra, Ike And Tina Turner, The Monkees, Fats Domino, Neil Young, Elvis Costello, Tom Waits, The Righteous Brothers, Randy Newman, Tom Waits, Bonnie Raitt, Tim Buckley, Little Feat and many, many more. He also played the theme song or incidental music for such television shows as "I Dream of Jeannie," "Green Acres," "Ironside," "The Brady Bunch," "The Partridge Family," "The Odd Couple" and "M.A.S.H." He was also featured on the soundtracks of countless movies. In 2000, Palmer became one of the first session musicians to be inducted into the Rock and Roll Hall of Fame.