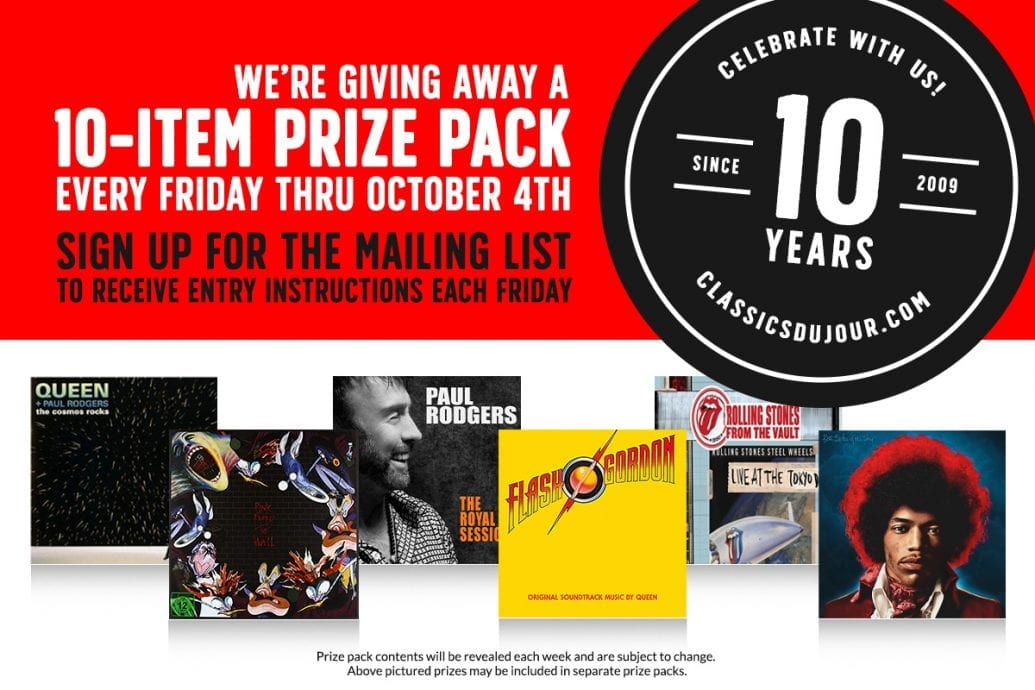 CDJ 10th Anniversary Prize Pack Sweepstakes
CDJ is celebrating our 10th anniversary by giving you the chance to win some big prizes! Starting Friday, September 13th, we're giving away a 10-item prize pack, every Friday through October 4th.
Sign up for our mailing list and keep an eye on your inbox for your first chance to win! We'll be sending out an email every Friday morning with instructions on how to enter.
Prize Pack #4 (Oct 4, 2019):
1 – Pink Floyd The Wall Immersion Box Set
2 – Pink Floyd The Division Bell – 20th Anniversary (Sampler CD)
3 – Elvis Costello Detour Live at the Liverpool Philharmonic (DVD)
4 – Don Felder Road to Forever Extended Edition
5 – David Gilmour Rattle That Lock Hardbroud digibook
6 – Robert Berry The Rules Have Changed (CD)
7 – Rich Robinson – Paper (CD)
8 – Rich Robinson – Llama Blues (CD)
9 -Taste – What's Going On – Live at the Isle of Wight (CD)
10 – Classics Du Jour t-shirt
CONTEST DATES: Sep 13, 2019 - Oct 04, 2019

---
This contest is now closed. Please
click here
to view our current contests!
Congratulations to our winners!
Prize Pack #1 (Sept 13) Winner: Tim L - Colorado City, TX
Prize Pack #2 (Sept 20) Winner: Kathleen D - Brookline, NH
Prize Pack #3 (Sept 27) Winner: Neil M - Pomona, NY
Prize Pack #4 (Oct 4) Winner: Del B - Dayton, OH