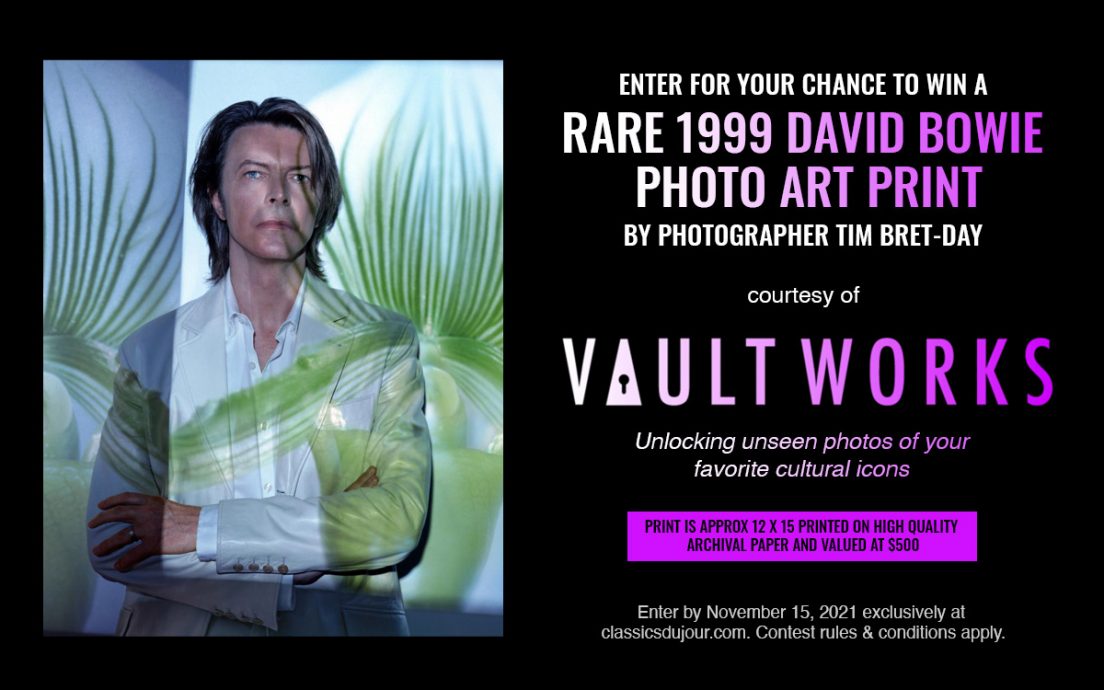 Enter for your chance to win a Rare David Bowie Photo Art Print courtesy of VaultWorks
We're all familiar with iconic photographs of superstars – John Lennon on a city rooftop inhabiting a New York City t-shirt, Elvis' up-on-his toes "Jailhouse Rock" pose, Marilyn Monroe on the subway grate updraft, struggling to hold down her skirt – but did you ever wonder what happens to the outtakes, images that were part of the shoot but didn't make the final cut?
VaultWorks gives collectors exclusive access to those rare, overlooked photos from sessions with top photographers, at the same time helping photographers let fans discover their massive, underused archives. The unseen photos are often more interesting than what you might see in the mainstream, giving an unfiltered, non-corporate glimpse at the cultural forces that converge to create important moments and movements in history.
Enter now using the form below for your chance to win a rare David Bowie photo art print, taken by photographer Tim Bret-Day in 1999 during the shoot for Bowie's groundbreaking album, hours. Part of  VaultWorks' unique collection of rare and never-before-seen photos, this specific shot was seen for the first time ever on VaultWorks' website.
"It was a call that came absolutely out of the blue. I was sitting at home watching East Enders with my wife and he just rang. And I just thought it was someone doing a David Bowie voice because he's just got that, you know he's got such a distinct voice and it went off for about 3 minutes and he was just laughing and laughing, laughing and I was like going "oh come on, who is this" and he went 'it really is, it is, honestly.  I really want you to discuss talking about doing my album'.  And I really, I just kept going thinking someone's gonna ring back in a minute and go you mug, you know, whatever."
"He said 'I've got one thing – please don't play any of my music because I hate hearing my music. We looked at the assistant because I think I was just about to, I think it was going to go on.  I got in his face "change it! change it!", like that.  And he stuck on Nirvana Unplugged and I think the first track that comes on is the beginning of "The Man Who Sold the World"…and it just rings out in the studio and he just pulled this face and I go 'Oh god, here's the moment' you know…and he went really quiet and this really naughty little grin came up and he went "oh he's a shit singer isn't he?" like that, and we all just laughed.  And then the rest of the day, he was just, he was so sweet.' –  Tim Bret-Day
Print is approximately 12×15″ and printed on high quality archival paper. One winner will be chosen at random!
| | |
| --- | --- |
| | Courtesy of VaultWorks |
CONTEST DATES: Oct 08, 2021 - Nov 15, 2021

---
This contest is now closed. Please
click here
to view our current contests!
Congratulations to our winners!
Abbie G - Bradley, CA