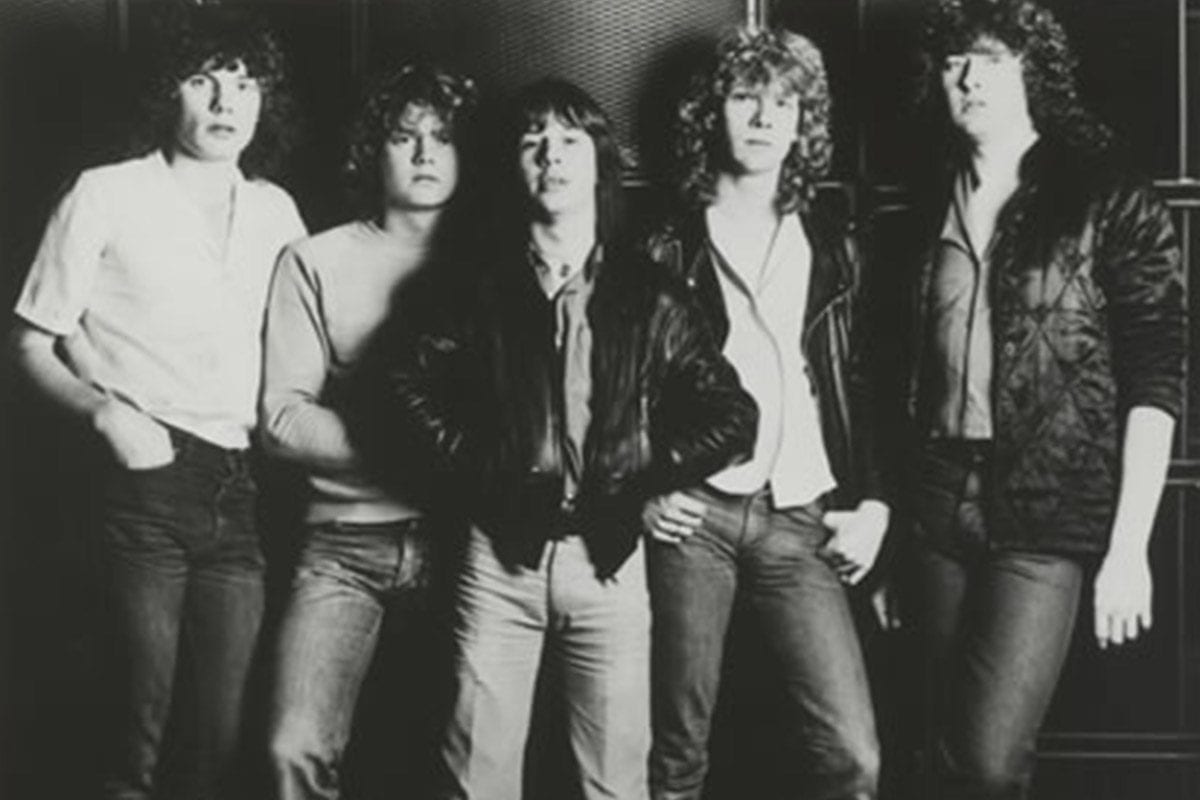 On August 4, Def Leppard will celebrate the 30th anniversary of Hysteria with the release of a remastered 2017 edition.
The re-issue will be available in several formats includeing: 1-CD remastered edition, 3-CD deluxe edition, 2-LP set on both black and limited edition color vinyl, and a 5-CD + 2-DVD Super Deluxe Edition Box Set.
The 12x Platinum certified album that featured no less than 7 hits singles was named the #25 biggest album ever by Billboard in 2015, but despite its eventual success, the road to its release was a long one, fraught with difficulty.
The band, fresh off their Pyromania tour, went straight into the studio in February 1984 to start writing Hysteria. It wasn't until 3 and a half years later that it was finally released.
"Over such a long period even trends in music change," recording engineer Nigel Green explains in a new Billboard interview. "At one point we were trying to soften things up a little, guitar wise. Then suddenly Bon Jovi broke with 'You Give Love A Bad Name.' We thought, 'Shit, now we have to heavy things up again!'"
In the interview, the band members and recording team remember the long, troubled path that finally lead to the release of one of the defining albums of the decade.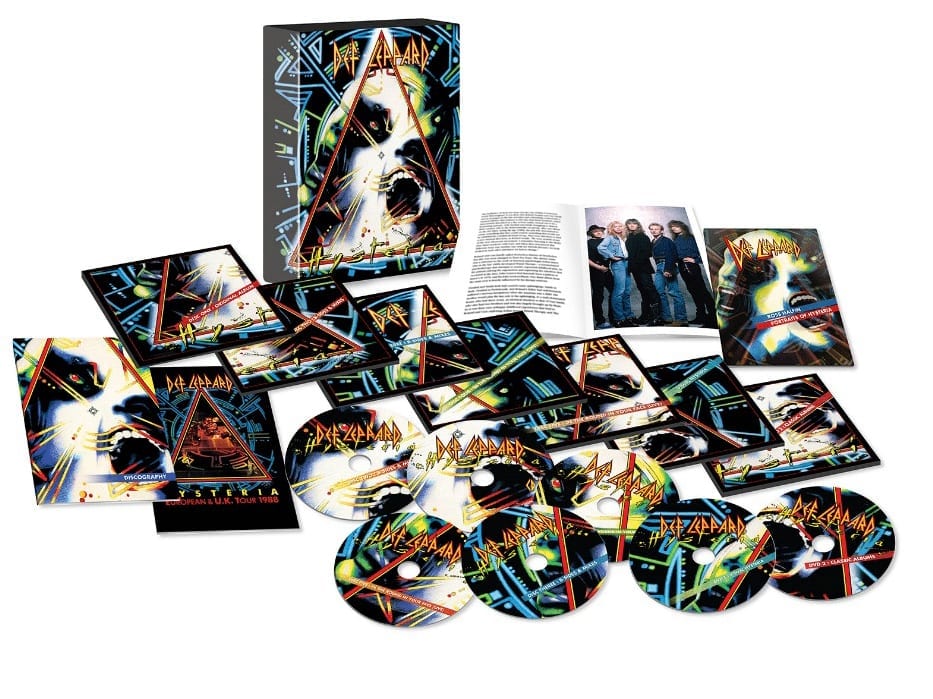 Def Leppard Hysteria 30th Anniversary Super Deluxe Edition Track List:
CD 1 (Hysteria Remastered)
1. Women
2. Rocket
3. Animal
4. Love Bites
5. Pour Some Sugar On Me
6. Armageddon It
7. Gods Of War
8. Don't Shoot Shotgun
9. Run Riot
10. Hysteria
11. Excitable
12. Love And Affection
CD 2
1. Tear It Down (B-side)
2. I Wanna Be Your Hero (Retro Active)
3. Ride Into The Sun (Retro Active)
4. Ring Of Fire (B-Side)
5. Women (Radio Edit)
6. Rocket (Lunar Mix) (Radio Edit)
7. Love Bites (Radio Edit)
8. Hysteria (Radio Edit)
9. Pour Some Sugar on Me (Radio Edit)
10. Armageddon It (Radio Edit)
11. Release Me (Stumpus Maximus)
12. Classic Album – Hysteria (BBC Radio Documentary)
CD 3
1. Rocket (The Lunar Mix – Extended Version) (B-Side)
2. Armageddon It (The Nuclear Mix) (12 Single)
3. Animal (Extended Version)
4. Pour Some Sugar On Me (Extended Version)
5. Excitable (The Orgasmic Mix) (B-Side)
6. Rocket (Lunar Mix) (B-Side)
7. Rock Of Ages (Live) (B-Side)
8. Love And Affection (Live) (B-Side)
9. Billy's Got A Gun (Live) (B-Side)
CD 4: In The Round, In Your Face (Live)
1. Stagefright
2. Rock! Rock! (Till You Drop)
3. Women
4. Too Late For Love
5. Hysteria
6. Gods Of War
7. Die Hard The Hunter
CD 5: In The Round, In Your Face (Live)
1. Bringin' On The Heartbreak
2. Foolin'
3. Armageddon It
4. Animal
5. Pour Some Sugar On Me
6. Phil Solo
7. Rock Of Ages
8. Photograph
DVD 1:
1. Rocket (TOTP)
2. Pour Some Sugar On Me (TOTP)
3. Animal (TOTP)
4. Pour Some Sugar On Me (Brit Awards)
5. Women (Promo Video)
6. Animal (Promo Video)
7. Pour Some Sugar on Me (Promo Video)
8. Pour Some Sugar on Me (US Version Live)
9. Hysteria (Promo Video)
10. Love Bites (Promo Video)
11. Rocket (Promo Video)
12. Armageddon It (Live) (Promo Video)
DVD 2 (Classic Albums):
1. Introduction
2. Animal
3. Hysteria
4. Rocket
5. Love Bites
6. Pour Some Sugar On Me
Bonus Material:
7. Initial Recordings of Animal
8. Rick Gets Hysterical
9. Hysteria (Acoustic Performance)
10. Drumming – Return to the Status Quo
11. The Album According to Joe
12. Sugar Stripped Down
13. Pour Some Sugar on Me (Acoustic Performance)
14. Guitars, Guitars, Guitars
15. Windmill II and The Gods Of War
16. Mutt's Vocals in The Mix
17. The Album is Finally Released
Def Leppard "Hysteria" Music Video