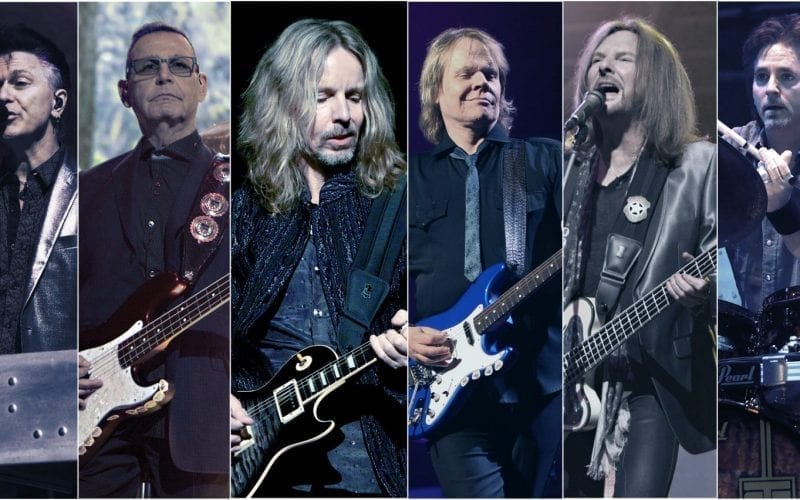 Tommy Shaw, James "JY" Young and Lawrence Gowan of STYX sit down for an intimate conversation with Dan Rather on an all-new episode of The Big Interview tonight – April 17 at 9pm ET/6pm PT.
With 46 years in the industry, a roster of hits that include "Come Sail Away", "Renegade", "Blue Color Man" and "Too Much Time On My Hands", a dedicated fanbase and the distinction of being the first band in history to achieve four consecutive multi-platinum albums, there isn't much that STYX hasn't accomplished.
When asked what compels them to continue touring and performing guitarist Young thoughtfully explains, "We're meant to bring this music—which comes from a higher place and is channeled through us and has the power to soothe, to calm, to inspire, and, in the best cases, to heal. We are the stewards of this mighty power, and it's our great joy to get out here and use that power."
"I would also add that we're completely unqualified to do anything else on the planet," says frontman Gowan, leading singer and guitarist Shaw to humorously chime in, "My charm wears off pretty quickly at home, I don't recall my wife ever being in tears when I left again."
Shaw and Young also open up about the fractious relationship with former STYX frontman Dennis DeYoung. Though many of their biggest hits were released during DeYoung's time with the band, creative differences were ultimately the root cause of DeYoung's official departure from STYX in 1999.
On the possibility of a reunion with their former frontman, both Shaw and Young firmly say "No." Shaw compares their relationship with DeYoung to a divorce. He says, "You get married when you're young and everything's rosy. Then, as you start to get a little older, you realize you didn't have that much in common and then you go through a tough divorce… We still have songs that we co-wrote together, and those are our children, and we've managed to find a way to keep those things in play."
Instead Shaw prefers to stay positive and look to the future. "Personality-wise, at this stage in my life, I want to be happy. I want to be around people who love me and that have my best interest at heart, and I don't have to fight with. There's just not enough years left that I would want to risk not having that again."
Gowan took over as the lead vocalist for the band in the wake of DeYoung's departure and has now been with STYX longer than his predecessor. Though he is aware of his bandmates' rocky relationship with DeYoung, he recognizes that it's part of the journey that has lead to STYX becoming one of the most enduring and iconic band in rock history.
Gowan explains, "I hear the angst and the history that they had to live through as a band, and I'm respectful of that… I look at it as if we are a great band, and what's made us great is that we are the culminations of the efforts of everyone who's been in the band… Sometimes in life you need a blood transfusion. Although I'm Canadian, apparently I was a match."
Check out the full interview tonight, April 17 9pm ET/ 6pm PT only on AXS TV