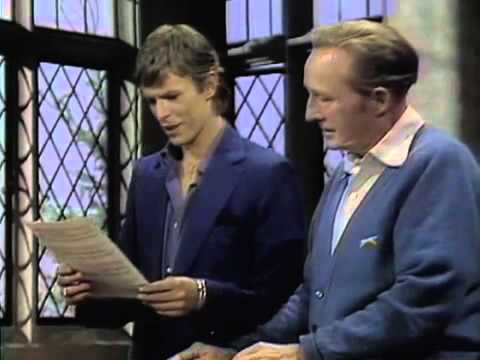 As we gear up for the holidays, there's one tune that is a must-listen on our classic rock Christmas playlist every year. And in our opinion, the holidays just wouldn't be the same without it. This 1977 vocal collab between David Bowie and Bing Crosby is perhaps one of the strangest in recent music history. While "Little Drummer Boy" has become a beloved classic over the last four decades, the pairing was initially unexpected and, quite frankly, a little odd.
So how did the "White Christmas" crooner end up singing with Ziggy Stardust?
In a roundabout way, we can thank Bowie's mom.
In a 2014 PBS interview, the writers of Bing Crosby's Merrie Olde Christmas television special discussed the circumstances behind the collaboration. The pitch was originally to have the pair duet on "Little Drummer Boy," Larry Grossman and Buz Kohan explained. But Bowie flat out refused. "He said, 'I won't sing that song. I hate that song… I'm doing this show because my mother loves Bing Crosby.' "
Luckily some quick thinking on the part of Grossman, Kohan and Ian Fraser saved the segment. Rather than try to find another song to fit the spot, the three producers/songwriters composed a counter-melody, lyrics and a new bridge for Bowie to sing alongside the original tune. They found the nearest piano and banged out "Peace on Earth," the second component of the duet, in about 75 minutes. Once it was taken to the two stars, they had it perfected in less than an hour.
After the show's recording, Crosby spoke highly of Bowie as a "clean-cut kid and a real fine asset to the show". "He sings well, has a great voice, and reads lines well," Crosby said.
His praise, however, was in stark contrast to his initial reaction to Bowie, at least according to his children. Crosby was apparently less than impressed when Bowie first arrived on set.
"The doors opened and David walked in with his wife," Mary Crosby recalled. "They were both wearing full-length mink coats, they have matching full makeup and their hair was bright red. We were thinking, 'Oh my god.'"
"It almost didn't happen," Nethaniel Crosby added. "I think the producers told him to take the lipstick off and take the earring out. It was just incredible to see the contrast."
But as the day progressed, the Crosby kids noticed a transformation. "They sat at the piano and David was a little nervous. Dad realized David was this amazing musician, and David realized Dad was an amazing musician. You could see them both collectively relax and then magic was made."
Fun Fact: Bowie considered the recording with Crosby his 'most bizarre experience'. When asked by David Quantick in October 1999, "What's it like being the only person ever to work with both Lou Reed and Lulu?", Bowie responded, "Now I am not sure if that's — opprobrium, or if it's my apotheosis…I think the thing with Bing is the most ludicrous… it's wonderful to watch. We were so totally out of touch with each other.
Advertisement
Possibly the strangest part of the Crosby/Bowie performance is the decidedly awkward setup of how the two musicians meet. Bowie rings Crosby's door, then insults him by asking if he's the new butler. The overall premise of the special is that Crosby is invited by a long-lost relative to spend Christmas in England. His relative's neighbour happens to be David Bowie, who enjoys popping in to play the piano. The pair makes small talk about the holidays and traditions — "We sing the same songs — I even have a go at 'White Christmas,'" Bowie quips — before he comes upon something that sparks an idea.
"Oh, this one," Bowie says and smacks a piece of sheet music. "This is my son's favorite. Do you know this one?" Crosby responds warmly, "Oh, I do, indeed. It's a lovely thing." Cue "The Little Drummer Boy."
Another Fun Fact: "The Little Drummer Boy" was originally called "Carol of the Drum". It was written by American composer Katherine Kennicott Davis in 1941 and was actually based on an unidentified Czech carol. The Trapp Family Singers (yes, that Trapp family – made famous by the movie Sound of Music) recorded the song in 1951 and pa-rump-pa-pum-pummed the tune into the Christmas canon.
Bing Crosby died a mere five weeks after recording with Bowie. His Merrie Olde Christmas special aired posthumously in the U.S. at the end of November, and on Christmas Eve in England.
However odd the origin story of this Christmas duet, there's no doubt that it has become a beloved part of the holidays.
"Every child must be made aware / Every child must be made to care / Care enough for his fellow man / To give all the love that he can."
David Bowie & Bing Crosby: Peace On Earth/The Little Drummer Boy"