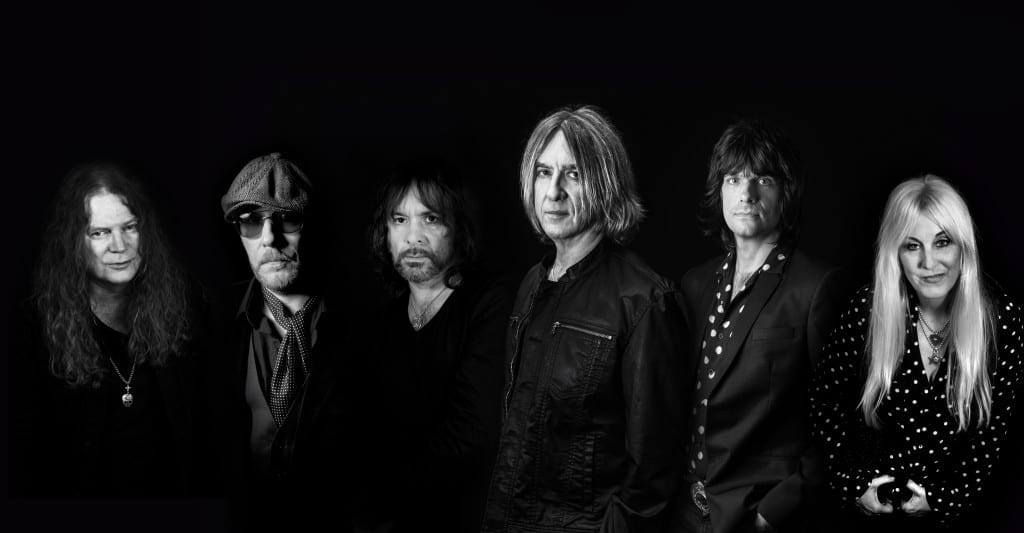 "Do I listen more to music that I grew up with when I'm on my own? Is my iTunes full of 70s and 80s stuff more than it is 90s and onwards? Absolutely!"
Def Leppard frontman Joe Elliott and his side project band Down 'n' Outz are out with their third studio album, the aptly titled This Is How We Roll, available now on CD, vinyl, digitally and on limited edition 12" Picture Disc LP. The 12-track collection is the follow-up to the unit's previous releases, 2011's My Re-Generation and 2014's The Further Adventures of…. Unlike the aforementioned covers-heavy homages to bands like Mott the Hoople and others of their ilk, This Is How We Roll features 11 Elliott-penned songs and a lone cover of The Tubes' "White Punks on Dope."
I spoke with Elliott about his new set of songs and Def Leppard's induction into The Rock and Roll Hall of Fame.
Hey Joe! How are you?
How are you? I'm good. How are you?
I am great. It's always great to talk to you…
You, too, man.
…and thank you for your time.
Anytime!
Before we dive into the Down 'n' Outz of course, I have to congratulate you and Def Leppard on being nominated for induction into The Rock and Roll Hall of Fame.
Why, thank you my friend. Yes indeed. It was a great night; I have to say. It wasn't anything that we were jumping up and down about beforehand really until the nominations were 100 percent in. But once we were in, we had to look at it from a different point of view because it wasn't that elitist thing that we'd been shunned from for years. It was voted by our audience and that makes a huge difference to us, you know. It makes it more real. We don't really care too much about an invisible committee decided whether we're cool enough to be in or not. But we certainly did acknowledge the fact that our fans wanted us in. Of course, we're very proud and honored to be in, and who wouldn't want to be in the same club as Elvis and The Beatles and The (Rolling) Stones. It is a very cool thing to be able to say that you're in there.
Well-deserved my friend, well deserved! Congratulations again. Well, let's jump into the third Down 'n' Outz album. This Is How We Roll kicks off with the piano-pounding "Another Man's War," followed by the single and title track. Why and how did you settle on the album title?
I just thought it was a cool thing, you know, This is How We Roll. It's autobiographical to that point, you know, it's a great title for an album, I think. Well, I'll tell you the story. We were in Sheffield (England), my birth town, watching a cinematic viewing of the first gig we ever played. And as we were watching it, Guy Griffin, the rhythm guitar player, just kind of snuggled up next to me and he just kind of nudged me and he pointed at the screen and he just said, 'This is how we roll.' And then I thought, well, you know, this is how we roll tells the story of the band. How we got together, so, hence the opening line, you know, 'Thrown together like rats in a cage.' We met in this crappy little rehearsal room in London and we took hands like English people do, you know. Then we started playing together and two hours later we're hugging and off to the pub (laughing)! It just went so well, you know. We had such a great time. So, in two days they had the tracks down, sent them over to me in Dublin and I finished the album off. And that was the first Down 'n' Outz album My Re-Generation, which did really well at American radio. So, all of a sudden, I have this legitimate second band. The reason the album starts off with "Another Man's War" is that was the first song that I wrote for this project. I actually had that song written before the second album was released. I think I saw a review where somebody said listening to this album is like looking through Joe Elliott's record collection. I took that as a compliment you know because all the music I grew up with didn't necessarily all come through in whatever I've done with Def Leppard. When I'm in Def Leppard, I'm part of a democracy or a cooperative. You're 20 percent of a unit. This is more like I would imagine Tom Petty & The Heartbreakers was, where the Heartbreakers were incredibly important, but Tom kinda wrote all the songs. That's what this Down 'n' Outz album is. So, yeah, it starts out with the pounding piano stuff, and that's the main difference between the two bands: between Def Leppard and The Down 'n' Outz for me is the piano. I can't see the point of being in two bands that sound identical. So, the whole point of this record is: Def Leppard don't sit around a piano for writing sessions, but for the Down 'n' Outz it makes sense to be able to do that. So, I'm delving into the likes of Leon Russell and Elton John, Bowie, Queen, Mott the Hoople. You know, bands that had piano amongst their driving guitars. That was the main factor between the difference between the two bands.
Yeah. I wanna ask you about a couple of tracks. "Boys Don't Cry." Correct me if I'm wrong, Joe, but that song has nothing to do with The Cure (1979) song of course.
No, it doesn't. No. I'll be honest: I didn't even know there was a Cure song called "Boys Don't Cry" until somebody like yourself pointed it out to me. I don't really listen to The Cure too much.
And let me emphasize, Joe, that the semi-question was tongue in cheek, but tell me a little bit more about that song, "Boys Don't Cry."
It was the last song written. I'd listened to everything else that we'd recorded. We were always gonna put "White Punks on Dope" as the kinda last song on the album. There is a reprise that follows it, but it is essentially the last song on the album and it's the only cover on the record. And that's an out and out rocker. It felt just a little light on the guitar-based songs, if you like. Like you said the piano is the driving force. I think it was a tiny bit of raiding Pete Townshend's thought process. I'm not suggesting for a second that the song sounds like I've ripped off The Who, but there is just – especially the middle bit – there's a little bit of the sound of The Who in the way that it breaks down. I just wanted it to be different to what people would have expected from me. And I think that comes through in most of the songs. In like "Goodnight Mr. Jones" or "Last Man Standing," "Let It Shine," "Walking to Babylon." These songs are very, very different to anything I've ever sang on before.
In fact, I was gonna ask you about "Last Man Standing." You mentioned it. Is it in any way biographical?
I think it's subconsciously biographical. I had the line "God took an axe to my family tree." It could only possibly be me backreferencing my father's passing seven years ago. It wasn't holding me back. I've moved on from there, but I just thought it was a great line. It just came out of the air to me, and I was like, oof. I had the piano piece and I knew I wanted it to be a moody kind of lyric because it's a moody piece of music. You need to match them up. And then once I got that first line on the go the rest just fell into place. So, a lot of these songs are semi-autobiographical to the point of, like, they reference bits in my life that are major things like, you know, the death of your father is a big deal. There's also the song "Walking to Babylon" and "Let It Shine." Both kinda lean towards a lyric I suppose references me leaving home. Leaving my birth town and moving to London and the way that I dealt with it. Saying goodbye to your friends. I was young and just left home. So, I kinda reference things like that a lot. So, yeah, I mean it's not exactly an autobiographical album in like the sense a book would be. There's more references to my own personal situation than maybe I've allowed myself to do in the past.
I saw your episode of the AXS TV series Brian Johnson's A Life on The Road, which I record each one of them and they're great. That said, do you consider yourself nostalgic?
Yes, I mean of course. I'll tell you why: it's because I'm 60 years old now. You know, I've got 40 years to look back. I probably don't have 40 years to look forward. So, there comes a line that you cross that you can't uncross. And you accept it. Do I listen more to music that I grew up with when I'm on my own? Is my iTunes full of 70s and 80s stuff more than it is 90s and onwards? Absolutely! I'd love to say that it's packed full of Greta Van Fleet and The Struts and the likes of, but there just aren't anymore the likes of. The music industry has changed and at this moment in time we're celebrating legacies. Whether it be McCartney or the Stones or Fleetwood Mac or The Eagles. I know it sounds morbid, but I think a lot of people go to these stadium shows because they're thinking it might be the last time, we get to do it. Because of the music. But they only say that because what they've done is so important. It's so historically, musically important that it's worth going to see, you know. We have to let the new bands come through. We want more new bands to come through. I want Greta Van Fleet and The Struts. These bands, they just sound like bands of the 70s, but it's more my style than a lot of the 90s stuff was. I'm much more likely to, say, listen to Goodbye Yellow Brick Road by Elton John than I am, say, Nevermind by Nirvana. As much as I think it is a great record, it didn't sink into my DNA as much as when my brain was a sponge. You know, when you're 13-years-old as I was when Goodbye Yellow Brick Road came out, I have an empty head. And it's just filling up with songs. By the time we get to the 90s there's no room left (laughs)! I'm packed full of The Beatles and The Stones and The Who and The Kinks and The Small Faces and, you know, Montrose and UFO and Thin Lizzy and all that kind of stuff. And then we start making our own music and you actually run out of time listening to other people's because you're too busy doing your own thing.
You have excellent musical taste my friend, and I share a lot of it. Definitely. You mentioned the track "Goodnight Mr. Jones" a bit ago. What's the musical connection that makes you such a huge fan of Bowie and Mott for example?
Right place, right time, you know what I mean. You know, I grew up in England right. We didn't have what you guys have got or had then. I'm not really sure what you had in 1972, but I'm sure you had more than two TV stations. And they probably didn't close at 10:30 at night. We also only had one radio station and that only played rock music for a two-hour special show a week. We didn't have rock and roll radio stations like (95.5 Los Angeles) KLOS or whatever that went on 24 hours a day in stereo. We didn't have that. And then also, being from a working-class family, we were just two bedrooms, black & white telly, and then one day my dad comes in with a color TV. And it just coincides with the British glam rock movement happening in 1971, '72. So, I went from seeing the likes of The Beatles and The Stones and the Small Faces and The Who wearing black & white suits and looking very gray to seeing Slade and T. Rex and Mott the Hoople and Queen and Sweet wearing all this silver and gold and lame and bright reds and bright greens blasting out of this box in the corner of the room. And at the age of 12 that just became the new generation music and the British glam rock seen was just like massive to me. It was huge. As much as I love my Led Zeppelin and The Beatles and The Stones etcetera, it was listening to things like Bowie and T. Rex that made me say, "I want a guitar." I want to be him! I wanted to be Marc Bolan. I wanted to be Ian Hunter. I wanted to be David Bowie. It turns out I wasn't any of them. I wasn't capable, but I knew that it drove me on. And to the point that four years later when punk came out that gave everybody like me the opportunity to say, well if he can do it, I can (laughs). But that whole Bowie thing: when I say David Bowie on Top of the Pops doing "Starman," it was just like looking at something that had literally just come down from Mars. These guys came out of a spaceship. And the music did, too, you know. I was 12, you know, and it just made such a connection with me. So, of course when David Bowie died, to me that was like when Elvis Presley died for a generation above me. He had a huge impact on me. Not necessarily on Def Leppard. I get why people might be going, 'Huh?' But for me personally, you know, a huge, huge impact. So, I just wanted to acknowledge the whole era, if you like, through that three-to-four minutes with "Goodnight Mr. Jones." It just made sense. It was just like saying thank you, and it just seemed like the perfect tittle for something like that.
Yeah, it's a great track. Two more quick questions for you Joe, and again thank you. It's always a pleasure. So, are the Down 'n' Outz going out on the road anytime soon?
Unlikely. The album took the best part of five years to record. It didn't actually, it took about three months to record but it was recorded over a five-year period because I'd call them up and say, 'Hey, I'm off the road for four months,' (and they'd say), well we just got on the road for four months (laughs). And the overlap was enormous. And these little windows of opportunity would roll around and we would record for two or three days. Luckily the songs were all demoed so all they had to do was play their parts. There was no, like, 'We need a bit.' That was all done. That's how the album came together, and that's why it took so long. And if an opportunity comes to play live down the road, we'll take it, but there isn't gonna be one anytime soon.
Final, fun and very hypothetical question for you here. If Mott The Hoople and David Bowie were playing on the same night in the same city which show would you be at?
(Sighs) Wow, thanks for that. Hypothetically I'd be twins and I would go to both!
You would clone yourself, huh?
Yeah (laughs).
That would cover it. Alright, Joe, well thanks again. Take care, man.
You too, bud. Thanks, man.
Bye-bye.
Be good, bye-bye.