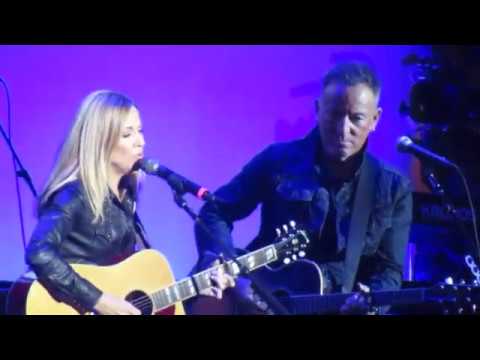 The 2019 Stand Up For Heroes benefit took place Monday night at the Theater at Madison Square Garden and, as he has for the past 12 years, Bruce Springsteen loaned his time and talent to the occasion.
In 2007 ABC news correspondent Bob Woodruff brought Conan O'Brien, Lewis Black, Robin Williams and Bruce Springsteen to New York's Town Hall to help raise funds for wounded veterans. Woodruff and his family conceived of the idea after he was seriously injured in 2006 by a roadside bomb while on location in Iraq. The severity of his injury and the long road back to health while battling depression and PTSD, opened his eyes to the challenges that wounded vets face when they return home.
The benefit has been held every year since, moving to the Beacon Theatre, then to The Theatre at Madison Square Garden as it has grown and it has raised over $55 million in the process to help countless heroes rebuild their lives.
This year's benefit featured Daily Show correspondent Ronny Chieng, John Oliver from Last Week Tonight, former Daily Show host Jon Stewart and correspondent Hasan Minhaj along with Sheryl Crow, Jazz harmonica player Frédéric Yonnet – who did an epic cover of Led Zeppelin's "Kashmir" – and of course, The Boss.
Springsteen performed a short set of his own songs and, though not usually known for his sense of humor, broke into a series of dirty jokes. The New Jersey native also joined Sheryl Crow for a duet on her song "Redemption Day."
Crow wrote the song in 1997 after performing for troops overseas. Johnny Cash later recorded a cover of the song and now Crow's new LP, Threads (available on Amazon), features a virtual duet of them singing it together.
"But tonight I get the special thrill of inviting Bruce Springsteen to play it with me," she said as cries of "Brooooce" filled the air. "I used to worry early when I'd see Bruce play, 'Why are they booing?'" Watch the fan-filmed footage of the duet below.
Bruce Springsteen & Sheryl Crow "Redemption Day"