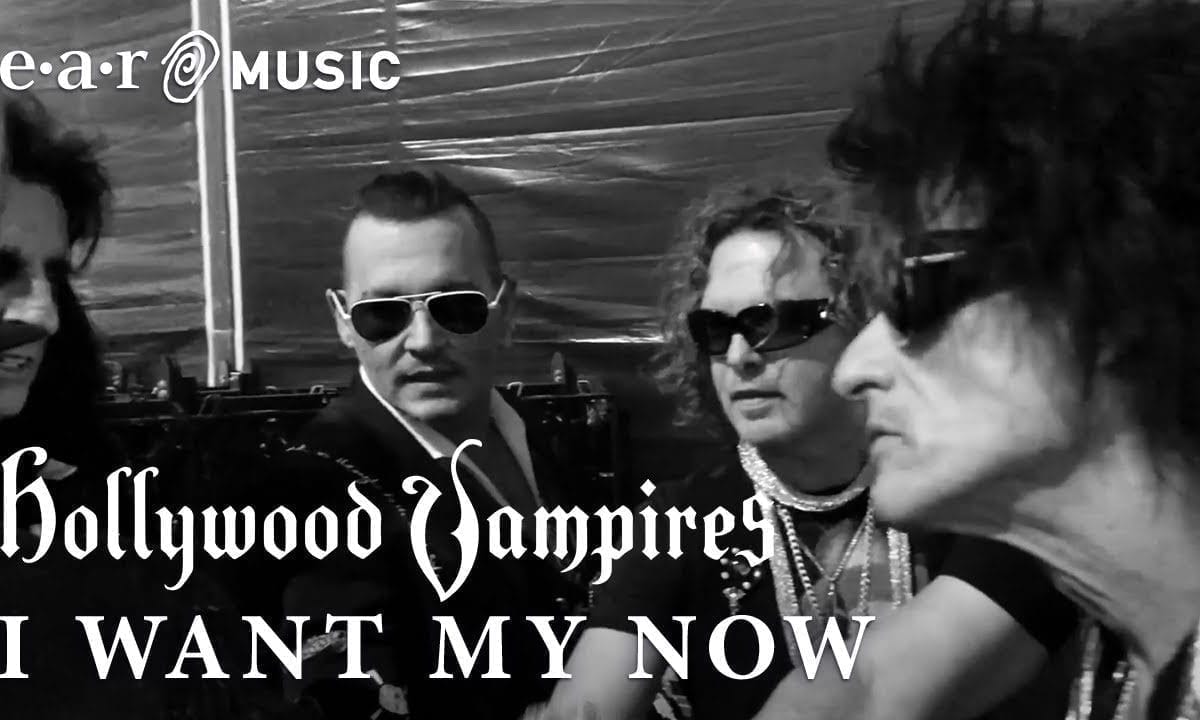 Hollywood Vampires have released the official music video for the song "I Want My Now" from their second album Rise. Watch it in the player below.
The group is an unlikely trio made up of Aerosmith guitarist Joe Perry, legendary shock rocker Alice Cooper and Hollywood superstar Johnny Depp. And yet, in spite of their seeming disparity or maybe because of it, they have undeniable chemistry.
Their name is a tribute to the music of the rock stars who died from excess in the 1970s and is borrowed from the name of a celebrity drinking club formed by Cooper in that decade (well before he sobered-up in the mid-'80s) which included but was not limited to John Lennon, Ringo Starr, Keith Moon and Micky Dolenz.
Rise was released on June 21, 2019, via earMUSIC as a CD digipak, 2LP+download and digital and was produced by Tommy Henriksen and the Hollywood Vampires. Unlike their debut album, Rise features 13 original tracks, written by the band. However, in keeping with their original intent, they do cover three songs written by artists who died far too young – David Bowie's "Heroes", Johnny Thunders' "You Can't Put Your Arms Around a Memory" and The Jim Carroll Band's "People Who Died."
Hollywood Vampires will tour Europe next summer in support of the new album. The trek will take them throughout Germany, Austria, Poland, the Netherlands, Luxembourg, Italy, Switzerland and more.
VIP packages and presales begin this Tuesday, November 19, with the general public on-sale starting this Friday, November 22. VIP Packages will be available can include a meet-and-greet with Perry, Cooper and Depp, exclusive merch, reserved tickets, and more.
Hollywood Vampires 2020 European Tour (confirmed dates)
Aug 15 – Citadel Mainz, Germany @ Summer In the City
Aug 16 – Hamburg, Germany @ Stadtpark
Aug 18 – Charlotta Valley, Poland @ Legends Of Rock
Aug 20 – Berlin, Germany @ Citadel Music Festival
Aug 23 – Lingen, Germany @ Emsland Open Air
Aug 25 – Oberhausen, Germany @ Konig-Pilsener Arena
Aug 27 – Klam, Austria @ Clam Castle
Aug 28 – Munich, Germany @ Olympiahalle
Aug 29 – Aarburg, Switzerland @ Riverside
Sep. 08 – Luxembourg, Luxembourg @ Rockhal
Sep. 10 – Milan, Italy @ Mediolanum Forum
Hollywood Vampires – "I Want My Now"