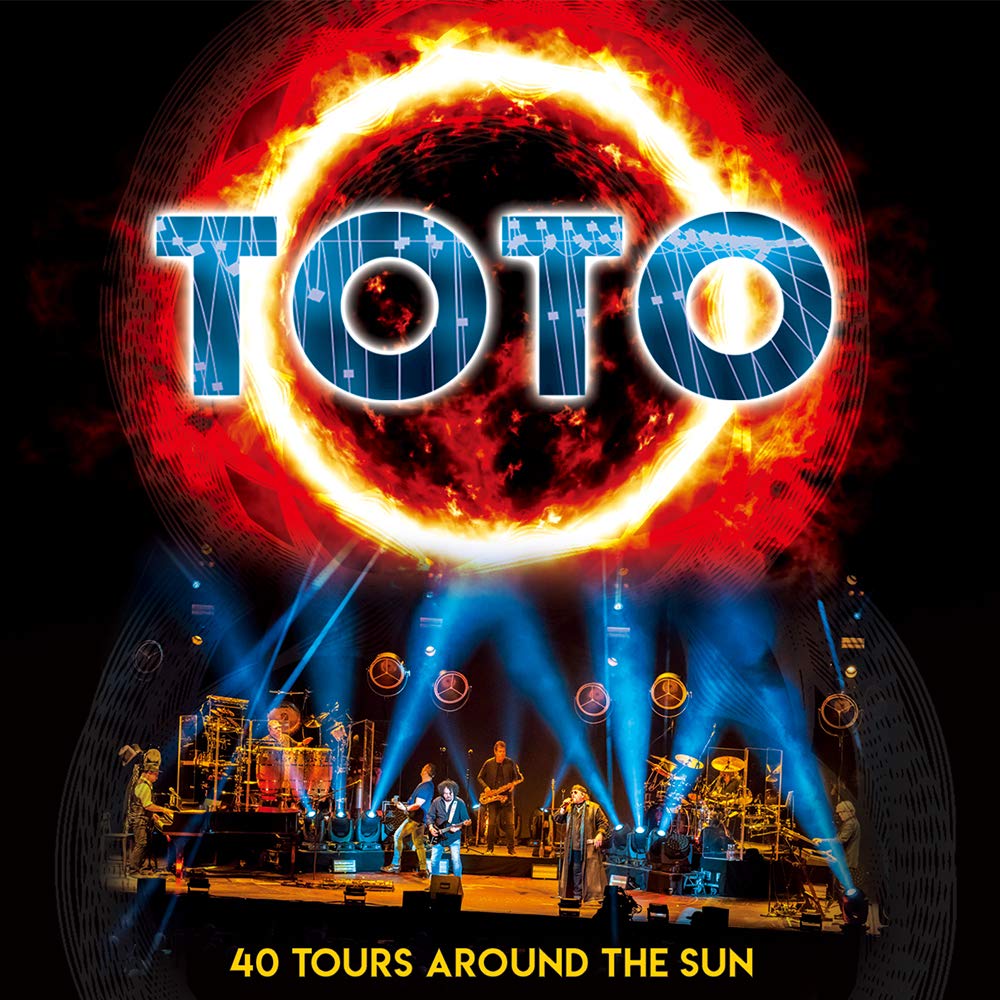 Toto has literally done it all. To date, their songs have been collectively streamed over a billion times, and individually, the band members can be heard on a mind-boggling 5,000+ albums including the best-selling album of all-time, Michael Jackson's Thriller. Of these recordings, hundreds have been nominated for Grammys. They also created one of the greatest soundtracks of the '80s when they recorded the music for David Lynch's Dune. They can even play music in 17/8. And, in their four decades together, they have recorded 14 studio albums as a band, releasing such massive hits as "Hold the Line", "Rosanna" and, of course, the eminently singable "Africa".
Now, in celebration of 40 years as a band, Toto has released a new concert film and live album, 40 Tours Around The Sun.
40 Tours Around The Sun was recorded at Amersterdam's Ziggodome on March 17, 2018, in front of a sold-out crowd of 18,000+ fans, as part of their massive 40th-anniversary tour. The band performed a wide range of songs including their monster hit singles, rarely performed deep cuts and two newly recorded tracks which appeared on their recent greatest-hits album 40 Trips Around The Sun.
The concert film also features a Storytellers segment in which the band's four key figures, David Paich, Steve Lukather, Steve Porcaro, and Joseph Williams, plunder their back catalog, describe the background behind their first demo and reveal the genesis of Michael Jackson's "Human Nature" written by the band's Steve Porcaro.
The DVD extras package includes exclusive interview footage with the band on the eve of the show as they discuss how their fathers' Hollywood careers brought these immensely gifted players together and launched them into the hearts of music fans around the world.
40 Tours Around the Sun was released on September 13 on digital formats, with two-CD and three-LP sets dropping a week later on September 20. Those wanting the DVD or Blu-Ray will have to wait until November 15 for the U.S. release. A complete tracklist can be found below.
Watch the preview for 40 Tours Around The Sun here:
Listen to "Spanish Sea" from 40 Tours Around The Sun
Toto is currently performing the North American leg of their 40th-anniversary tour visit TotoOfficial.com for a complete list of dates or to buy tickets.
Tracklist for 40 Tours Around The Sun
Disc 1
1. Intro
2. Alone
3. Hold the Line
4. Lovers in the Night
5. Spanish Sea
6. I Will Remember
7. English Eyes
8. Jake to the Bone
9. Lea
10. Rosanna
11. Miss Sun
12. Georgy Porgy
13. Human Nature
14. Hollyanna
15. No Love

Disc 2
1. Mushanga
2. Stop Loving You
3. Girl Goodbye
4. Angela
5. Lion
6. Dune (Desert Theme)
7. While My Guitar Gently Weeps
8. Stranger in Town
9. Make Believe
10. Africa
11. The Road Goes On