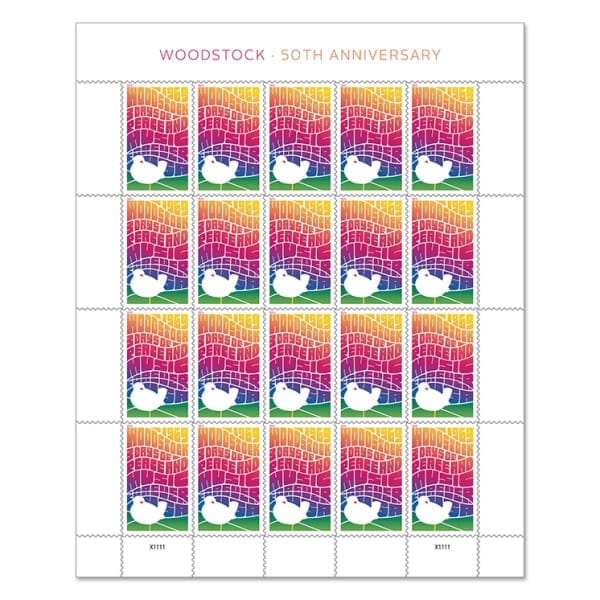 Woodstock, the epitome of '60s counterculture and the most famous music festival ever, has just been commemorated on a United States Postal Service stamp. The stamp, which celebrates the 50th Anniversary of the festival, was dedicated Thursday at a First Day of Issue event held at the Metropolitan Museum of Art in New York City.
"Woodstock was the most famous rock festival in history," said Kevin McAdams, vice president of Delivery and Retail Operations for U.S. Postal Service. "The Postal Service commemorates the 50th anniversary of Woodstock by issuing a festive Forever stamp as we continue to remember significant events of the '60s."
Designed by art director Antonio Alcalá, the stamp art features an image of a dove along with the words "3 Days of Peace and Music," evoking the original promotional poster for the festival. In the iconic 1969 poster, designed by graphic artist Arnold Skolnick, the dove was perched on the neck of a guitar. In the stamp art, the words are stacked in the background in brilliant colors along with the year "1969", "USA", and "Forever". The white dove stands in the foreground.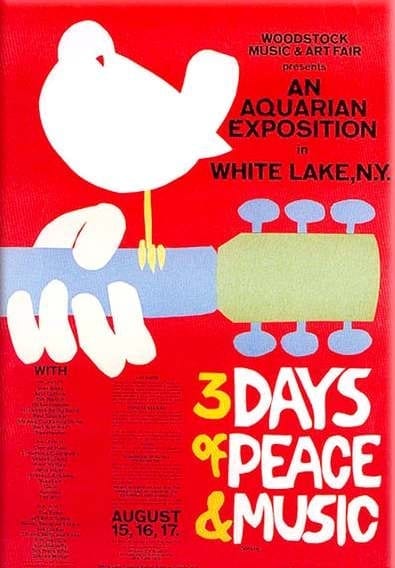 Woodstock 1969 festival co-creators and concert producers Joel Rosenman and Michael Lang joined McAdams in the ceremony, along with Jayson Kerr Dobney, The Metropolitan Museum of Arts, Musical Instruments, Frederick P. Rose Curator in Charge.
"It's an honor and an inspiration to be commemorated by the Postal Service. The USPS Woodstock Forever Stamp is an official acknowledgment of something we have felt for 50 years: Woodstock is 'Forever,'" said Rosenman.
Lang also shared his thanks to the Postal Service "for helping to deliver Peace, Love and Music."
The Woodstock (50th Anniversary) stamp is being issued as a Forever stamp, meaning it will always be equal in value to the current First-Class Mail 1-ounce price.
Woodstock is widely recognized as a pivotal moment in popular music and irrevocably changed the course of rock and roll.
From August 15-18, 1969 approximately 500,000 people descended on Max Yasgur's 600-acre dairy farm in Bethel, New York, roughly 43 miles from the town of Woodstock, for the festival.
Artists such as Joan Baez, Grateful Dead, Creedence Clearwater Revival, Janis Joplin, Santana, The Who, Jefferson Airplane, The Band, Crosby, Stills, Nash & Young and Jimi Hendrix took the stage, with a total of 32 different acts performing outdoors, through the rain and well into the early hours of the morning.