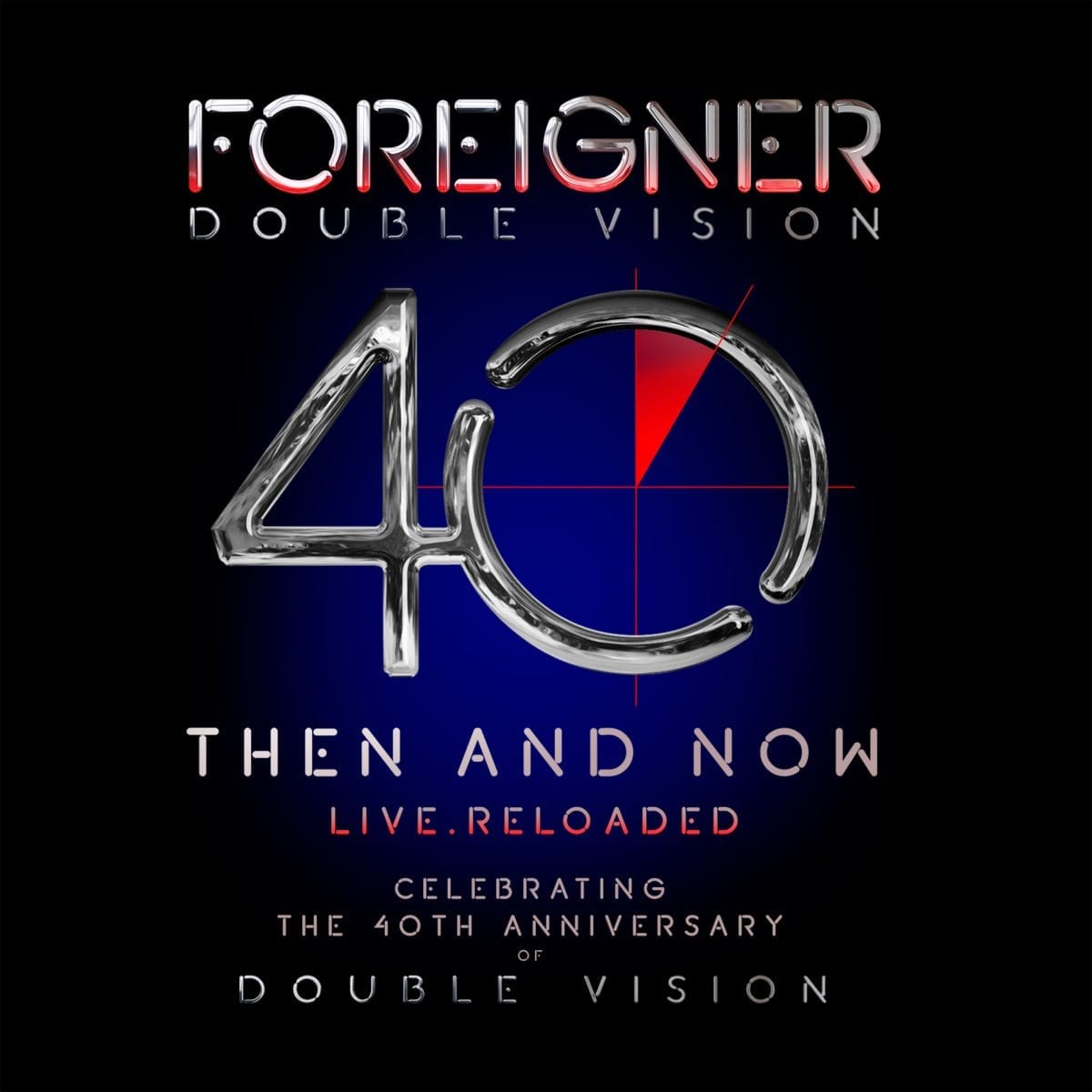 "The best reward is looking out there and seeing people who obviously had maybe death and illness and all those bad things happen in their lives, you know, and you really get that feeling back from the audience. That's part of the whole thrill of the whole thing."
Foreigner founding member Mick Jones has his sights set on marking the 40th anniversary of the band's milestone album, 1978's Double Vision. Packed with hit after hit after hit singles, including "Hot Blooded," "I Have Waited So Long," "Blue Morning, Blue Day" and the title track, the band's sophomore effort has gone on to sell over seven million copies in the U.S. alone.
I recently spoke with Jones about the November 15 release of Foreigner – Double Vision: Then And Now, available on CD+DVD, Blu-ray + CD, Limited 2LP+Blu-ray and Digital. The set features original and current band members sharing the stage for the very first time.
Hi Mick. How are you?
Is that Jim?
Yes, sir.
Good.
Well it's good to talk to you. I guess I have to begin by asking you how (former Foreigner frontman) Lou (Gramm) is feeling?
Lou has been doing very well. He had a little bout of sickness a month ago. We had to cancel one of the Double Vision shows. He seems to be recovering quite well. And I'm looking forward to seeing him in the not-too distant future.
Great, good to hear. So, we're obviously celebrating the 40th anniversary of the '78 album Double Vision. So, does that make it 20/20 vision now (laughs)?
(Laughs!) Yeah, cataract surgery time.
There you go, yeah! So, this new collection will be available November 15th on multiple formats, including vinyl, thank you. So, whose idea was it to mark the milestone by bringing the original and current band members together onstage?
I think it was my (laughs) idea if I remember correctly. I'm supposed to remember things like that these days, but some of them escape me (laughs). I think it was an idea that was shot out while we were talking, and (I) thought that might be really cool. I was a little skeptical at the beginning. I thought, I wonder how Lou and (current frontman) Kelly (Hansen) – what the vibes gonna be between them. It ended up being amazing. Lou came, he was in a great mood, you know, he was really happy about it. We had spent some time earlier, a few years back, when we were inducted into the Songwriters Hall of Fame, and I think that's when things started to mellow out. It gave us a chance to reflect on what we'd achieved together, and why are we in this sort of cold war mode that we'd been in for many years. It was really good for both of us.
We're all fortunate that the cold war thawed.
(Laughs) Yeah, yeah.
The concert was filmed using, gosh, I think over two dozen cameras. It's a big production, of course. How much rehearsal time was there before show night?
Well, as it was being recorded and filmed, we had to spend time on that end. You know, preparing. But I think it was done over the period of like three days.
Let's talk about a couple of specific tracks on this collection. Of course, "Feels Like the First Time" was performed by original members for the first time in over three decades…
…that's right.
…How do you keep a song that you've performed thousands of times of course; how do you keep it fresh?
First of all, you have great people playing with you. You have a band that is fun to play with. Not just fun – that's exciting to paly with. The songs seem to have stood the test of time pretty good, and they're exciting, and the playing is pretty heavy duty. You know, it's just – it's fun and it's a good time.
Now this might be a yes or no question, answer from you, but do you take into consideration the fact that fans likely want to hear the song the same way they remember it?
I think that's true, yeah. I think it really is. I know it is when I go and see a concert. You know, if the band comes out and they say, well now we're gonna play a couple of tracks from our new album, I go, like, 'Oh!' (laughs)! 'Really?' (laughs).
Time to hit the restroom?
Yeah, yeah (laughs), absolutely!
I wanted to ask you about "I Want To Know What Love Is," performed with a massive gospel choir. Is it safe to assume this wasn't the first time you performed the song with a choir?
Oh, no, right from the very beginning that was a big part of the first video. Well we're definitely amongst the first rock bands that had ever had a gospel choir. As it was for them – the gospel choir: it was their first time playing with a band, you know, with a rock band. Over the years since then we've done it. We've employed a choir.
The standout lyric line that has always been the line for me is, "In my life there's been heartache and pain." Personally, when did you experience, say, your darkest days?
A lot of it was just survival through certain passages in my life. Love. Breakups. All that kind of stuff. You know, I'm just this sort of, I guess, bit of a sentimental person, I guess. I'm kind of fragile, nerve-wise sometimes. I've had problems with anxiety and some rough patches. I mean, sometimes the words, I only kind of hear them when we play them. And each night is different. I look out in the crowd and I see somebody who's singing that line, you know, in the audience, and I think, well, I wonder – you just asked me the question – I wonder what it means to them. What heartaches and pains they went through? That's kind of one of the rewards. The best reward is looking out there and seeing people who obviously had maybe death and illness and all those bad things happen in their lives, you know, and you really get that feeling back from the audience. That's part of the whole thrill of the whole thing.
Well, let me be the more than millionth one to thank you for that line and that song because it's very impactful.
Oh, thank you. Very appreciated. Thank you.
The track list also includes of course huge hits: "Cold As Ice," "Head Games," "Jukebox Hero," "Hot Blooded," among many, many others. Here's my question: if you could have added one or two more tunes to the list which would they be? Which ones didn't quite make it?
Good question. Let me think (pause). Do you have any particular ones that you miss?
I wish I did, but it's a great list, of course, but I was trying to see if there was (any) discussion like, oh, is there one here that we want that we…
…we sometimes throw a couple of different songs in. You know, we do – from the 4 album – we do a track called "Night Life," which is side A, track one, and a song also on that album called "Breaking Up." We do that fairly often.
Okay, those are good ones, too. Definitely. Just two more questions for you, and again, thank you very much for your time. What can you tell us about your upcoming Las Vegas residency at the Venetian Resort?
Sounds like a lot of fun tracing Elvis Presley's experiences there. Frank Sinatra and all that, you know (laughs). It's just the whole thing is very Vegas, you know. But it's gonna be fun. I hear people have a good time at these events. And, yeah, it'll be nice to be in one place for a few days. Sleep in the same bed. That's always good.
That's what I hear often from artists that are doing these residencies now, which are great. They say it's good to sleep in a bed for more than one or two nights…
…yeah, yeah.
Also, you're not going to the audience, the audience comes to you.
Yeah.
So, final question here: 2020 tour dates get underway January 16th in Nashville, from the list that I've seen, and they run through late March, and so we're looking forward to that.
After that we're going to Europe for five or six weeks pretty much on a headline tour there. And then comeback and we do a 40-date headline tour of sheds and outdoor stuff. Kansas will be on that with us.
Nice!
Do you remember a band called Europe?
I do, of course.
They will be there, too.
(1986 Europe song) "The Final Countdown."
The final countdown every night (laughs). They opened for us in England a couple of years ago. It'll be fun. Nice guys. That's all you can ask for, really.
So, final countdown, I guess. Is there anything else we need to cover here? Anything else you'd like us to know, or are we all caught up?
No, I don't think so. I think, as I say, we're just recharging the batteries. It's gonna be a pretty grueling year. But, hey, it's good to be busy.
Absolutely! Alright man, great to talk to you again. Thank you for your time and stay safe.
You got it.
Hopefully we'll get a chance to say hello face-to-face again.
Yeah, definitely.
I'm sure I'll catch one of those shows. Alright, have a good day. Thank you.
Thanks, man. You, too.
Alright, bye-bye.