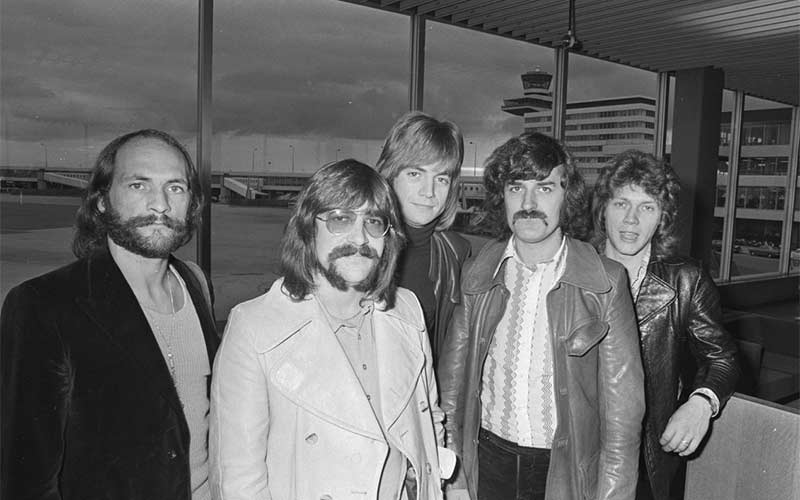 Prog Rock: a style of rock music popular especially in the 1970s and characterized by classical influences, the use of keyboard instruments, and lengthy compositions. (Oxford Dictionary)
Progressive rock is a broad genre of rock music that developed in the United Kingdom and United States throughout the mid to late 1960s. Additional elements contributed to its "progressive" label: lyrics were more poetic, technology was harnessed for new sounds, music approached the condition of "art", and the studio, rather than the stage, became the focus of musical activity, which often involved creating music for listening rather than dancing. Musicians in progressive rock typically display a high degree of instrumental skill, although this is not always the case. (WIkipedia)
Most Prog Rock bands share a few qualities – they hail from England in the late 60s, they've been creating music for 50+ years, their musicianship is unassailable, and their music, while first progressive and groundbreaking, is now the backbone of classic rock. Of course there are exceptions (Rush comes from Canada, ELP didn't form until 1970, King Crimson never quite became a classic rock staple), but essentially, they were all riding on the same Prog Rock road, creating layered, loooong, conceptual music. And unlike a genre like Grunge, Prog Rock bands seemed to retain their individual unique sounds, while still easily being recognized as part of the genre.
Here's our list of the ten top prog rock bands.
10

Jethro Tull

Formed: 1967
Where: Blackpool, England

Original members:
Ian Anderson, Mick Abrahams, Clive Bunker, Glenn Cornick

Important additions:
Martin Barre, John Evan, Jeffrey Hammond

Beginning as a folk/jazz/blues band, Jethro Tull quickly became a staple on the Prog Rock scene, especially with their charismatic leader, Ian Anderson. Their fourth studio album was Aqualung (1971), followed the next year by Thick As A Brick; the first being a concept album the group refused to admit was a concept album, and the second being a parody of a concept album, which turned into its own concept. Make sense? Either way, both albums cemented the band as leaders in the Prog Rock movement, and also helped garner Tull an eventual 60 million+ in album sales. But who's Jethro?
---
09

Rush

Formed: 1968
Where: Toronto, Canada

Original members:
Alex Lifeson, Geddy Lee, John Rutsey

Important additions:
Neil Peart (joined 1974)
With a fan base that was arguably one of the most devoted and die-hard in all of rock, Rush forged their own path out of Canada and onto the world stage with a unique blend of complex compositions and heady lyrics focused on the supernatural, philosophy and science fiction. With the release of 2112 in 1976, radio embraced the band and the almost 7:00 combo of "Overture"/"The Temples of Syrinx" which propelled them into the Prog Rock commercial stratosphere. After 40 million albums sold, the band dissolved in 2018, due to health conditions faced by Lifeson and Peart. Sadly, Neil Peart died of brain cancer in January of 2020.
---
08

Deep Purple

Formed: 1968
Where: Hertford, England

Original members:
Ian Paice, Jon Lord, Ritchie Blackmore, Rod Evans, Nick Simper

Important additions:
Roger Glover (1969), Ian Gillen (1969), Glenn Hughes (1973), David Coverdale (1973), Joe Lynn Turner (1989)

Deep Purple originally formed as a Progressive Rock band, but later found more success as a heavier rock group. Always volatile, the band has what is considered four lineups – Mark I, II, III and IV. Today, only drummer Ian Paice and mainstay bassist Roger Glover remain from the early years. Due to relentless touring and Prog Rock classics like "Smoke On The Water" the band has sold over 100 million records in their 50+ years together.
---
07

Supertramp

Formed: 1969
Where: London, England

Original members:
Roger Hodgson, Rick Davies, Richard Palmer, Keith Baker

Important additions:
Bob Siebenberg (1973), John Helliwell (1973), Dougie Thompson (1972)

It took Supertramp a few albums, but they finally got noticed internationally with 1974's Crime of the Century release featuring "Dreamer," "School" and "Bloody Well Right." The band reached their commercial pinnacle with 1979's Breakfast in America which sold over 20 million copies worldwide and helped the band attain a sales tally over 60 million total. Hodgson and Davies wrote virtually all of Supertramp's Prog Rock songs individually, very rarely collaborating in the writing. Their generous use of saxophone leads and riffs became a distinctive marker for the band.
---
06

Moody Blues

Formed: 1964
Where: Birmingham, England

Original members:
Denny Laine, Clint Warwick, Ray Thomas, Mike Pinder, Graeme Edge

Important additions:
Justin Hayward (1966), John Lodge (1966), Patrick Moraz (1978)

The Moody Blues defined Progressive Rock in the late 60s and early 70s. Their second album, Days of Future Passed (1967), included the iconic "Nights In White Satin" along with psychedelic and symphonic compositions. The Moody Blues became your guide if you wanted to go on a "trip." Keyboardist Pinder introduced the mellotron (a proto-synthesizer), which became part of their signature sound.
---
05

Emerson, Lake & Palmer

Formed: 1970
Where: London, England

Original members:
Keith Emerson, Greg Lake, Carl Palmer

Emerson, Lake & Palmer, dubbed the "Holy Trinity of Progressive Rock," became popular almost immediately, following their performance at the Isle of Wight Festival in late 1970. Their first two albums immediately rocketed into the top 5 in the UK, followed by five other releases in the 1970s, and then two when they reformed in the 90s. There was an off-shoot version of the band in the mid-80's, with Cozy Powell filling the "P" position, as Carl Palmer was playing in the group Asia. ELP's sound incorporated classical, jazz and rock and was led by Emerson's liberal use of the Hammond Organ and Moog synthesizer. Sadly, Palmer is the only member left — both Lake and Emerson died in 2016 — Lake of cancer, and Emerson of suicide after suffering depression fearing he couldn't play keyboards as well anymore due to nerve damage.
---
04

King Crimson

Formed: 1969
Where: London, England

Original members:
Robert Fripp, Greg Lake, Ian McDonald, Peter Sinfield, Michael Giles

Important additions:
Bill Bruford (1972), John Wetton (1972), Adrian Belew (1981), David Cross (1972), Tony Levin (1981), Mel Collins (1970)

King Crimson's first release in 1969, In the Court of the Crimson King, is hailed as one of the most influential Progressive Rock albums of all time. After their producer didn't work out, the band self-produced their debut, layering many sounds over each other to get the lush final mix. Sinfield and Giles left immediately after the release, and Greg Lake left after the second album to form ELP. Robert Fripp has been the only consistent member through the years, and has also found time to contribute guitar to over 700 releases from other artists. The band has retained its cult following through all of its lineups.
---
03

Yes

Formed: 1968
Where: London, England

Original members:
Jon Anderson, Peter Banks, Tony Kaye, Chris Squire, Bill Bruford

Important additions:
Steve Howe (1970), Rick Wakeman (1971), Alan White (1972), Trevor Horn (1980), Trevor Rabin (1982), Geoff Downes (1980)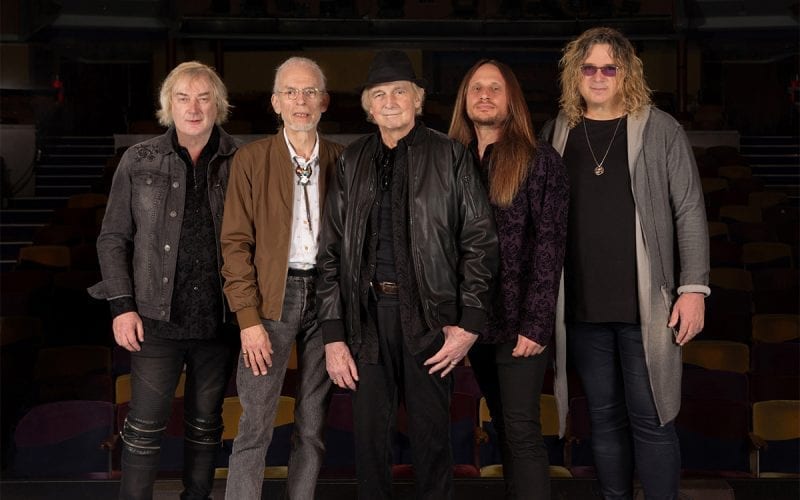 Defined by Anderson's range-busting, haunting and angelic voice, Yes was also incredibly prolific, releasing seven albums before 1975. Their Prog Rock status was cemented with the release of the single "Roundabout," which even though it clocked in at 8:36, became a radio staple. Rush's Geddy Lee has called Yes "the single most important of all the progressive rock bands." They are also one of the few bands that had a complete rebirth later in their career after Trevor Rabin joined in 1982.
---
---
02

Genesis

Formed: 1967
Where: Surrey, England

Original members:
Tony Banks, Mike Rutherford, Peter Gabriel, Anthony Phillips, Chris Stewart

Important additions:
Phil Collins (1970), Steve Hackett (1971)

Genesis was one of the more theatrical Prog Rock bands, originally fronted by the charismatic Peter Gabriel, who later had a wildly successful solo career. Many purists don't even want to recognize the band's music after Gabriel's departure. But, Genesis truly attained commercial success and worldwide acclaim with Collins as their lead vocalist. Both Collins and Rutherford (Mike + The Mechanics) also had incredibly strong solo careers as well. Collins and Gabriel appeared on four albums together including their last collaboration, the iconic "The Lamb Lies Down on Broadway." It is estimated that Genesis has sold close to 150 million albums worldwide.
---
01

Pink Floyd

Formed: 1965
Where: London, England

Original members:
Syd Barrett, Nick Mason, Roger Waters, Richard Wright, Bob Klose

Important additions:
David Gilmour (1967)
It was easy to pick the #1 Prog Rock band, as Pink Floyd's music seems to be a part of our consciousness. Their masterpiece, The Dark Side of the Moon, released in 1973, is one of the most critically acclaimed records in history, selling over 45 million copies and staying on the album charts for close to 1000 weeks. Their legacy was assured with follow up concept albums like Wish You Were Here, Animals and The Wall. And, their journey took them through different styles and directions, all while retaining that signature Pink Floyd layered sound. Estimated to have sold over 250 million albums worldwide, these Prog Rock kings rule the charts, the stage and the hearts and minds of fans.
Updated June 14, 2021. This article previously stated Neil Peart joined Rush in 1971. It has been updated to the correct year 1974.