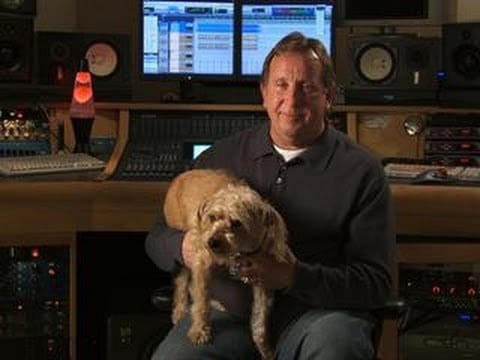 Grammy and Emmy award-winning engineer Ed Cherney passed away yesterday, October 22 at age 69. He had been battling cancer.
The acclaimed engineer was known for his work on such seminal albums as The Rolling Stones' Bridges to Babylon, Willie Nelson's My Way and Bonnie Raitt's Nick of Time as well as hundreds of others.
The news was announced on Facebook yesterday morning by Cherney's widow and quickly picked up by Billboard.
A Chicago native, Cherney discovered a passion for sound engineering almost by accident in his senior year of college. He had planned to become a lawyer but after being thrust into the role of soundman at his friends' gig, he realized that this was his "special purpose in life" (Watch the video below for more details.)
He went back to school for electronics, then in 1978, moved to L.A. where he began working at Westlake Recording Studios. There he spent 6 years working as an assistant engineer for Quincy Jones and Bruce Swedien.
Eventually, Cherney moved to The Village Studios, where he worked out of his own personal studio "Studio Ed". Over the years he went on to engineer records for Eric Clapton, Bob Dylan, Elton John, Iggy Pop, Sting, Bette Midler, Etta James, Bob Seger, and Jackson Browne, to name just a few.
Known as much for his quick wit and cheerful manner as his ability to find the perfect sound, Cherney's loss has been keenly felt throughout the music industry.
"Eddie was a real sonic genius," says producer Don Was, who worked with Cherney on the Raitt and Rolling Stones' albums, among others. "He knew how to add some ear-pleasing sparkle and sheen while keeping the music feeling intimate and natural. The records we did with Bonnie are perfect examples. More importantly, he added a really warm spirit to every session. Ed was funny humble and so good-hearted that everyone felt at ease. A terrific person and a great friend. He is utterly irreplaceable."
Raitt wrote on Facebook that she was "Heartbroken at the loss of my dear friend and brilliant engineer/producer, Ed Cherney. … He was one of the sweetest, funniest, big-hearted and talented people I've ever known, as widely liked as he was respected as one of our business's greatest recording engineers. I will miss him so much and am so grateful we got to have him as long as we did. Thank God he is out of pain and my deepest sympathy goes out to his beloved longtime wife and partner, Rose."
Keith Richards tweeted: "So sad to hear that Ed has passed. He was a brilliant engineer and we did some wonderful things together with the Rolling Stones and Don Was. He will be missed. Bless you, Ed!"
Slash also shared a message on Twitter: "RIP #EdCherney. One of the greatest guys in the business. & a good friend. We are going to miss you terribly."
Legends – Ed Cherney