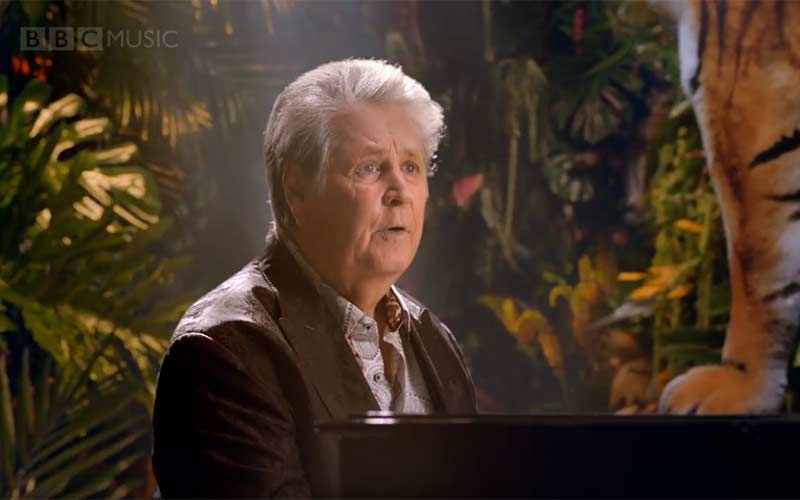 A brand new documentary about Beach Boys co-founder Brian Wilson is nearing completion after nearly three-years of production that has largely flown under-the-radar.
Though Wilson life has been examined in countless articles, books, movies and documentaries, nearly all of them focus on either the 1960s and the height of Beach Boys fame or the difficult decades that followed, digging into the sordid details of his struggle with mental illness, addictions and the noxious influence of therapist, Dr. Eugene Landy.
Related: Throwback Video: "God Only Knows" performed by the Impossible Orchestra
This new, as yet untitled documentary instead focuses on the last 20 years, when Wilson began composing brilliant, creative (yet largely unappreciated) new music and touring as a solo artist.
Director Brent Wilson (no relation) has been given unprecedented access into Wilson's life, compiling roughly 90 hours of fresh footage for the film. However, the initial interviews with the musician didn't go well. "He almost had a physical reaction to me putting a microphone on him," Brent Wilson explains. "He's hated being interviewed and he's answered every question a million times. They were both 20 minutes of pain. He just wasn't into it. After the second one I thought to myself, 'Man, I've got no film here. I'm done. My career is over. This is it.'"
Eventually, at the suggestion of Brian Wilson's publicist and manager Jean Sievers, the director contacted Rolling Stone editor Jason Fine who had grown close to the Beach Boys legend while writing about him for Rolling Stone over the years.
"Doing my research for the film I had read a lot of Jason's articles about Brian," says Brent Wilson. "The one I loved the most was Brian Wilson's Better Days from 2015 where they drive around L.A. together and just talk. Visually, that's what I wanted for this film. I wanted to hang with Brian for a couple of days."
The director and his crew eventually captured the footage they were hoping for – Wilson and Fine driving around Los Angeles, visiting the musician's favorite spots and listening to music.
"Brian has lived in Los Angeles his entire life," explains Fine. "Being there with him is such a cool experience because this is his town, and he's got memories on every corner." While driving around Wilson would request a song and reminisce about it. "He'd be like, 'Do you have the Beach Boys' [1977] album Love You?,'" Fine says. "'I'd love to hear 'The Night Was So Young.' A lot of the music is not the stuff you'd think. It's obscure stuff that he really identifies with."
"It felt like a good time to look back," says Brian Wilson. "I have so many memories in L.A. of growing up, all the good times with my band – we were just kids when we started, and of course memories of my brothers Dennis and Carl, who I miss so much.
"Over the years Jason and I have had a lot of fun times — just relaxing and listening to music, talking at the deli and cruising down to Malibu for sushi, so we got into that groove to make this movie," he adds. "I hope it shows people the love I feel and the hope I have to share love through my music."
Related: Rock Doc 'Echo In the Canyon' Premiers at L.A. Film Festival
Also included in the documentary are new interviews with such famous fans as Bruce Springsteen, Elton John, Jim James, Nick Jonas and Jakob Dylan, along with several other artists who have been influenced by Wilson's music.
The documentary is expected to be completed and ready to show to potential distributors in January. It is slated for release in 2019.