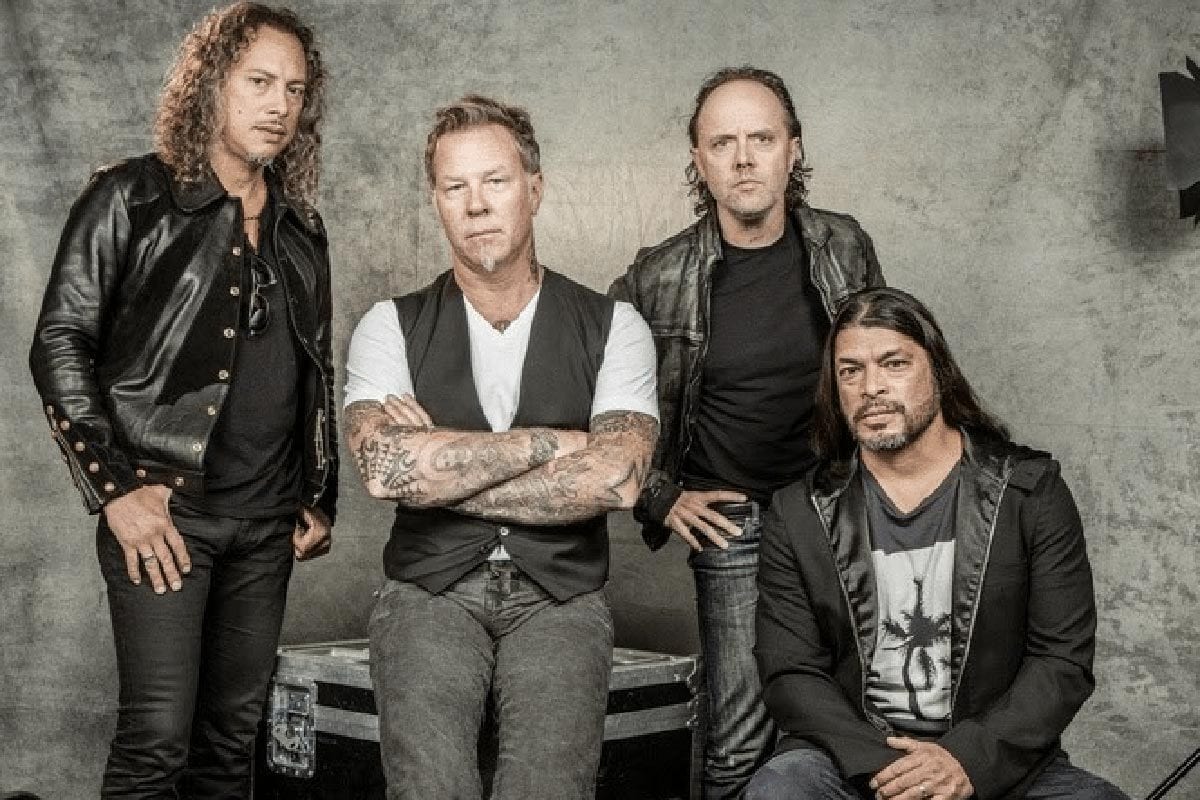 March 14, 2003 – Robert Trujillo performs his last concert as Ozzy Osbourne's bassist at the Hard Rock Hotel in Las Vegas, as he is leaving the band to replace Jason Newsted in Metallica. Ozzy Osbourne throws a farewell party for him, but wife Sharon Osbourne collapses from heat exhaustion and is rushed to the hospital.
March 14, 2005 – U2 and The Pretenders are inducted into the Rock and Roll Hall of Fame. U2 are inducted by Bruce Springsteen, and The Pretenders are inducted by Neil Young.
March 14, 1982 – Metallica (James Hetfield, Lars Ulrich, Ron McGovney and Dave Mustaine) make their live debut at Radio City in Anaheim, California. There are approximately 200 friends in attendance. Hetfield has not yet started playing rhythm guitar while singing, so Dave Mustaine is the sole guitarist. Their nine song set includes two original songs and four Diamond Head covers. Setlist:
1. "Hit the Lights"
2. "Blitzkrieg (Blitzkrieg cover)
3. "Helpless" (Diamond Head cover)
4. "Jump in the Fire"
5. "Let it Loose" (Savage cover)
6. "Sucking My Love" (Diamond Head cover)
7. "Am I Evil?" (Diamond Head cover)
8. "The Prince" (Diamond Head cover)
9. "Killing Time" (Sweet Savage cover)
March 14, 1990 – Flea and Chad Smith from the Red Hot Chili Peppers are arrested and charged with lascivious behavior, battery and disorderly conduct at MTV's Spring Break taping in Daytona Beach. They pull a woman's bathing suit bottom partially off and start slapping her buttocks, and then Flea kneels atop her demanding that she perform oral sex on him. Both are escorted from the premises and fined $1000.
Classic Rock Birthdays
March 14, 1963 – Mike Muir, vocals, guitar (Suicidal Tendencies)
March 14, 1945 – Walter Parazaider, saxophone, woodwinds, (Chicago)
March 14, 1943 – Jim Pons, bass, vocals (The Turtles, The Mothers of Invention)
March 14, 1950 – Rick Dees (born Rigdon Osmond Dees III), radio personality
Backstage Access:
A Day in the Life with Frank Zappa
Rock Remembrances
March 14, 1991 – Doc Pomus (born Jerome Solon Felder) dies of lung cancer in New York City. He was 65. With pianist Mort Shuman, Pomus co-wrote many early 60's hits including"A Teenager in Love," "Save The Last Dance For Me," "This Magic Moment," "Turn Me Loose," "Little Sister" and "Viva Las Vegas." His brother is famed New York attorney Raoul Felder. Pomus was inducted into the Rock and Roll Hall of Fame as a non-performer in 1992 and also the Songwriters Hall of Fame the same year.
March 14, 2011 – Ronnie Hammond, former lead singer of the Atlanta Rhythm Section, dies of heart failure in Forsyth, Georgia. He was 60. Hammond sang on the hits "Champagne Jam," "Imaginary Lover" and "So Into You."
15 Most Overlooked Artists by the Rock and Roll Hall of Fame