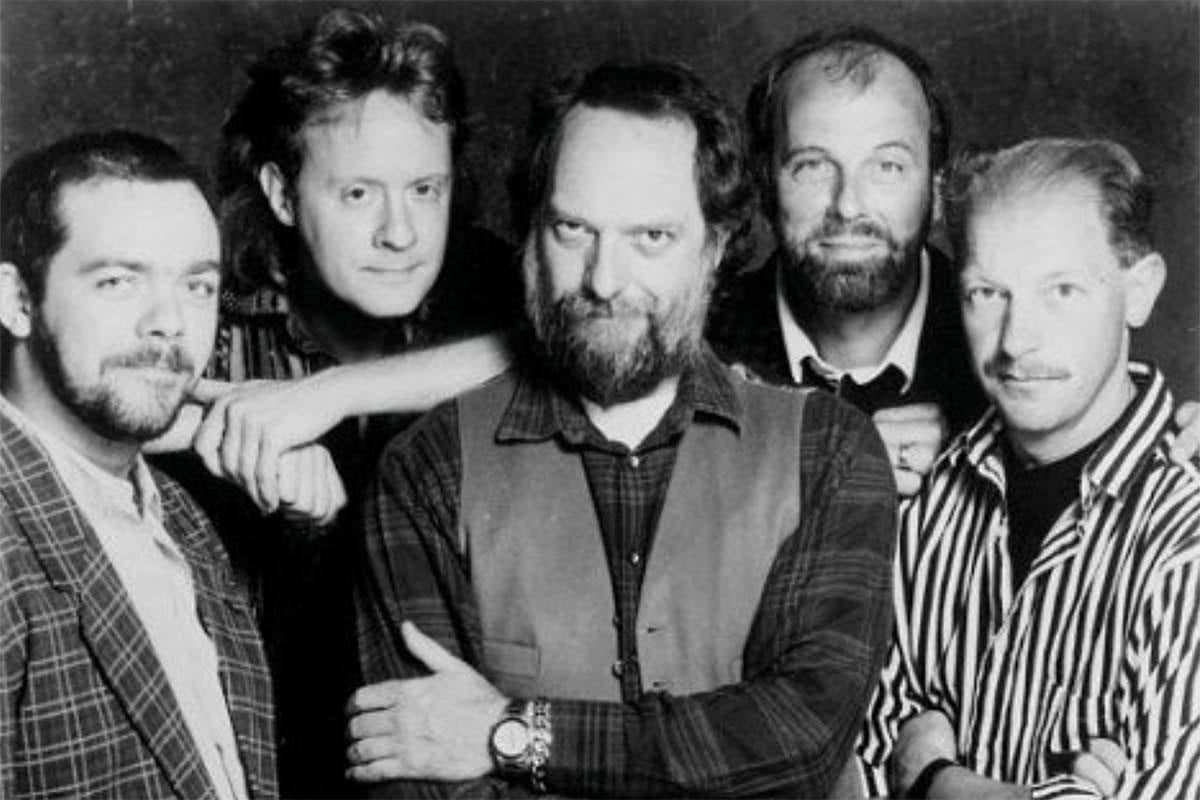 Last month the Rock and Roll Hall of Fame announced their most diverse lineup of nominees yet, but who will actually make it in the hallowed Hall is yet to be seen. So until the Class of 2021 is announced in May, artists like Iron Maiden and the New York Dolls remain on our list of the most overlooked artists by the Rock and Roll Hall of Fame. After all, it wouldn't be the first time a much-deserving artist got sidelined for another pick that all made us all collectively say 'Uh…wait, what?'
Fans can once again visit the Rock Hall website to have their say in 2021, but let's be clear: the Top 5 nominees from the fan vote will make up one ballot – yes, one – to be counted along with the 1,000 other ballots from voting industry members. When you consider the fact that the fan vote makes up about one-tenth of one percent of the total vote, it's not surprising that a lot of artists – and many of us civilians – have a love-hate relationship with the Hall.
So until we officially see some of these names in the Class of 2021 come May, here's our list of the 15 deserving artists we think are most-overlooked by the Rock and Roll Hall of Fame.
15

New York Dolls

The New York Dolls may have only been on the punk scene for their first two albums beginning in 1973, but they defined punk before the term even existed. One of the first bands to use an androgynous look, they also made their mark on the fashion landscape and are arguably just as influential as The Stooges and Velvet Underground.

These glam rockers are finally back on the ballot for 2021, but it's been an entire 20 years since their previous nomination and 22 years since they became eligible.
---
14

MC5

The MC5 fell off the short list in 2020 and didn't make it on at all in 2021.  Epitomizing the counterculture of the late 60's, the MC5 were anti-establishment to their core.  Even their first album set them apart – it was recorded live over two nights at Detroit's Grande Ballroom.  Featuring the title track "Kick Out The Jams," it was the first of only three records the band released, but is often cited as one of the most important American hard rock albums of the era.

Guitarist Wayne Kramer is philosophical about their omission from the Rock Hall. "It's just so awkward because it seems as if the people that kicked the MC5 out of the music business are some of the same people that run the Rock Hall. Maybe there's been a turnover and there's a new generation that sees the significance of what me and my friends did a long time ago, I don't know."
---
13

Iron Maiden

Without Iron Maiden, there is no Metallica. And you could say that about any number of metal bands as Maiden is the standard-bearer of "pure" heavy metal – no compromises ever. Despite very limited commercial radio or television support, Maiden has sold over 100 million albums worldwide, and continues to sell out stadiums internationally to this day.

Despite their legendary status, Iron Maiden's arrival on the shortlist this year marks their first nomination ever. But whether they actually make the Class of 2021 may not matter to lead singer Bruce Dickinson. He was once called the Rock Hall of "load of bollocks".
---
12

The Guess Who

Revered in their home country of Canada, The Guess Who hold the distinction of becoming the first band from up North to make serious headway South of the border.  In fact, their single "American Woman" was the first song from a Canadian band to top the Billboard Hot 100.  Add in "These Eyes," "No Sugar Tonight" and "No Time" … it really is time for the Rock Hall voters to increase the number of Canadian acts in the Rock Hall from 5 to 6.
---
11

Sammy Hagar

Sure, Sammy's in the Hall of Fame with Van Halen, but there's so much more to his career – the legendary debut album from Montrose ("Bad Motor Scooter," "Rock Candy," "Rock The Nation" and "Space Station #5), his solo projects ("There's Only One Way To Rock," "I Can't Drive 55," "Remember The Heroes," "Your Love Is Driving Me Crazy" and "Eagles Fly"), and his recent work with Chickenfoot. He's a rock radio staple, and still on the concert circuit, even though he's made himself a zillionaire through Cabo Wabo Tequila and his restaurant franchise.
---
10

Jethro Tull

In the Rock Hall of Fame, there seems to be a prejudice that exists against progressive rock acts, which may be killing Jethro Tull's chances. Or maybe it's the fact that the voters still haven't forgiven Tull for besting Metallica in 1989 at the Grammy Awards and winning Best Hard Rock/Heavy Metal Recording. Either way, Ian Anderson's flute solos and many of Jethro Tull's song hooks are lodged in our collective brains, so that's gotta count for something.

Top 12 Classic Rock Bands With the Most Total Members
---
09

Pat Benatar

When oddsmakers gave Pat Benatar a 95% chance to be voted into the Rock Hall in 2020, the nomination seemed like a slam dunk, especially because the female representation in the Rock Hall has been weak. Even though she garnered 882,000 votes, epitomizes classic rock and has major name recognition, it appears that sexism once again raised its ugly head and helped deny her induction.

With this year's ballot featuring the most female-heavy list of nominees yet, Pat Benatar is markedly absent and continues to be overlooked by the Rock and Roll Hall of Fame.

12 Rock & Roll Romances That Inspired the Music
---
08

Judas Priest

Judas Priest pretty much define where commercial metal began. Songs from "Screaming For Vengeance," "British Steel" and "Defenders of the Faith" have pushed sales of their albums past the 50 million mark and influenced countless metal bands after them.

Unfortunately sharing the nomination in 2020 with Motörhead and Thin Lizzy probably split the vote. None of the three made it into the Class of 2020 and all three are absent from the nomination list in 2021.
---
07

Joe Cocker

Joe Cocker's raspy voice and unique delivery have redefined some of the greatest songs of all-time while scoring some of his own unique hits, too. His versions of "With a Little Help from My Friends," "You Are So Beautiful," "Feelin' Alright," "Cry Me a River" and "The Letter" can make you forget the originals. Billy Joel, Paul McCartney and other legends have voiced their support for his induction.
---
06

Mott the Hoople

Mott the Hoople set the template for a brand of mainstream rock that influenced everyone from Bad Company to Cheap Trick.  Their career was cemented when David Bowie gave them the gift of "All The Young Dudes."

Backstage Access: Mott-Hunter-Me-the cops!
---
05

Motörhead

Motörhead's omission from the Rock Hall is glaring, as they've influenced pretty much every hard rock band you know. The prototypical thrash band, Motörhead were as consistent as they were influential and sold over 30 million records to boot. Sadly, the classic lineup of Ian "Lemmy" Kilmister on bass and vocals, "Fast" Eddie Clarke on guitar and Phil "Philthy Animal" Taylor on drums have all passed away in recent years, so their induction would be bittersweet.
---
04

Dave Matthews Band

After winning the 2020 fan vote with around 1 million votes, Dave Matthews Band fans were livid after their denial into the Rock Hall.  Since 2012, with no exception, the top vote-getter in the fan vote has always been inducted.  Many think DMB was denied because they aren't "classic rock" enough.  Either way, their status as the #3 band with the most #1 albums – behind only the Beatles and the Stones – makes them seriously overlooked by the Rock and Roll Hall of Fame.
---
03

Warren Zevon

With songs like "Werewolves of London" and "Lawyers, Guns and Money" you'd think David Letterman's favorite artist would have been a shoe-in for a nomination by now.  And, as a songwriter, Warren Zevon deserves to be mentioned with many artists already in the Rock Hall.  When he found out he was dying, Zevon recruited just a few of his close friends for his final album: Bruce Springsteen, Don Henley, Jackson Browne, Timothy B. Schmit, Joe Walsh, David Lindley, Billy Bob Thornton, Emmylou Harris, Tom Petty and Dwight Yoakam.  That kind of love and respect should put him into serious contention, right?
---
02

Soundgarden

Believe it or not, Soundgarden was the earliest arrival on the scene of the "Big 4" bands out of Seattle, the others being Pearl Jam, Nirvana and Alice and Chains. As such, their influence rubbed off on many of their peers. At the height of their fame, they stepped away for almost 13 years, but then returned to greatness when they reunited.

After garnering 722,000 votes in the fan vote in 2020, Soundgarden are absent from this year's nominee list.
---
01

Ozzy Osbourne

Ozzy Osbourne's already been inducted into the Rock Hall with Black Sabbath, but so far, more than 20 artists have been inducted into the Rock and Roll Hall of Fame multiple times and arguably he should be the next.  His solo career helped establish metal during the 1980's and his influence on musicians (Ozzfest anyone?) has been great. 

20 Facts You Might Not Know About Black Sabbath

This post was updated March 4, 2021 from an earlier version.