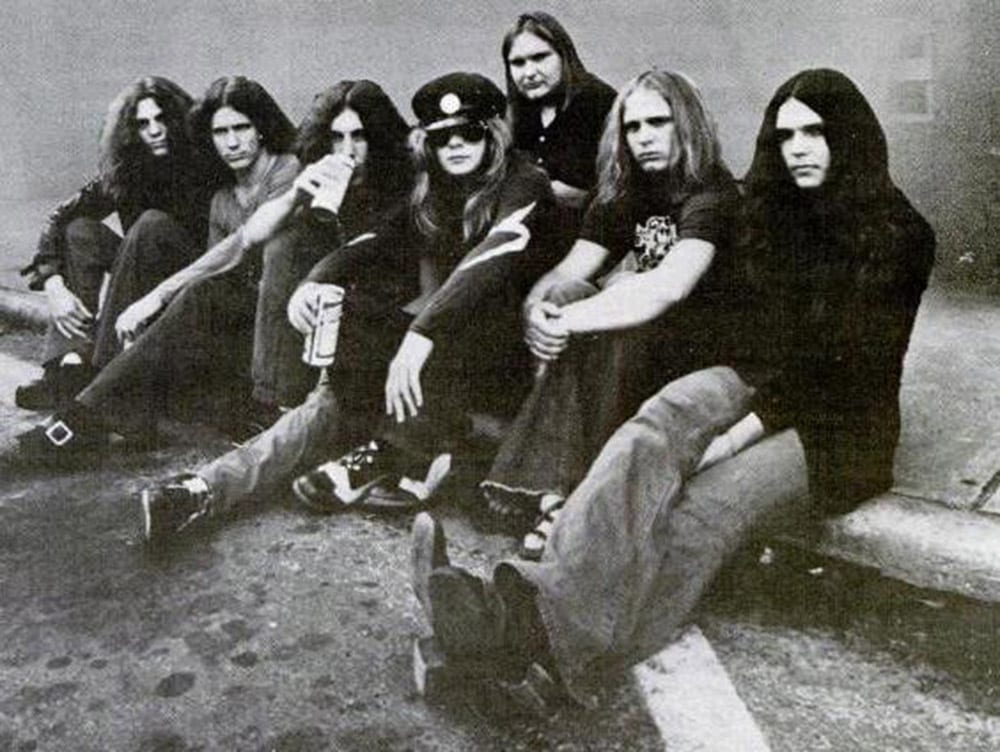 Very few bands have stuck together for decades with only their original members – U2 and Aerosmith are two that come to mind, but there are not many others.  Hey, we'll save that for another list!  But, some bands seem to have gone to extremes to have as many people as possible cycle in and out through the years. In all fairness, many of the bands suffered tragic losses and to keep going had to replace their deceased bandmates.
The list below features classic rock bands that have had some of the most changes throughout their career. Keep in mind that the numbers are slightly debatable because most of these bands have also had guest artists that toured with them or may have recorded on an album. Those musicians were not included – we tried to only count the number of people who were actually made "members" of the band, not just ones who showed up in the studio or on certain tours as temporary guests.
Let the counting begin!
12

AC/DC (20)

As everyone knows, AC/DC tragically lost Bon Scott in 1980 due to his untimely death, and then Malcolm Young to retirement in 2014 prior to his death from dementia-related causes in 2017.  But, the band's early lineup changes mainly contribute to their high member count.  That, and the fact that now, Angus Young is the only original member in the band. Drummer Phil Rudd was not included in the most recent touring lineup due to his drug and attempting to procure murder (!) charges, and we still don't know for sure if singer Brian Johnson will be returning after his vocal chord issues. Rumour has it that both are back, but neither were original members anyway, so their status does not change the current member count.
---
11

King Crimson (22)

King Crimson has been around since 1968, always with guitarist Robert Fripp at the helm.  A progressive music cult favorite, the line-up changes never seemed to affect the band's critical acclaim, although actual radio airplay rarely followed.  Other famous members include Adrian Belew, John Wetton, Bill Bruford, Greg Lake, Mel Collins and Tony Levin.
---
10

Blue Öyster Cult (22)

BOC gets credit for introducing the rock and roll umlaut into our musical lexicon, forever changing the future for bands like Mötley Crüe, Motörhead, Queensrÿche and Spın̈al Tap. Guitarist and singer Buck Dharma remains the only original member since their formation in 1967, although lead guitarist Eric Bloom joined in 1969 and has been with the band since then.
---
---
09

Jethro Tull (23)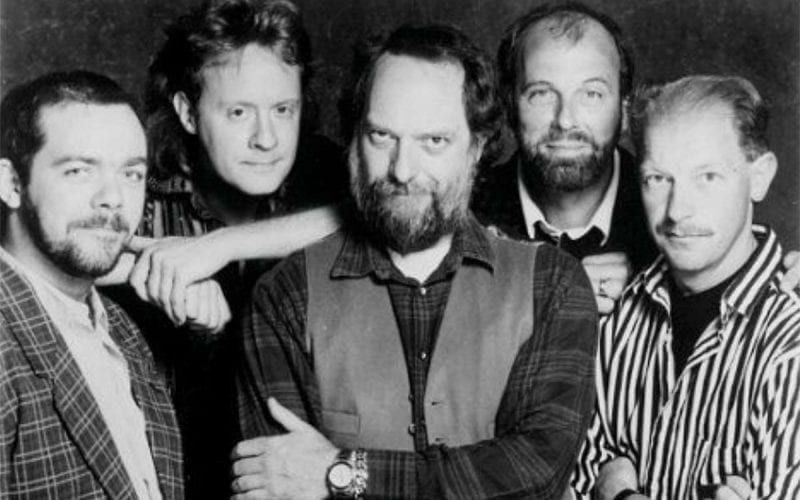 "I love that guy Jethro Tull!"  LOL – how many times have we heard that?  Founded by lead singer/flautist/guitarist Ian Anderson in 1967, Tull has gone through many incarnations, although guitarist Martin Barre (1968-2011) should get a gold star for his lengthy contribution.  Amazingly, Ian Anderson wrote virtually every Jethro Tull song in the band's 21 studio album collection. 
---
08

Megadeth (24)

When leader Dave Mustaine was fired from Metallica 1983, he immediately formed Megadeth with bassist David Ellefson.  Although Ellefson is currently with the band, there was a 6-year stretch in the early 2000's when he wasn't in the lineup. Considered one of the "big four" bands of thrash metal along with Metallica, Anthrax and Slayer, Megadeth cemented the famously difficult Mustaine as a true rock star.
---
07

Black Sabbath (27)
Black Sabbath formed in 1968 with original members Ozzy Osbourne, Tony Iommi, Bill Ward and Geezer Butler.  Since that time, the ONLY constant in the band has been Tony Iommi.  The original members reformed at the end of 2011, but then recorded and toured beginning in 2012 sans Bill Ward.  Ward said it was due to a contract dispute, but Osbourne stated that is was due to Ward's health.  Either way, the band says they've played their last show, so there won't be a final reunion of the original members. Other famous members have included:  Ronnie James Dio, Ian Gillan, Glenn Hughes, Ray Gillen and Cozy Powell.
---
---
06

Lynyrd Skynyrd (27)

Lynyrd Skynyrd formed in 1964, although they didn't take their iconic name until 1969.  There wouldn't of course have been as many band changes if the tragic plane accident that killed band members Ronnie Van Zant, Steve Gaines and Cassie Gaines hadn't occurred in 1977.  It took the remaining members about a decade to pick up the pieces and reform in 1987 with Ronnie's brother, Johnny Van Zant, taking over lead vocals.  The only original member left in the band is guitarist Gary Rossington.
---
05

The Cult (27)

Started as Southern Death Cult or just Death Cult in England in 1983, The Cult straddled the line between punk, alternative and rock music. Vocalist Ian Astbury and guitarist Billy Duffy have remained as the only two original members of the band, rotating 25 other members in on drums, keyboard and bass.
---
04

Quiet Riot (27)

Founded in 1973 by the legendary Randy Rhoads on guitar and Kelli Garni on bass, Quiet Riot achieved major success in the 80's with lead singer Kevin DuBrow, bassists Rudy Sarzo and Chuck Wright, guitarist Carlos Cavazo, and drummer Frankie Banali, who joined the band in 1982.  Banali remains in the band and serves as their leader after the passing of vocalist DuBrow.  Rhoads famously left the band early on to join forces with Ozzy Osbourne.
---
03

Heart (29)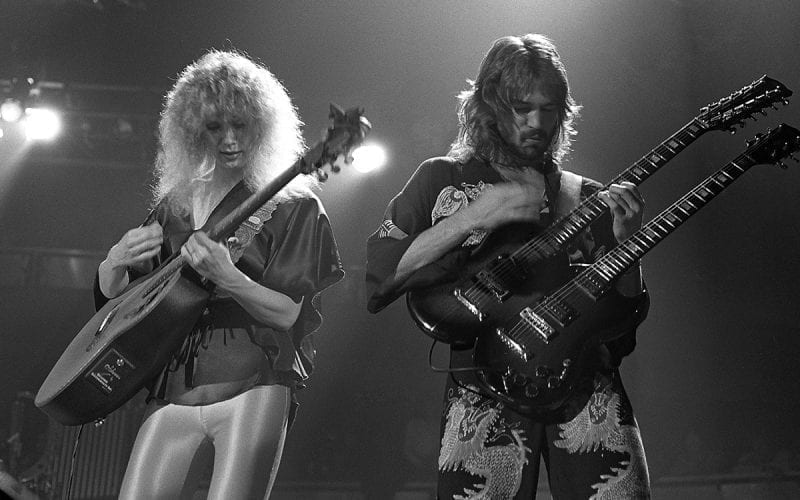 Heart has always been anchored by sisters Ann and Nancy Wilson since they formed the band in the early 70's, although Nancy Wilson technically joined a few months after Ann, and also took a hiatus for about 3 years in the mid-90's.  Complicated by romantic relationships with many of the band members, Heart has run though an additional 27 players, with guitarist Howard Leese (1975-1998) surviving the longest.
---
02

Whitesnake (41)

Whitesnake owned the MTV airwaves in the 80's, and at different times saw most of the "hair band" significant players join their ranks. Formed in 1978 by ex-Deep Purple member David Coverdale (Whitesnake's only consistent member), the band has sold over 20 million records and will forever be remembered as making videos that made us all jealous we didn't own a Jaguar for cartwheel practice.
---
01

Santana (68)
Wow…68!  Is this really a band or just a placeholder for session musicians?  Whatever it is, the band has sold over 100 million albums worldwide since their formation in 1966 in San Francisco.  The only consistent member has been leader and namesake Carlos Santana.  The six core members that recorded Santana's first three albums were inducted into the Rock and Roll Hall of Fame in 1998.  Santana is currently headlining a multi-year residency at House of Blues at Mandalay Bay Resort and Casino in Las Vegas.
---
---