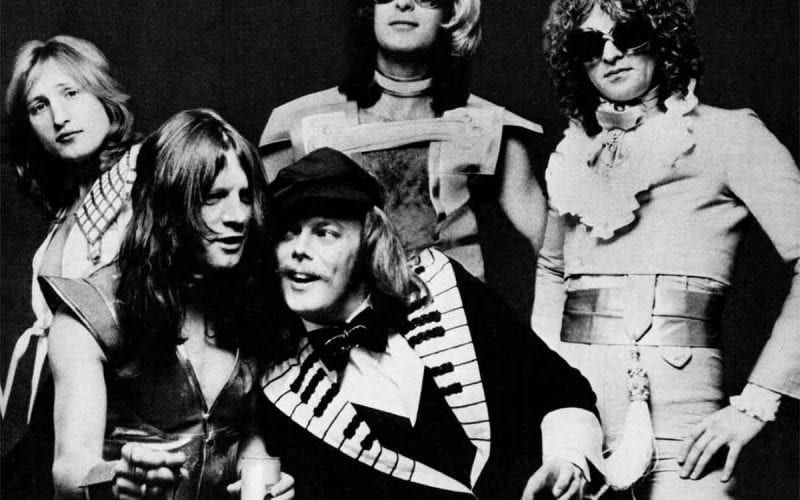 I LOVED Mott the Hoople.
Glam Rock with real groove and slash guitar (especially when Mick Ralphs was in the band).
Also got a kick from the adorable groupies that followed them all across the country. I had to let them in through backstage each night as I didn't have the heart to turn them away after seeing the distances they'd traveled—"Oh I just looooooove Buffin, I HAVE to see him!!! REALLY I DO!" Ha, ha, but so cute, really.
The next best thing was watching the band get dressed in their stage clothes before each performance.
My favorite was the bass player, Overrend Watts. Every night he wore thigh high, huge, platform boots. And they were so stiff that to put them on he had to lie back on a couch and the roadies would pull the zippers all the way up his thighs with pliers!! Then, they'd grab his hands and arms and physically pull him up, stiff legged, to a standing position. From there he could never sit down, only stand and walk absolutely straight legged around the stage without ever being able to bend his knees even an inch. During long evening performances with multiple encores, he would get so tired. After the last curtain call he would walk briskly back to the dressing room with that very funny stiff-legged gate, and then collapse falling straight backwards onto a couch, begging the roadies to quickly grab their pliers and help him escape from those boots!! What a truly fun band!
The mastermind behind Mott was, of course, Ian Hunter, a really great songwriter and singer with big time flare and powerful stage presence. He also was (is) a great guy who, although quite proud of his own achievements, did not take himself too seriously, which I always found so refreshing—he just wanted to ROCK!
Ian was fond of a particular red wine and at the time, and other popular substances of the day were making their way into the lives of us record biz folks. So when we went on the road to promote his first solo album I often found myself in kind of a haze and a bit on remote control, so to speak.
I was in charge of the promo tour which meant not only setting up the interviews at radio stations and some press, but also setting up all travel including airline tickets, hotels, rent-a-cars, and meals. For all of these I used the company American Express card. I was using it over and over and over again, constantly pulling it out of my wallet.
It became habit–whenever there was a hassle, or something needed to be done to complete a mission, I didn't even have to think–just pull out the old AE. "Ahh,…saved again." As I say, this became sort of a remote control response given the semi out-of-it daze I found myself in most of the time.
Well, one day on the promo tour we were driving from San Francisco to Sausalito for lunch to do an interview with Joel Selvin from the Chronicle. We were a tad late and I was speeding through Sausalito (PS. don't ever speed in Sausalito!). Sure enough I hear the siren and see the red lights flashing—uh, oh! I was feeling like I'd been in one long movie for many days and nights hooked endlessly together. My brain was complete fuzz by now and all I could muster was the thought that when you are pulled over by the police you are supposed to hand something to the officer. I just couldn't quite remember what that "something" was. So, believe it or not, based on recent remote control responses, I rolled down the window, pulled out my wallet, and handed the cop my American Express card. Yup.
The cop peered into the car. He looked at me (at the time I looked like Hunter—big hair and sunglasses), then over to the cute manager assistant in the passenger seat, and then to the back seat where Hunter was (even bigger hair and bigger sunglasses). I'm sure, we were quite a scene.
Then he looked down at the AE card, looked at me again, took off his sunglasses, got real close to my face, and said quietly, "Son,…I don't know where you're from, but here in Sausalito, we don't take bribes."
Then screamed–"BUT IF WE DID,…DO YOU THINK WE TAKE AMERICAN EXPRESS!!!!!!!!!!!!!!!!!!!!!!!!!
I was the laughing stock of the car for the next two days.
Keep Rockin' kids,
Rap~
More Backstage Access:
Me and Mick Jagger – It's Only Rock and Roll but I Like It