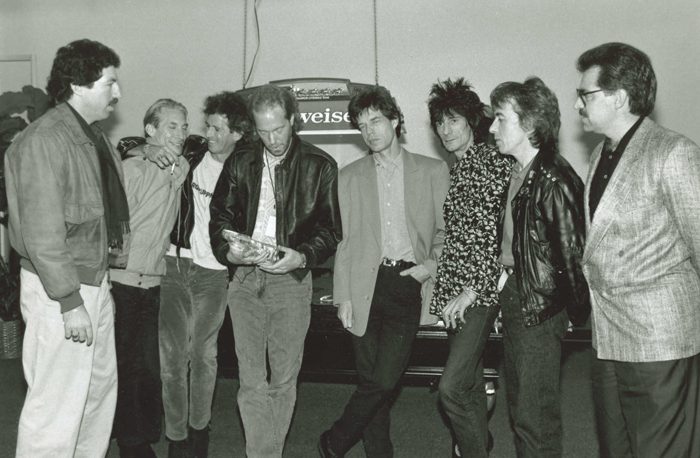 For some reason, Mick Jagger's new solo offering with Dave Grohl, "Easy Sleazy," is getting a bit of critical blow back, from well, critics. Perhaps it's because when you get so big, part of that celebrity status includes people who want to take pot shots at you to bring you down a notch. Who knows.
For me, "Easy Sleazy" is "only rock and roll but I like it," as Mick once bellowed. In fact, I love it. Loud guitars, great rhythm groove, great drums, great solos, relevant lyrics, all topped off with a great Mick Jagger vocal performance. Hell—what else do you want??!
Crank this baby up and rock out!
I think we can all agree that both Mick and Keith are best when they are together with that wonderful band, The Rolling Stones. But I also believe that both have made some very fine music with their solo efforts.
While listening to "Easy Sleazy" my mind wandered back to the days when I worked with Mick on his first solo album, She's the Boss. These past two and a half years I have been working on a book trying to capture some of the magical times I experienced in the heyday of the rock music business. Below is an excerpt from that book about the time I first met and worked with Mick on that first solo effort. I hope you enjoy it.
­­­­­­­­______________________________
Mick Jagger was on the phone, calling Columbia Records headquarters in New York all the way from Paris. This caused incredible excitement in the office and all the assistants were running up to my door shouting, "Mick Jagger's on the phone!! Mick Jagger's on the phone!!" Even though we were all used to working closely with superstar artists, our passion and love for the music kept us in a perpetual state of fandom. You might think that unprofessional but I always considered it a wonderful blessing which helped perpetuate the magic that both the artists and record company personnel made together. Mick was calling to thank me for something very special I had done for him, something that no artist had ever achieved before, nor since.
It would be my first encounter with Mick, and yeah, I was jazzed. The Rolling Stones had been my all-time favorite band since I was 17 years old. To be working with them was going to be a dream come true. Indeed, I had learned to play the electric guitar listening to Keith Richards on all the early Stones albums.
I had been working for Columbia Records for sixteen years at this point. Growing up in Southern California, I had started as a College Rep at UCLA in 1969 and had worked my way up from local to regional album rock promotion man, finally getting a shot at the big job, head of album rock promotion for the label in New York. I began that job in 1980 and now in 1985 had just been given the title Vice President of Album Rock Promotion.
I was really feeling my oats. My goal had been to become the very best in the business and many artists, managers, radio, and competitive record company personnel saw me as such. I tell you this out of pride not ego. Yes, like most successful music business people I did have somewhat of a sizeable ego back then. But it comes with the territory if you are really making big things happen. You've got to believe in yourself, believe that you can achieve anything. I did try to keep a lid on it though, tried hard not to get carried away with myself and always tried to do the right thing.
I would begin a project by asking myself, what do I want to accomplish? Besides the book-one page-one normal success, the answer usually included some never-been-done-before aspect, not only for the artist's sake, but to also keep a spotlight on my own career. My mentor, the legendary Columbia head of promotion Steve Popovich (who later was responsible for the creation of Cleveland International Records and Meatloaf's career) taught me, "Rap, promote the artist as hard as you can, but also save an extra 5% to promote yourself. It's important that people always see and revere you as someone that can make special things happen—that you are the best." In a fickle business where bosses and record company president's change frequently, this can also guarantee job security.
Promoting myself came easy for me. I have a natural competitive spirit, I'm a bit of a show-off, and when I win, I have to win big, bigger than anyone else — ever. Kind of embarrassing to write that, but there you have it.
This was my approach when Mick Jagger released his very first solo album, She's the Boss. First of all, what a great record. It's full of in-the-pocket grooves and great songs like "Just Another Night," "Lucky in Love," and "1/2 a Loaf." It features Mick performing at the top of his game. Because The Rolling Stones were "my guys" I was out to do something for Mick so special that the world would take notice.
President, Walter Yetnikoff had signed the band to CBS Records (parent company) on behalf of the Columbia Label in 1983. Interestingly, the first album we promoted was Mick's solo debut, one year before the band's first Columbia release Dirty Work.
I was shocked that the Stones had left Atlantic Records as that label had been their home for well over a decade. They were synonymous with the president Ahmet Ertegun and the label which was rich with R&B history. Some of the band's biggest releases ever were on Atlantic, including Sticky Fingers with the legendary blue jeans working zipper album cover, featuring "Brown Sugar," "Wild Horses." "Can't You Hear Me Knocking," and "Bitch." Exile on Main Street (my all-time favorite) with greats "Tumbling Dice," "Sweet Virginia", "Rip This Joint," "All Down the Line," and Keith Richards singing "Happy." And Some Girls with Stones' classics "Miss You," "Beast of Burden," and "Shattered."
50 Years On: Fascinating Facts About the Rolling Stones 'Sticky Fingers'
Why on earth would The Rolling Stones leave Atlantic? Because Walter Yetnikoff gave them $25,000,000.00, that's why. I would soon learn that with The Stones, it was all about the money. I guess, in truth, it is with most bands. But like Neil Young's classic "Heart of Gold," I am forever looking through rose-colored glasses thinking that there's got to be loyalty somewhere in this business, but it's rare. The Stones not only looked like pirates, they were pirates, always looking for the biggest loot they could plunder. Every decision they made was based on how much money they could make, even if it wasn't the correct decision. But I came to learn that the band had been through so much, and had been ripped off so many times in so many ways, that they finally felt this is it, this is our time and we don't know how long it's going to last, so we're going to grab all the loot we can get.
When I heard the news, I immediately called Tunc (pronounced Tunge with a soft "g") Erim who was Ahmet's righthand man and whom I had patterned myself after when I was a regional album promotion man. Tunc, a big man with an ample amount of thick curly dark-brown hair was known for being a party guy (read alcohol and designer drugs of the day), but moreover as a great person with a big heart. In fact, Tunc would invite me to the Atlantic Records parties at radio conventions even though I worked at a competitive label — he made me feel comfortable hanging out with the Atlantic family. Often when I would visit an FM radio station, the folks there would excitedly say, "Guess who was here last week? Tunc Erim!" He was known and loved by all in a way that I admired — I wanted to be like Tunc.
"Hey Tunc, first of all I want to say how sorry I am that you lost The Stones, I know how much they meant to you. I also wanted to call to get some pointers, any inside information you can help me with on how to deal with them."
In his renowned thick Turkish accent (Ahmet and his brother Nesuhi who ran Atlantic Records were Turkish and had hired some of their brethren as Atlantic execs) Tunc said, "Rrrrap, you've got Rolling Stones — you've got beeeeg fun…and you've got BEEEEG PROBLEMS." I could hear the devilish smile in his voice.
"Well, Tunc, I've pretty much seen it all, and been able to handle it all, so how big could the problems really be?
"You've nevvver seen anyyything like this!"
I'd handled difficult artists, I'd patched up frayed relationships between a band and a radio station or two, I'd gone toe-to-toe with some of the most notorious managers, promoters, and agents in the business, what could be so different?
Tunc went on to tell me a story about him traveling with the Stones somewhere in the Middle East. Mick apparently hit it off with the daughter of a Saudi Prince and the Prince was none too happy about it. Mick and the girl were trying to escape the country so she could travel with him and the band for a while, and were being chased down by the prince's men wielding long curved Arabian swords and carrying big guns. And I mean, literally chased. Tunc told me he was in charge of secreting the princess out of the country with Mick, and the prince's men were on their heels as they all ran for the Stones' private jet on the local airport's tarmac.
"Uh huh, got it." My knees wobbled.
In 1985 when you released a record by a rock superstar artist you were guaranteed that during the first week of release at least 80% of rock radio was going to add the record to their playlists. The next week maybe you'd be up to 95% and by the third week, you just had to clean up the stragglers — those stations that were so conservative they waited until demand was high, playing just the cream of the crop hits. The object of course, was to eventually reach 100%. That meant that all 150 or so rock stations across the country were playing the record.
But what if you could get every single rock station in America (and the one in Nova Scotia, which for some reason was counted in our charts), to add the record the very first day of release? What if you could debut at #1 with100% of radio all playing the record on the same day? This would be nearly impossible due to the fact that some stations will give a new exciting release a few spins during the first week to let their listeners know they are current with what's happening, but just may not have room on their playlist to actually add the record into a meaningful rotation until later. Second, there are usually a handful of stations that will add a new record, but just forget to report it to the trade magazines. Third, for whatever reasons that may be unknown to us, a station or two may have had a tiff with the artist or their manager, and will elect to wait out of protest until they are forced to add the record because it becomes such a big hit.
I decided to make this near impossible feat a goal to reach for Mick and She's the Boss. I conferred with Jim McKeon who I'd hired to be my partner working out of the West Coast offices. Mac, a wonderful guy with a warm personality, had come from radio. Right before I stole him away, he was having huge success going toe-to-toe with the legendary KMET-FM, with his new startup KWST-FM in Los Angeles. He and I had become best friends over many creative business scheming sessions we'd have while enjoying strawberry waffles and whipped cream at the Old World Restaurant on the Sunset Strip. Like myself, Mac was always up for a history making adventure. In fact, while at KWST Mac had shared my wisdom in doing a live broadcast from the famous Troubadour club with Willie Nelson — the first and only country act ever to play a concert live, over rock radio airwaves. His whole staff thought he was nuts, but Mac stuck to his guns. KWST listeners loved it of course, because Willie's outlaw brand of music reaches every kind of human being. And that broadcast was key in helping to catapult Willie's career in the Los Angeles area.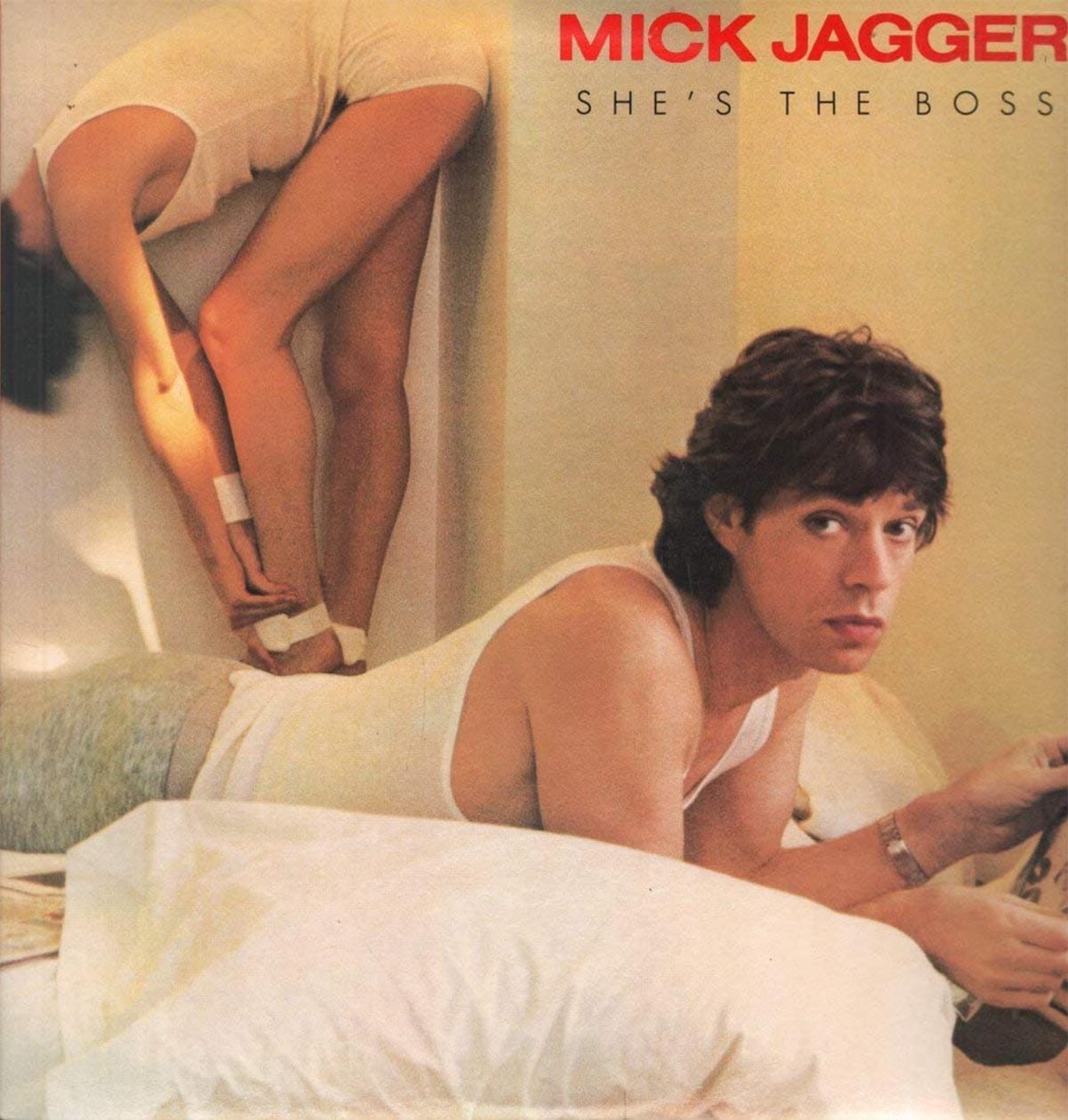 Mac and I hunkered down and hatched the plan for Mick. We got on a conference call with our local promotion staff (approximately 25 men and women located in key cities across the country), then on another with all the independent promotion people that we would often hire as extra back-up fire power. We explained the idea to everyone and moreover what it would take to pull it off. It would mean that each and every one of them would have to make sure the stations they were responsible for promoting would actually officially add the record the day of release and furthermore, they'd have to double check to make sure their stations reported that add to the trade magazines – most significantly to Radio & Records (R&R), who's charts were the benchmark for airplay. If only a single station did not comply, for any reason, we'd debut at 99% — still an amazing feat to be sure, but not history making.
Achieving this required having the best relationships with all the program and music directors at each and every radio station. We were Columbia Records, we had the best promotion team on the streets, and we were capable of doing this. My long term view on doing business with radio was to give, give, give, and give some more—i.e. blocks of on-air giveaway concert tickets for our superstars like Bob Dylan, The Rolling Stones, Bruce Springsteen, Billy Joel, Pink Floyd, and more, doing huge promotions for their stations like flying the Pink Floyd inflatable pig over their studios while the band was in town, winning a meet and greet with an artist backstage after a show, or having a superstar artist give a guitar lesson to one lucky winner, etc. And to only ask for something special once in a while. If you don't ask for too much too often, people usually come through for you in a pinch. Our team genuinely cared about all the folks in the rock radio community and we had wonderful relationships with most everyone. Indeed, many of these people had become genuine friends along the way.
Tuesday is the day that all radio stations report their playlist adds to the trades. This being Mick's first solo effort, the excitement was contagious and most everyone was on board to help us out. Even radio stations whose playlists were packed figured out a way to scooch us in for an add. Mac was calling R&R every hour to check in, and he had to double back to a few stations who hadn't reported yet or who forgot to say they'd added She's the Boss. My biggest challenge was the station in Nova Scotia. I personally called their program director for the ask.
I usually didn't talk to this particular PD as the station was so far away, so I called to introduce myself and explain what we were trying to do. I ended my pitch by saying, "So for all the great music and joy Mick and The Rolling Stones have given us, I really want to ask you this as a favor for Mick. Will you please help?"
"I'd love to," he replied, "but there is only one problem. I'm in Nova Scotia and we receive all of our albums by mail a day later than everyone else in the United States. I physically won't have the record to add until Wednesday."
"But when you get the record you will probably add it immediately right?"
"Yes, we like to be as current as possible for our listeners."
"So, can you paleeeeeze add the record today…and just play it tomorrow??
"Well, I've never added a record before I physically have it, but theoretically I could add it to our playlist yes. I could make it an official add today and play it as soon as it arrives."
"That's great! I was a philosophy major at UCLA and the word theoretically looms large in my DNA. I would never ask for something like this if it wasn't extremely important for Mick Jagger to debut his first solo album in a historical manner. Honestly he deserves it."
When you are dealing with people of like minds, people whose lives have been changed by the music and artists they've loved for years, the impossible can come true. He added the record.
The next morning, we saw it in print, Mick Jagger debuts #1, at 100%! The folks at Columbia were going nuts, something like this had never happened before in the business. I got a call from the President, Al Teller, "Nice job." Then Mick called.
This would be the first time I'd speak to him and my heart was racing. "Hello, is this Paul?" I heard in that familiar Jagger accent. I told him the truth, that since I was 17 years old, he and his band were my all-time favorites and their music lived deep in my heart. I told him this was just the beginning of the kind of effort he would see me deliver for him and The Rolling Stones. Then he surprised me.
Continuing in his familiar charming Cockney (sounding just like Mick Jagger) he said, "I can't thank you enough for what you've done. I know a lot about promotion and what an effort it would take to accomplish this. It's pretty impossible. In fact, I don't even know how you did, it but thanks."
Word was that Mick was a student of the business, but I never expected that he would know such intricacies. There is a reason far beyond the music and the artistry that The Rolling Stones have been as successful and have lasted as long as they have, and that reason is Mick Jagger.
The promotion force celebrated, we made cool "She's the Boss" jackets — red with cream-colored sleeves featuring the Stones red tongue logo on the side. Inside was embroidered "The 100% Club. No one else belongs." We gave them to every promotion person who helped pull off this bit of rock and roll history. The gals in the office bought me a beret, a long white boa, some big shades, and a long cigarette holder — for that week I was a star.
Until next time — keep rockin'!
Rap~
© Paul Rappaport 2021