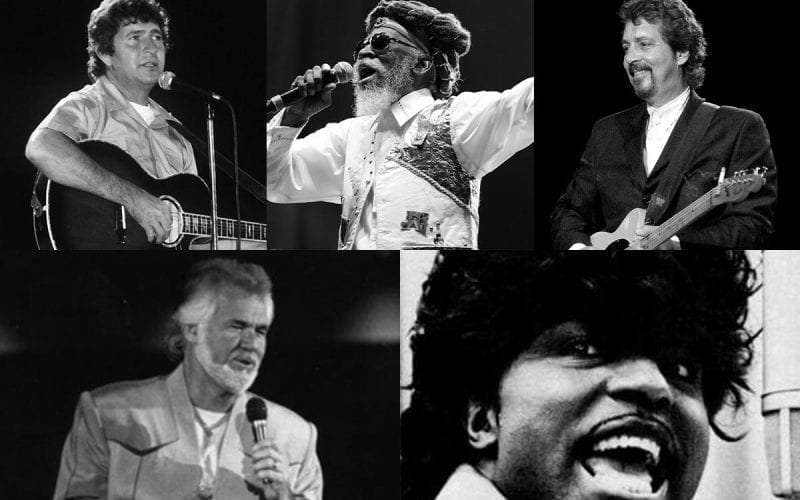 Watching the "In Memoriam" segment of this year's Grammy Awards show really shook me.  Not only because we've lost so many great artists in the last year, but also because of how many of those artists had touched my life.  Somehow, I was lucky enough to meet and/or work with many of the people listed.  I learned many fascinating things and got some valuable lessons along the way from each of them, all of which helped me during my long career in the music business.
As their pictures were shown and names mentioned, so many stories that I shared with them came rushing into my mind. I felt I needed to share some with you. Perhaps because I am not ready to let so many of them go yet, or at least keep their memories alive for as long as possible. At any rate, here is some inside stuff you might enjoy reading about.
Kenny Rogers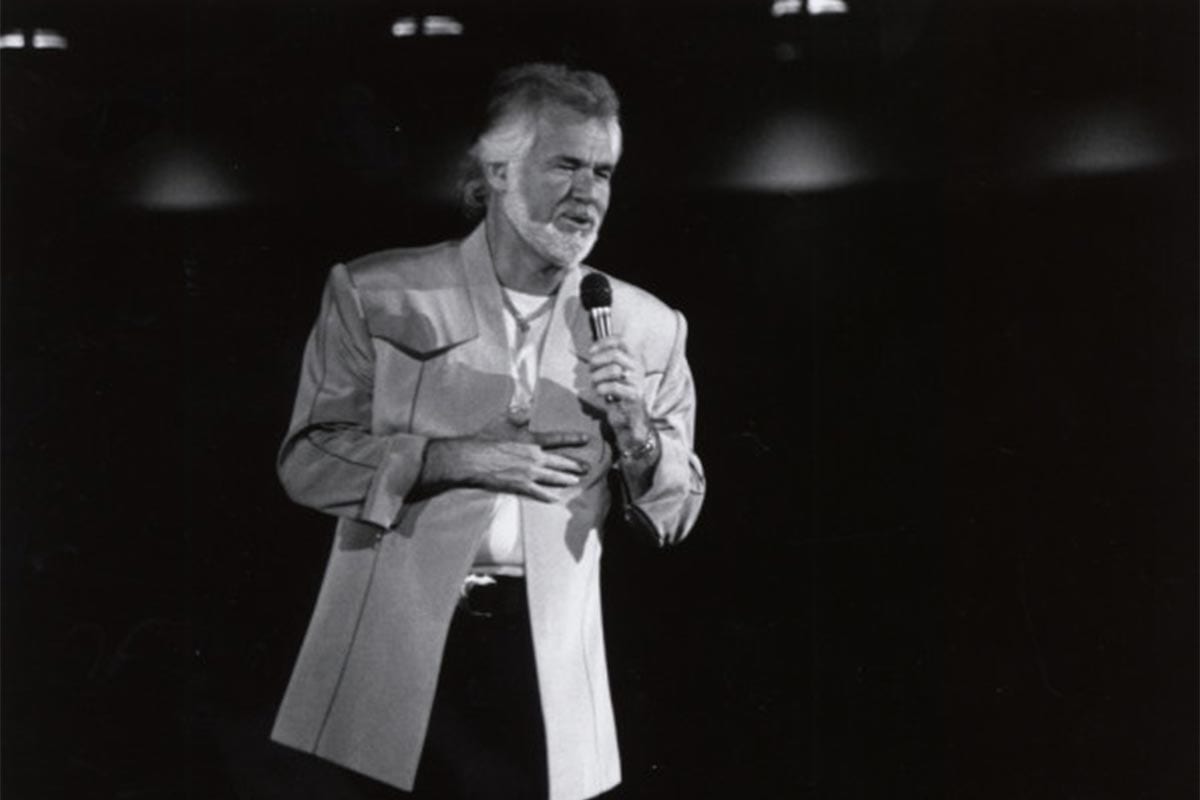 At one time Kenny Rogers was the one of the biggest stars in the world. With 21 number 1 hit records including icons, "Just Dropped In (To See What Condition My Condition Was In)," "Ruby, Don't Take Your Love to Town," and "The Gambler," plus all the movies he starred in, not to mention his television show appearances, at one time, Kenny Rogers was every woman's dream and a lot of men's idols. With that alluring deep voice, and an incredible handsome face, for a number of glorious career years, he was IT.
By the time I caught up with him he was playing lounges in casino hotels. Yes, hard to believe, but such is fame. One day you're playing the largest arenas and the next, when things finally start to fade, you are back to playing the small rooms.
At the time I was executive producing an Emmy Award winning music television series that I had co-developed for Sony Music, called A&E's Live by Request.  It was a wonderful live, prime-time, two-hour show, performed in an intimate setting where artists took phone calls from fans, spoke to them for a bit, and then played their favorite song for them over the air.  We featured artists from Tony Bennett (whose idea it was to create the show) to David Bowie, Neil Diamond, Elton John, The Bee Gees and many more.  A&E was now interested in Kenny Rogers and I flew to Canada to witness one of his current performances and invite him to do the show.
The sad truth was, although he sounded just like Kenny Rogers, his performance was very lack luster and Kenny was just going through the motions. We met backstage and a very cordial Kenny Rogers assured me that if he was going to do a prime-time television special that he would really up his game. Concerned, I called his manager, who assured me that this was Kenny's MO. "Believe me, when the cameras are on, you will see a very different Kenny Rogers." The manager seemed sincere so I gave the green light to go ahead and work out all the prerequisite business deals.
Time came for day-before show rehearsals. Kenny was much better, and even though he didn't quite reach the star charisma from his past, he was good enough, which brought me a sigh of relief. But the thing that really blew my mind was, the evening of the actual show, when we were live on TV, Kenny Rogers magically transformed himself into the star he'd been years ago. He was fabulous. Just like his manager had told me, when the cameras were on, Kenny had the ability to turn himself into a true superstar! That, is an art form all its own.
If you are interested, you can see Kenny's show and many other of our Live by Request TV specials now available on YouTube.
Kenny Rogers – Live by Request
Mac Davis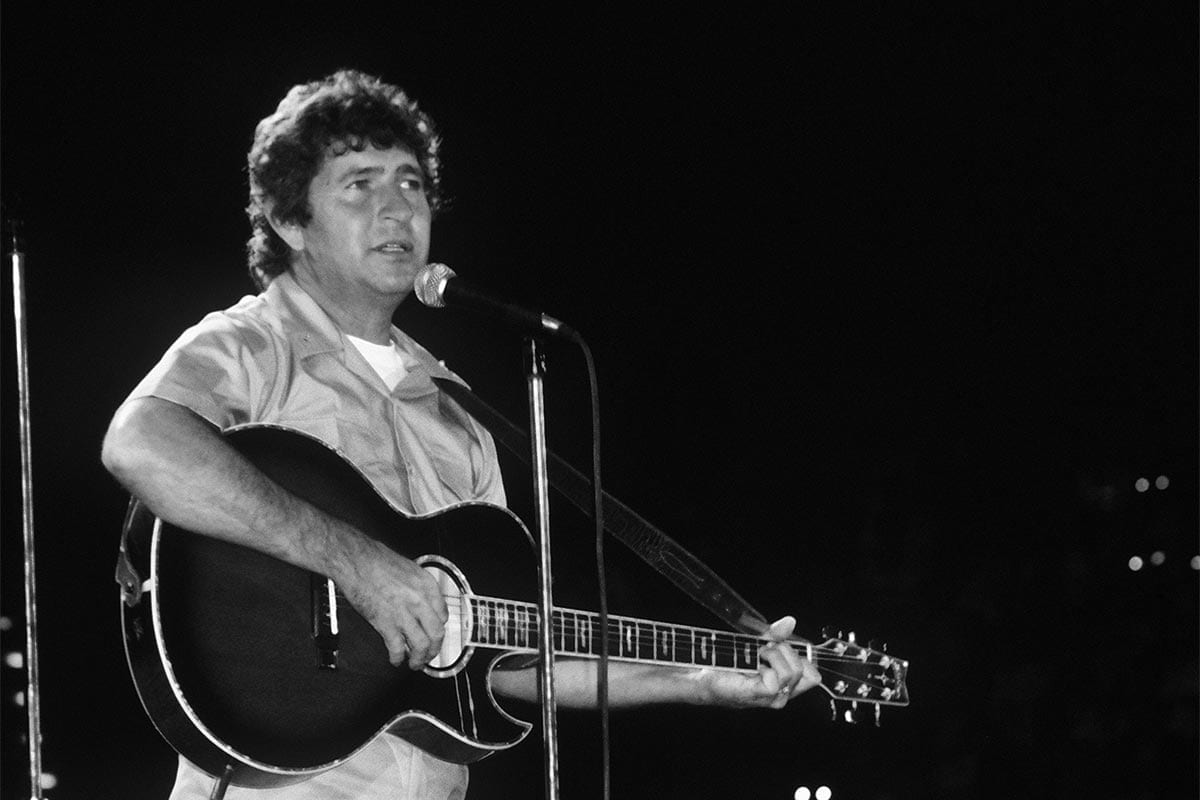 Most people don't know, but country star Mac Davis started out in the business as a Columbia Records promotion man, not unlike myself.  You probably know him from one of his biggest hits, "Baby Don't Get Hooked on Me."
I first worked with Mac when I was a college rep for Columbia at UCLA.  My boss was going to have Mac give a special intimate Los Angeles performance for a small audience including local key radio, press, and retail personnel, in one of the CBS recording studios.  He told me to promote the performance on campus, especially to the local fraternities and sororities in order to bring in the needed larger audience of everyday people.  Just performing for judgmental industry brass never works well.  They often remain stiff and too self-conscious to let themselves go and just enjoy the music.
I did as asked, but being so young did not understand what it really takes to get people to show up at an event like this.  You are asking for their time and to make attending the event a solid commitment in their life — a priority over whatever else they were planning to do that day.
Sure enough, the day of the performance, even after all the promotion I did, only 10 college kids from UCLA showed up to be in the audience.  Not wanting to embarrass the artist, much less make him look lightweight in front of the invited music industry people, my boss went into overdrive to fix the situation.  He ran around to all the studios in the complex inviting visitors and even working personnel to come to see a "special event" just about to take place — a free performance with up-and-coming artist Mac Davis.  The seats filled up nicely and the event was saved.
I was feeling down because I hadn't delivered, but I learned a couple huge lessons that day that I kept with me throughout my career. One, be early to any event you produce to make sure all is going correctly and to give yourself time to fix things if needed. And number two, how to invent an instant audience if there is a real emergency.
This lesson came in most handy during 2012 when Judy and I were working Don Felder's new solo offering Road to Forever.  Don was scheduled for a live interview in front of an audience at the Apple store in SoHo, NYC on Prince Street.
One would think that location would be packed for an artist like Don, known for his legendary guitar solos in the Eagles and his well-known overall musicianship. But low and behold when I arrived, no audience. The store had done a terrible job of promoting the event, and worse, when panicked, I told the store manager that they were about to have a flop of an event with no audience embarrassing themselves and a major league rock star, she didn't seem to care much. She showed no interest in trying to fix the situation, just made excuses and told me she was too busy to help.
I remembered the Mac Davis story like it had happened yesterday and did exactly what my former boss did. I ran around both levels of the store excitedly asking every single shopper, "Do you like the Eagles? Well, in fifteen minutes Don Felder himself is going to be right up there on the second floor doing an intimate interview and taking questions from the audience—you can meet Don Felder!"
In those fifteen minutes I was able to muster 25 people. I then ran back upstairs and removed every empty seat. The result looked like a sell-out with some late comers even having to stand. Don walked out to a very appreciative crowd and the event went from potentially flat to a big success. I remembered Mac Davis's smile after his (saved) successful event and now I was watching Don Felder with a similar smile. Hard lessons learned well.
Little Richard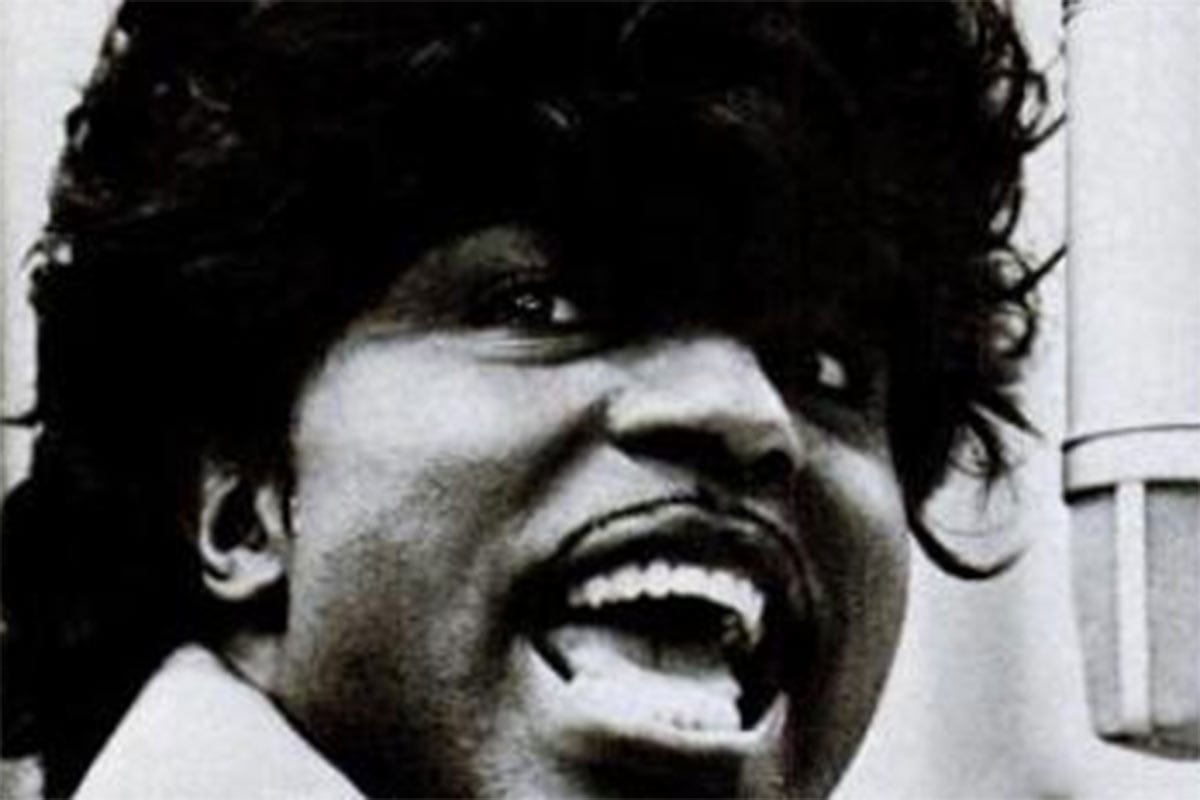 Little Richard is the whole reason I love rock and roll, became a musician, and wound up in the record business.  When I was about 10 years old a family member gave me an album for my birthday titled "The Greatest Hits of Rock and Roll."  There wasn't much rock and roll at the time, so the album overall was a little sketchy for content.  But it featured two songs by a guy named Little Richard.  "Tutti Frutti" was on side one.  When it came on, my ears lit up — I'd never heard anything like it.  The music was played with reckless abandon and Richard's vocals with his signature "Whooooooo!" just made me explode inside wanting to get up and dance.  Excited, I flipped the album over to hear "Long Tall Sally."  OMG!  Upon hearing that, I completely lost it.  Whatever this was, this total out-of-control-music, I was on a search to find lots more of it!
Of course, that led to Elvis Presly, Chuck Berry, Jerry Lee Lewis, Eddie Cochran, Buddy Holly, and straight into the British Invasion of The Beatles and The Rolling Stones. But it was Little Richard who started it all for me.
What a thrill it was to finally meet him after a Grammy's award show at the Los Angeles Shrine Auditorium.  At the conclusion of this 1979 Awards' telecast the entire audience, including all the artists as well as the music industry folks, found themselves all jumbled together out on the street in front of the building looking for their limousines. 
It was quite a comical scene.  Everyone takes a limo to the Grammy Awards.  So, out front on the street and in the parking lot just across the street, there were nothing but hundreds of look-alike long black cars.  With every single car looking the same, people were having a devil of a time finding their particular ride.  You'd see superstars like Johnny Cash out in the middle of the street peering into the windows of each car, "Are you my driver?  Are you my driver??"  The kind of cool part was, we were all reduced to being equal, music industry types standing right next to superstars — all just human beings looking for a ride home.
As I walked out to the sidewalk to size up the situation, I spied Little Richard just a few feet away. Without thinking I just walked right over and introduced myself. I told him I worked for Columbia Records but the real reason I had come over to speak with him was to thank him. "Richard you are the whole reason I love rock and roll!" I told him my story.
He got a big smile on his face as I'm sure I wasn't the first person to tell him that, and he was very warm and friendly.  At the time he was turning toward evangelism and had become a preacher.  He thanked me and gave me his card.  I felt like an important part of my life h ad come around full circle.  I had connected with the person who started me on my path —who helped shape my life's love for music and in particular for rock and roll.
Bunny Wailer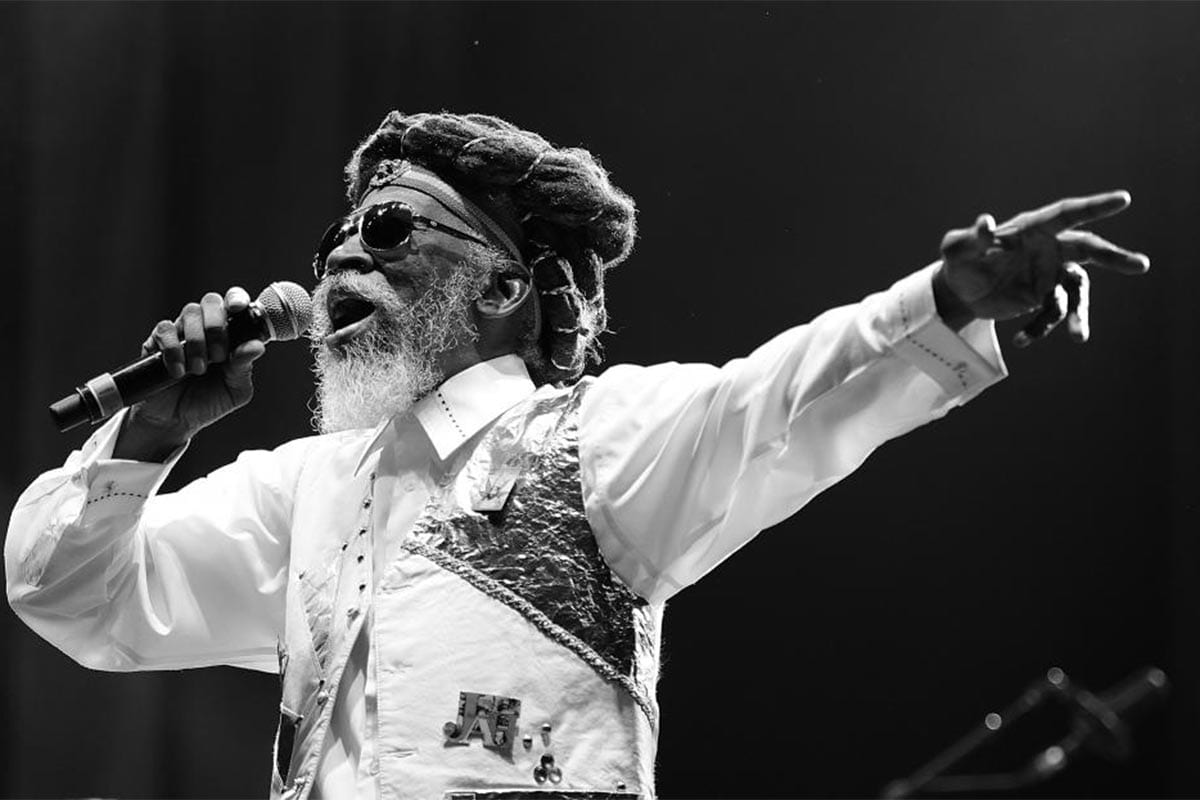 Bunny Wailer was a singer-songwriter and percussionist who was an original member of The Wailers, along with Bob Marley, and Peter Tosh, who I also got to work closely with.
In the early 70's reggae became popular and The Wailers were leading the charge. When they came to tour the States one of their premiere shows was at the Roxy Theater in Hollywood. KMET-FM was doing a live broadcast, and although the band wasn't on Columbia, I was asked by the station to come down and help having done so many live broadcasts myself with other artists in the past.
Close to 8pm when the show was supposed to start, someone came and asked me to please help get the guys from the dressing room to the stage. It seems they were running on "Jamaican time" and showed no intention on budging from their comfortable backstage dressing room anytime soon.
Sure enough, when I entered their quarters, there was a thick cloud of ganja smoke and Bob, Bunny, Peter and the rest looked up at me all pretty well baked. I said in a very cordial tone, "Hey guys, you know it's getting close to showtime."
Bob spoke for everyone, "When eet eez da right time, mon, we weel bee der."
Ah-ha! Situation understood. These guys were going to wait until they got a sign from Jah (God) or the vibe was right, to get on stage. Typical Rastafarian way of life.
Knowing a bit about the Rastafarian religion, vibe, and the language I replied.
"Seen I." Meaning understood by me (also, in Rastafarian everyone is an equal so, everyone is an "I," that's why you hear sentences that refer to the understanding between two people as, "seen I and I."
I looked at all of them and continued gingerly, "I understand about the right time. Here's the thing. Because there is a live broadcast of your show over the radio, the radio has to tell their listeners what time to tune in. If they tune in and you're not playing they may shut off the radio thinking they got it wrong. So, in this case, there are two right times. And we need to marry those two times close together so that you have a successful show." They smiled, and I left not knowing if what I said had sunk in. At two minutes after 8pm they hit the stage—marriage successful. MAZELTOV! The show was great.
Michael Stanley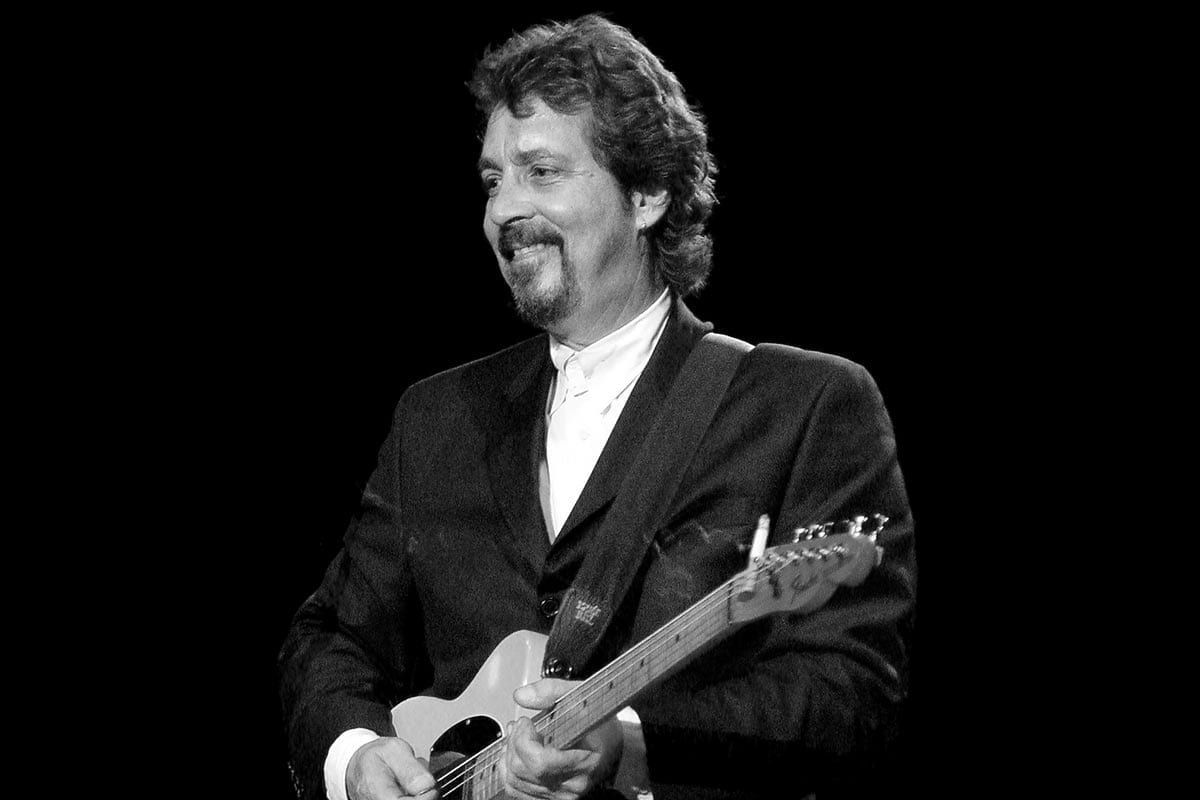 Most people haven't heard of Michael Stanley.  But if you live in Cleveland, Ohio or anywhere else in the American Midwest, you know that during the 1970's and 80's, Michael's brand of heartland rock made him a superstar in that area of the country.
I met him in 1984.  We were on the cusp of releasing Bruce Springsteen's Born in the U.S.A. album and a bunch of us promotion people were flying to different parts of the country to play the record at industry gatherings as a set up before release.  At the time I was the head of the album rock department at Columbia spearheading the charge.  I chose the heartland for my visit — I went to Cleveland, Ohio.
There, the local branch was throwing a listening party at a popular restaurant/bar and had invited the whole city of radio disc jockeys, program and music directors, press, and retail clerks and managers to hear a preview of the album. I went around the room and met every single person there. I knew it was really a special occasion when Michael Stanley walked through the door.
It would be my first long encounter with folks from the Midwest.  I was used to the kind of people in L.A. and New York who all (including myself) have a bit of a show they project with their personalities.  But these fine folks had no show, no fake sheen or fancy talk — they were just down-to-earth people.  And for as big a star as Michael Stanley was, he was exactly the same — like talking to your next-door neighbor.  I was floored by the warmth and honesty of these people — just flat out every-day good folks.  It was a real revelation for me, I saw how different another part of the country could be.  And it was very refreshing.
I had a great talk with Michael about Bruce, but it had nothing to do with celebrity or stardom, just all about the music and the joy of playing music. Then it was time for me to give a little speech I'd prepared and to play the album.
I got up on the small stage and went to the microphone. As I looked out over the crowd I was overwhelmed with the authenticity in the room, just plain folks with no airs, who came to hear a new album they were interested in.
I looked down to see what I had written. It was a bit jazzy, a bit snazzy, and a bit showy. I realized it would play great in New York, but these people didn't want to hear this shit, they just wanted to hear some great music. I crumbled up the paper and simply said, "I am so very glad I came to Cleveland. I have never met a more down to earth bunch of folks in my life. Here is Bruce's new album, I hope you all enjoy it." They did.
Those are just a few of the stories that flashed through my mind as all those names were read during this year's Grammy Award In Memoriam segment.  Of course, there were so many more including Johnny Nash who had some big hits on Columbia, Eddie Van Halen, Peter Green (who I learned so much guitar from), Spencer Davis, and Leslie West who's an old buddy I've recently written about.
Like Picasso or Jimi Hendrix, Eddie Van Halen Was a True Original
As I get older and begin to watch others pass from this life, it's hard to wrap my head around the idea that they're gone. My world doesn't seem correct without them in it. But I try hard not to feel sad because I've lost them, rather to smile, because I was lucky enough to have known them.
Until next time.  Spring is here — ain't it great!
All the best to you and yours,
Rap~
© Paul Rappaport 2021