When Peter Green passed away, we lost one of the greatest blues/rock electric guitarists of all-time.  Yet despite his major contributions to music and blues styling on the guitar, Peter Green is not a name that many immediately recognize. 
In 1967, Peter Green founded the legendary band Fleetwood Mac. But he only led it until 1970, leaving the group before they evolved into one of the world's best-selling pop hitmakers.  And unfortunately, after his time in Fleetwood Mac, he got heavily into psychedelic drugs and sadly, suffered from mental illness. Although he did make a recovery and went on to produce some great music again, it took him many years to get there. 
With so much time gone by and not competing in the pop world, he was largely sought after and followed by only a small legion of devoted fans and musos who are familiar with his exemplary work.  Many guitarists, including myself, revere his guitar sound and technique.
Peter Green's contributions are more widely known by other artists' recordings of his songs.  Everyone knows the Santana classic "Black Magic Woman," but most folks don't know the song was written by Peter Green.  For those of you who are metalheads and love Judas Priest "The Green Manalishi (With The Two-Pronged Crown)" was also written by him.  And, if you love the guitar sounds of Billy Gibbons, Mark Knopfler, Carlos Santana, and many others who relish that warm, lush guitar tone, that's because all of those players idolize Peter Green. 
Indeed, in a meant-to-happen moment, just as I was finishing an initial version of this blog, I went surfing with my surf buddy C.K. and a friend of ours named Donna, along with her daughter.  After catching some fine glassy waves in Long Beach, NY we went for breakfast.  Talking about surfing, and the wonderful hypnotic way it Zen's you out, Donna mentioned a video she'd seen which really captured that feeling for her – it featured a beautiful song which she loved called "Albatross."  Donna said she thought it was by German guitarist Ottmar Liebert along with another artist, Luna Negra.  I was totally blown away, because here was yet one more example of someone hearing a great Peter Green composition via another artist.  Of course, I told her about Peter, that he had just passed, and turned her on to the original version.  Here are both for your listening pleasure.  PS. You can find the video on your own—I've attached a link to the Liebert/Negra album version because the sound is superior–you can almost feel the strings of the beautiful acoustic guitar.  The original version by Peter Green and Fleetwood Mac was a number one hit single in Britain, in 1968.
"Albatross" – Ottmar Liebert + Luna Negra
"Albatross" – Peter Green with Fleetwood Mac
Like many British musicians of the '60s, Green (born Peter Allen Greenbaum) was drawn to the American blues. In fact, Fleetwood Mac started as a blues band.  Peter was one of my early influences and I remember seeing Fleetwood Mac in Los Angeles at the Shrine Auditorium circa 1969.  In those days the Shrine was standing room only and I worked my way up to the very front of the crowd so I could watch his guitar work.  I was learning how to play the blues myself and was trying to unlock some of the secrets.  I just kept watching his hands, trying to make out what chords he was playing and how he created his guitar solos.  I was also taken by the tone of his guitar and I wanted to emulate it, but could never quite figure out how.
Later in life I learned that one of the secrets to achieving that great warm tone was Peter using a Les Paul model guitar.  The body on a Les Paul is so thick the sound from the strings resonates much stronger and more vibrant, giving more sustain and a longer range of overtones than on thinner bodied electric guitars.  Add humbucker or P-90 pickups and voila, you get that wonderful rich sound.  Another of Green's unique secrets was that on his 1959 Les Paul (1959 being the very special Holy Grail manufacturing year for that guitar), Peter had one pickup installed in reverse, creating a distinctive sound because it put the guitar's two pickups magnetically out of phase.  That legendary Les Paul is known as "Greeny."  The truth is, even though different guitars each have their own unique tone, as do the amplifiers and the extra gadgets they are plugged into to achieve a certain voicing, the real sound of any player comes from their fingers and their personal style of playing—and so it is with Peter Green.
Here is the band as I saw them in 1969. The other guitarist is the very talented Danny Kirwan, also playing a Les Paul.
"Oh Well" (Live) – Fleetwood Mac
For those interested in a guitarist's personal touch and how it relates to what kind of gear he or she might be using, you might enjoy reading my blog about David Gilmour's reaction when he lent Mark Knopfler his sound equipment during a show they did together. 
Peter Green's style is subtle, not flashy or fast.  His solos are quite melodic and he pays great attention to the detail of each note – how he hits and bends each string, how he lets each note ring out.  Sometimes instead of picking the strings using a hardstyle attack, he opts to more gently caress the strings, the pick gliding effortlessly over them.  "I like to play slowly, and feel every note," he once said.
As Peter grew musically, he also realized he could stretch the boundaries of the blues. "A blues doesn't have to be a 12-bar progression," he said in 1968. "It can cover any musical chord sequence. To me, the blues is an emotional thing. If a song has the right emotion and feel, I accept it as a blues."
It's fascinating to me how so many blues/rock guitarists hear and appreciate similar kinds of guitar tones. I'm sure it comes from being influenced by many of the early blues greats and the guitar sounds of Freddie, B.B., and Albert King. Those players also used Gibson electric guitars, which are known for their warm full tone. And even though guitarists like Eric Clapton, Jeff Beck, and Green himself, migrated to Fender Stratocasters, they often work to make the Fender Strat sound a bit more like a Gibson so they can still produce that sought-after warmth.
One of Peter Green's avid followers was Irish blues/rocker and all-around singer-songwriter, Gary Moore. I first met Gary in the early 70's when he came to the States with his Irish mates in a band called Skid Row. The highlight of the band's performance was when Gary was left alone on the stage to play a blues solo, all the while sitting at the drum kit keeping time with his foot on the high-hat. Even at that young age he was an outstanding blues guitar player.
It was the wild days of the record biz and the band's label, Epic (Columbia Records' sister label), had sent the band over for a small tour in the States without much pre-planning for life on the road.  The band had very little spending money and was left on their own to find places to stay the night.  When they played the Whisky a Go Go in Hollywood I let them stay at my place.  At the time, I was living in one of those cool looking wooden chalet-style houses built on silts up in the Hollywood hills that I was renting with friends.  Gary and I stayed up most of the night playing and talking about blues guitar.  He too was always searching for guitars that produced a magical sustain and he fell in love with my Gibson Melody Maker.  He wanted to buy it, but I told him, "no way," as it was delivering the cool blues-sound I was after myself.
The funniest thing was, when I dropped the band off at American Airlines to fly home, they unloaded all their big amps, drum kit road boxes, and guitar cases onto the sidewalk all lined up so it looked like a band getting ready to play on stage. I asked if all that gear got shipped separately and they replied that when they left Ireland, with little to no budget, they'd convinced the airline there to let it pass as "extra baggage." I looked at all that gear which took up the entire sidewalk and was dumfounded. Clearly, they had no plan and I was panicked. 'Extra baggage??' There was no way all this stuff was gonna pass as that in this country. I quickly found an American Airlines representative and gave her my best "promotion in motion" fast-talking total-bullshit line. Pulling her aside, I spoke quietly, under my breath.
"Look, I'm from Columbia Records.  This is one of our biggest bands in the world, visiting from Ireland.  In appreciation for all the great music their airline in Ireland let all this gear fly as extra baggage and didn't charge the band.  I don't want us to appear like the ugly Americans not able to accommodate a very popular music group from Britain.  And I certainly don't want American Airlines to get a bad rap for treating them differently than their home country did and have some uncomfortable situation show up on the evening news, if you get my meaning.  So, can we please just do what Ireland did, make an exception, and let all this stuff fly for free, as extra baggage?  Pleeeeeeze!"
She did.
Later in life Gary Moore became a very well-known and quite successful solo artist. He purchased the legendary Greeny guitar from Peter Green himself and went on to make a renowned tribute album of Green's songs called Blues for Greeny. PS. The current owner of that guitar is Kirk Hammett from Metallica. He played it during a Peter Green tribute concert Mick Fleetwood organized in 2020.
Billy Gibbons, Kirk Hammett and others–"The Green Manalishi"
In the late 60's during his time with Fleetwood Mac, Peter, as did many people then, experimented with LSD and Mescaline. He had mind-expanding visions about life and the most beautiful way to live it. During his final concerts with Fleetwood Mac Peter sat the band down and told them that they should take the money they were making from playing music and give it all to charity. Not surprisingly, the rest of the band was on a different path, on the way to becoming rock stars. The last song he wrote with the group was the above, "The Green Manalishi," denouncing the power of money and how making copious amounts of it can really mess with your head.
Peter got so wound up in his visions he visited a hippie commune and disappeared for three days.  The story goes that he took a huge LSD trip and to quote him, "never came back."  Unlike many of us who tripped and did come back to reality, Peter really went for it — wanted to make the reality he saw on psychedelics his everyday reality.  In 1970 he left Fleetwood Mac sighting, "I want to change my whole life really, because I don't want to be at all a part of the conditioned world, and as much as possible I am getting out of it."
I have to admit, I admired his desires. Many of us from the 60's had a wonderful vision of how the world could be. As Crosby, Stills, Nash & Young sang, "We can change the world, rearrange the world." At Woodstock we got really close to it, but it just wasn't meant to happen at that time.
But Peter no longer wanted to deal with the real world and continued to take drugs, becoming increasingly erratic. In the 1970's he was diagnosed with schizophrenia and underwent electroconvulsive therapy. For many years he was in and out of mental hospitals. The drugs they gave him to help cope with his condition made him very sluggish and unable to focus on making music. He finally weaned himself off prescription tranquilizers in the late 1990's.
Everyone thought he was lost forever, but in 1996 he re-emerged with the Peter Green Splinter Group and came back strong.  The band toured and made eight albums with some really great songs and Peter playing exceptionally well again.  I listen to these albums constantly as well as an incredible 4 CD set, I found online that comes from Europe — Peter Green: The Anthology (a 4 CD deluxe box set), on the Salvo label.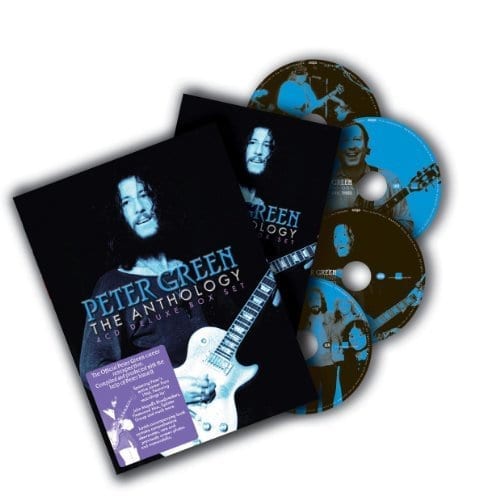 I'll never know why some of our greatest artists have to suffer so much. Perhaps it is only by following their most precious dreams they get to where they need to, even if it means getting hurt along the way. Perhaps it's their vulnerability, the same part of their psyche that allows them to make their precious music, that leaves them too exposed, too open to being wounded, like Brian Wilson for example. All I know is, I am so thankful for their art.
I hope you enjoy watching and listening to these selections performed by Peter Green and The Splinter Group.  It's nice to see him at this age, again playing so beautifully.
"Albatross" – The Splinter Group
"The Green Manalishi (With The Two Pronged Crown)" – The Splinter Group
"The Supernatural" – The Splinter Group
"Man of the World" – The Splinter Group
Long-live Peter Green, may his music continue to inspire generations to come.
Rap~
© Paul Rappaport 2020
Some quotes excerpted from the New York Times.