I recently watched the new docu-series Laurel Canyon.  If you enjoyed Echo in The Canyon (which I thought was extraordinary), Laurel Canyon is a great follow-up.  It's a two-part television documentary and gives a much broader view of that legendary Laurel Canyon music scene. It includes many more artists than Echo and I learned a lot from watching it.  This is a must-see. Not only will you have a blast taking a trip down memory lane, but the film also shows the development of the counterculture and some of the more important historical events that helped shape our lives. I highly recommend you check it out on Epix (and watch the trailer at the end of this blog).
One of the fascinating things I learned from this film was that the band Love was responsible for getting The Doors signed to Elektra Records. 
The story is, Elektra wanted to enter the new rock scene and Love was the first band they signed.  But after a couple of albums, Love started to have some problems with the label and they wanted out of the deal. Love figured if they could get another good rock band signed to Elektra – keeping the label in the rock game – the label would let them off the hook.
So the guys in Love brought the founder and head of the label Jac Holzman down to a club to see a new band called The Doors. It turns out, that particular show was a bit of a disaster. Morrison was drunk, the band was off… it was just a bad show all around.  Holzman shook his head wondering what all the fuss was about. 
But the guys from Love were determined. It took some doing, but they finally talked Holzman into coming down one more time to see this new band with a unique sound who had an incredible charismatic front-man singing deep poetic lyrics. 
And this time the performance was stellar.  Holzman witnessed the true magic of Morrison and The Doors and signed them immediately. 
Sadly, Love's logic proved false – Holzman kept them on the label anyway.  And worse, the plan actually backfired.  Now all of the label's energy and budget were being used to launch and promote The Doors.
But in Laurel Canyon, I was excited to see so much time spent on the band Love – with interviews by Arthur Lee and Johnny Echols – as I have always been such a huge fan.  One of the reasons for that is, in the beginning, Love sounded a lot like The Byrds. And if you've read my previous blogs, you know I've always been a huge fan of The Byrds. The sounds of the twelve-string guitar, great harmonies, and a large dose of tambourine… it was really infectious. 
With so many bands living together in Laurel Canyon at that time, there was a lot of cross-pollination of music.  Eventually, The Byrds had to approach the guys in Love: "Hey that's our sound.  You need to find your own."  And, of course, they did. 
If you haven't listened to the albums Love or Da Capo in a long while, I suggest you do.  You'll be reminded of some great, great, songs, and one very special and enchanting band.
The Byrds and the Rickenbacker Sound
Watching this film, I was hearing Roger McGuinn's Rickenbacker 12-string guitar again.  It brought back some great memories of buying my first legit guitar, which was a Rickenbacker, chosen by me because I was such a big fan of McGuinn and The Byrds. 
I bought the six-string version. It had that Rickenbacker jingle-jangle Byrds sound I loved, but would also be more versatile, allowing me to play any other style of music I wanted.  It took me two years of summer jobs to save up the $450.00 to buy it. In 1966, for a blue-collar kid, that was a lot of dough. 
But it was worth it. The guitar glowed with that beautiful red Rickenbacker color and sounded fantastic.
When I finished watching the Laurel Canyon documentary, my mind wandered to what magically happened to that guitar – a story that involves the incredibly talented Elvis Costello. And how I, working in the music biz, became a part of the ongoing synergy that was taking place in the rock music scene.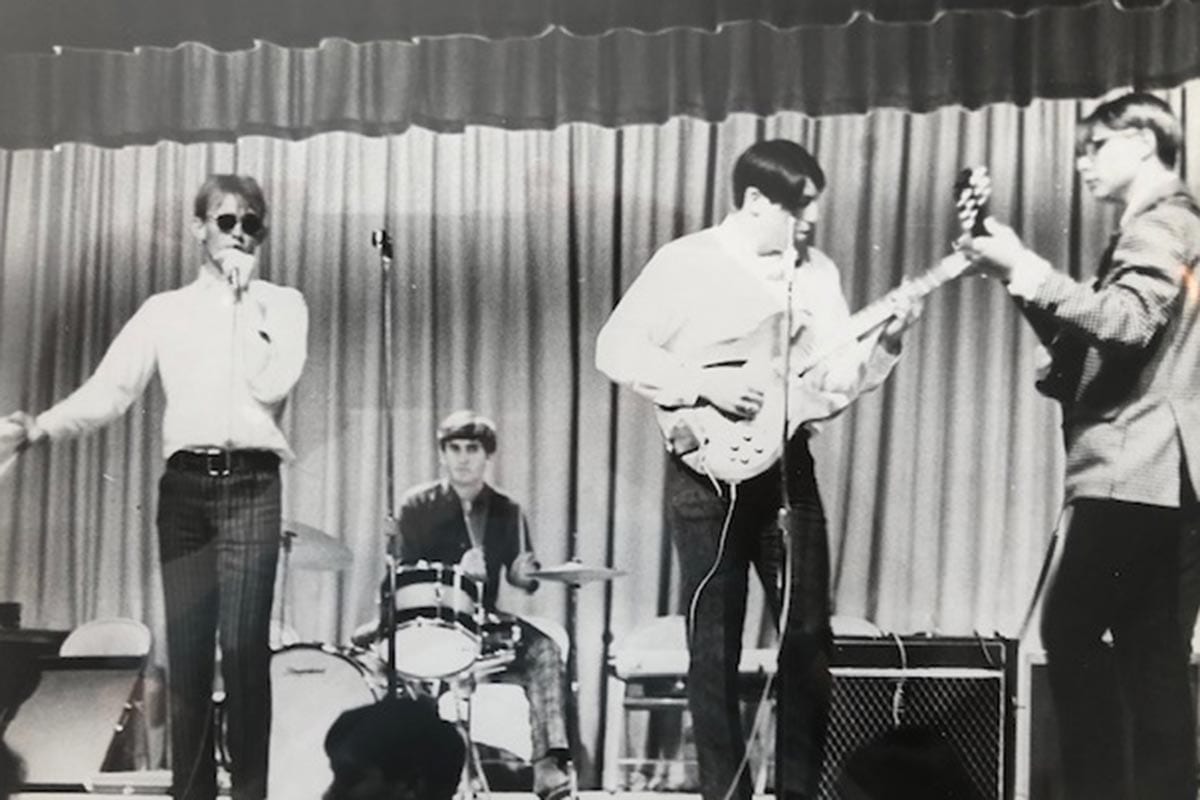 Elvis Costello in America
At the time, I was the western region album rock promotion man for Columbia Records.  We were getting excellent response from the FM rock format for Elvis Costello's first album, My Aim Is True.  Both industry folks and his new fans were looking forward to seeing him perform for the first time in the States with his band The Attractions. 
I first saw him – along with some rock radio program directors and disc jockeys we had invited down to his debut – at the Whisky A Go Go in Hollywood.  That performance was positively electric. The audience realized they were witnessing something new and exciting. 
After the show I met Elvis, his colorful manager Jake Riviera, and The Attractions band -Bruce Thomas on bass, Pete Thomas on drums, and Steve Nieve on keyboards.  It was their first time in America and  I remember asking Elvis what his plan was.
Wanting to make a big impression he replied, "Heads down and freak 'em out."
Good plan — it worked like a charm. 
When they came back for a second, more expanded tour of the States, America was still quite new to them. It was fun to see the band's reactions to the culture. I remember taking them for a Mexican dinner in Portland, Oregon. It was the first time they'd ever experienced Mexican food.  Pete looked at Bruce and asked in his thick English accent, "Would you like to split a B-u-rr-i-to?"  He had no idea what it was. 
One day Steve Nieve walked out of a five and dime store looking curiously at the pack of Lifesavers he'd just bought.  I approached him. 
"You don't know what those are, do you." 
He shook his head.  I realized Steve had a sweet tooth as do I, and as a kid growing up in the 50's and 60's I was extremely well versed in American candy.  So, every day on the tour I took pleasure in buying Steve a new treat and explaining what it was.
"Steve, this is an American legend: a 3 Musketeers candy bar, it's chocolate with fluffy nougat inside."  Next day it would be, "This is a Milky Way, similar to 3 Musketeers but has a caramel layer on top."  Next, "This is a Snickers bar, same thing as the Milky Way but add peanuts.  And THIS… is an Abba-Zaba!"
Not sure if it was the Mexican food but Elvis started to have a real jones for avocados.
While we were in Portland something happened to the equipment truck and the band was told that Steve's Vox organ wasn't going to make it to the show.
"Well, that's that," said the road manager, we're gonna have to cancel tonight's show."
Elvis's first concert in this great music town was going to be crucial to the building of what would become a long-lasting career—missing his big debut at the Paramount Theater in Portland, Oregon was not an option.
"Before you do that, give me a minute," I said. 
I called the local rocker KGON-FM and asked the afternoon jock if he could do us a favor and announce our predicament.  Could he please ask his listeners for any volunteers who owned keyboards who might lend them to us for the evening.  And, could they please bring them to the backstage entrance of the Paramount at 6PM. 
I told Steve that Portland was a passionate music city and that I could guarantee at least one keyboard would show up, although it might not be the kind he used. 
He said he would make do. 
At 6PM Steve, the road manager, and I went around to the back entrance at the Paramount.  Low and behold, there they were – three guys with three keyboards all set up and ready to go.  To all of our surprise, one was a Vox organ, the exact same model Steve used on stage. 
We offered to pay the young man for the use of his keys, but he refused the money. He just wanted to lend a hand… The sign of a true musician.  
Turns out, that show was one of the highlights of the tour.  After an extended applause asking for a third encore, it appeared Elvis was done.  So the house lights went up, the black backdrop was hoisted revealing the raw brick back wall, and people started filing out of the theater. 
But in a "heads down, freak 'em out" moment, El surprised everyone by coming back for one more song. 
The crowd went nuts. Everyone who was now outside the theater started rushing back in. It was pandemonium.  Forget finding your original seats, everyone just stood, all lit up, and loving the performance of a new young artist wanting to give his all for the fans. 
There they were: no mood lighting, no production… just the guys, showing warts and all in the bright house lights, playing against a brick wall for the people. 
A real bond between artist and fan took place that night. It was one of those special rock and roll moments you never forget.
I used to have fun traveling with artists when they were shopping for instruments or other musical bits.  I went with David Bromberg looking for old violins, with Rolling Stones keyboardist Nicky Hopkins searching for live bootleg albums (he wanted recordings taken from his side of the stage so he could hear himself play), and with Elvis Costello, who was in search of a Rickenbacker six-string guitar.
The Rickenbacker 6-String Guitar
The Rickenbacker jingle-jangle sound is especially great for rhythm.  But many musicians who bought Rickenbackers wound up swapping out the original pick-ups for other styles so they could obtain heavier and more versatile sounds. 
Elvis wanted to buy a pre-owned Rickenbacker, but one with original pick-ups – and we had a devil of a time finding one. 
In fact, we couldn't.  And he was about to give up when I told him I had one that was sitting under my bed collecting dust. I used that Rick in my high school rock band, The Jades, but had switched to playing Gibson guitars when I got into the blues, because the pick-ups had more drive and sustain.  Because I never liked switching parts of guitars to change them into something they weren't meant to be, my Rick was totally intact. 
I told Elvis I'd give him my Rickenbacker.  He was taken aback by the gesture. Guitars become friends, and they can be hard to part with, so he suggested that he at least buy it from me.  For a moment I thought about it. But over the years I had been given a few guitars as gifts, and I felt like it was my turn to give one back to someone else.  Because of that – and the fact that I was such a fan and we'd formed a genuine friendship – I told Elvis it would mean more for me to just give it to him as a gift.  So, I did.
Upon leaving the west coast part of their tour, along with my Rickenbacker, I loaded the tour bus with $50.00 worth of all kinds of American candy for Steve, and a crate of avocados for Elvis.
Elvis and the band finished that highly successful second tour of the States and went back to England. 
Later, in the fall of that year, I got a call from him, "Hi Rap, wait until you hear my new album Armed Forces, your Rickenbacker is all over it!"
I was pretty blown away.  I never hit the big time with any band I was ever in, but my Rickenbacker, that I bought in the small town of Downey, California (home of the Carpenters and Dave Alvin and the Blasters) at Downey Music, was about to be heard the world over on what would become one of Elvis Costello's most renowned albums.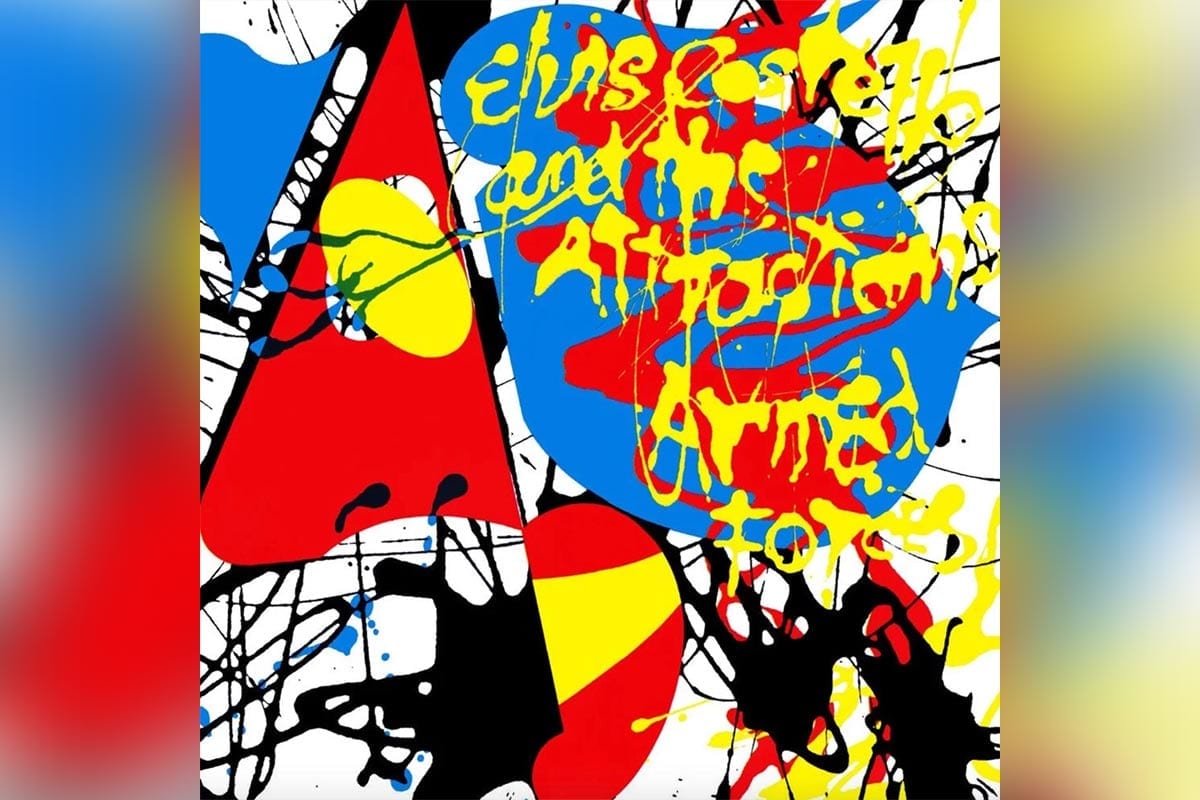 Musician Synergy
That brings me full circle to the documentary Laurel Canyon.  One of the continual points driven home in the film is how the flow of music, musicians, managers, and record company personnel interacted organically to create so much of the music that is now dear to our hearts. 
That Love/Doors story is just one example. 
Steven Stills got the original call to audition to be a member of The Monkees band and TV show.  It turned out that Steven had an odd-looking tooth which wasn't close-up camera friendly.  So he suggested to the producers that they interview his roommate, the good-looking keyboardist and bassist Peter Tork.  Tork, as you know, got the job. 
Later, it was Tork who lent David Crosby the money to buy his famous sailboat, which then leads Crosby to a calmer way of life and some new musical ideas. 
Famed manager Elliot Roberts and agent David Geffen can't find a label for some of their new more creative artists, so they start their own, Asylum Records (home to Jackson Browne, Linda Ronstadt and Joni Mitchell among others). 
And this type of synergistic journey goes on and on and on.
I was thinking about how I had organically become a part of that interaction.  It was because I had been a fan of The Byrds that I bought that Rickenbacker guitar.  As fate or providence would have it, that guitar wound up in the hands of Elvis Costello, becoming an instrument that helped shape the sound to his third great album, Armed Forces. 
Between that and being there at the right time to help artists like Elvis and many others to build their careers, it was the first time in my life where I began to feel like I was somehow meant to play a larger role in the world of rock than perhaps I'd ever thought.  I felt more deeply woven into the fabric of the overall rock narrative. 
Little did I know what lay ahead. But for right then, this was pretty cool.
And every time I hear songs like "Accidents Will Happen," "Oliver's Army," or "(What's So Funny 'Bout) Peace Love and Understanding," off Armed Forces, I get a huge smile on my face and a bit choked up. 
Indeed, we were all making it up as we went along, but it seemed like everything happened as it was meant to be.
Laurel Canyon Documentary Series Trailer
Until next time, stay safe and keep rockin'!
Rap~
© Paul Rappaport 2020