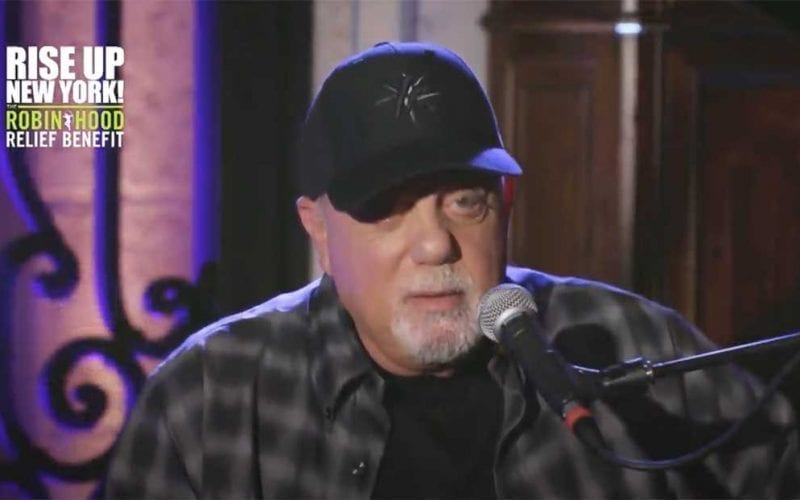 Recently there was a national television relief benefit concert called "Rise Up New York!" to support New Yorkers most impacted by the COVID-19 pandemic. It was put on by the Robin Hood Foundation, whose mission is to fight poverty in New York City. It was a joy to see so many great artists come together with heartfelt thanks for all the workers on the frontlines and raising money for so many folks really in need. Fittingly, the concert ended with New York's own Billy Joel singing "Miami 2017," a song released on his renowned 1976 Turnstiles album, which contains lyrics which now seem even more poignant and eerie than ever, about witnessing the lights going out on Broadway. There he was, "the Piano Man," who's written so many great songs that live inside our hearts, dressed in a simple gray and black flannel shirt and wearing a baseball cap.
Seeing that performance jogged some great memories. I go back to the beginning with Billy and his first album release on Columbia Records in 1973. He and I are the same age and at that time we both were just starting out in the music business — at twenty-five years old, he as an artist, and me as a promotion man whose job it was to get him known.
Billy is the one guy who never changed. Even with all the money, all the gold and platinum records, all the sold-out shows at Madison Square Garden and around the world — Billy Joel has remained pretty much an average Joe. Maybe it's because he grew up just an insecure kid from Hicksville, Long Island, and that part of him remains trapped inside. I don't know, but Billy never had any false airs about himself, and if you went out to lunch or dinner with him the conversation would often center around you, how were you doing, how was your life and how were you getting along. Then he might want to talk about boats, but rarely about himself or his career achievements. Once Sharon and I were walking down 5th Ave and we heard a guy yelling and screaming from a black SUV. He was cutting across traffic, getting honked at, and waving at us. It was Billy, he just wanted to pull over and say hi.
In my opinion, his musical integrity is unassailable. He recorded twelve studio albums with songs, and one classical album of works he composed but were performed by a professional classical pianist. ("I can write it, but I don't have the chops to play this stuff," Billy said).
Every single song on those twelve studio albums is either really good or great. There is no filler. He didn't try to come up with an extra song or two just to round out the number of tracks on an album. Some of his albums only have nine tracks on them, Turnstiles has only eight—but they're all great songs.
After the River of Dreams album, he told us he thought he was done — just felt like he'd said everything he had to say, other than his desire to write some classical pieces, which of course, he did. When pressed to release greatest hits packages he always referred to those songs as "used cars" and would say something like, "I don't want to rip off my fans by trying to re-sell them some old used cars." Of course, we prevailed explaining that those "used cars," were some of the greatest songs ever written and to gather a bunch all in one collection was actually a favor to his fans making it a fun and fulfilling listening experience.
After 9/11 when asked if he'd be writing anything about that, he said something like, "That was so big and so heavy, I don't think I could write anything big enough to capture it, to do justice to it, or for all the people that lost their lives." His ego was not so large to believe that somehow, he, Billy Joel should bring forth some sort of epic remembrance. Other artists tried, but I don't think they succeeded.
Once, years before he started doing his monthly New York City franchise Madison Square Garden gigs, Sharon and I went to see his then, record-setting 10th consecutive sold-out show at MSG. I was so proud and happy for him. We went backstage before the show and found him in his dressing room reading the newspaper. "Hi Billy, wow, ten sold-out shows in a row—congratulations!"
He looked up quite unaffected by it all, "Yeah, we're still kickin' around."
"Still kickin' around?! Billy, that's ten sold-out shows in a row at Madison Square Garden!"
"Yeah, yeah I know, relax, sit down, have a drink." Typical Billy.
A few years after that, we went to see him perform for a charity in West Hampton. Again, we were backstage saying hi before showtime. Billy was dressed in blue jeans and a nice black long sleeve shirt. He couldn't decide whether to tuck the shirt in or leave it out. He looked up at us, tucked the shirt in and then pulled it out again. "Whaddya think, in or out?"
"What do I think?! I think you're Billy Joel and you've played thousands of shows in your life all over the world! And you still don't know whether you should tuck your shirt in or leave it out?!" You gotta love a guy like that.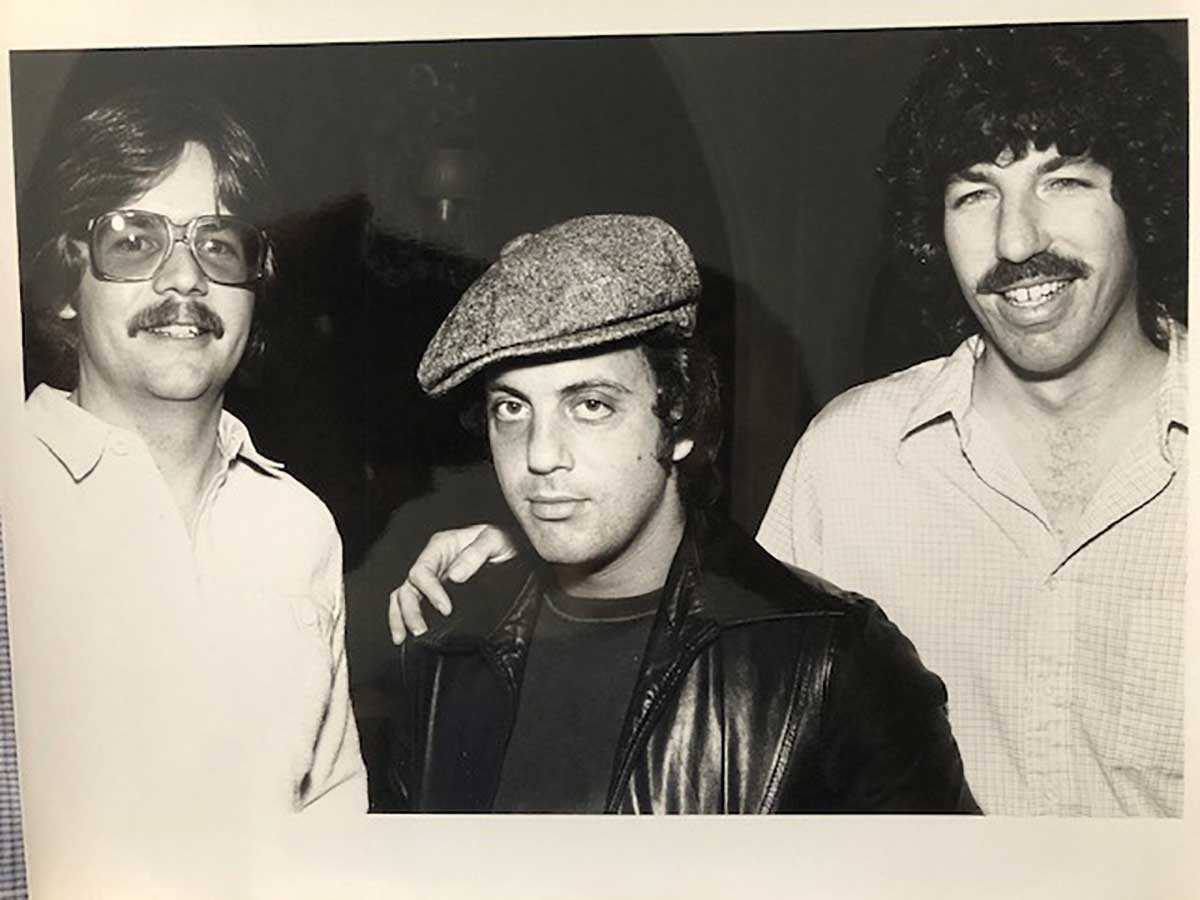 I first met Billy and his wife at that time Elizabeth, in Los Angeles just before the release of his first album on Columbia, Piano Man. I was so impressed with how many great songs there were on one album. I had seen another piano man's first Los Angeles appearance at the Troubadour, Elton John, and knew immediately, like everyone else in the crowd, that we were witnessing the next big thing. After hearing Billy's first record, I knew we were all about to witness, yet another, "next big thing."
I invited Billy and Elizabeth up to the Columbia offices to get some free records. I remember specifically that they were both wearing jeans and T-shirts, and looked as poor as church mice. I remember thinking about how much money there isn't at the beginning of one's career. I opened the stock closet and their eyes popped wide open with excitement. They both walked down the stairs holding so many albums in their arms they could barely see over the top of the stacks they were carrying.
The most fun working with a new artist is when they're on the way up. It's an innocent time, before they become superstars and fall into all the trappings that come with that territory. It's gratifying to see them build a fan base–at first small but loyal by playing in clubs, then graduating to theater size venues, and eventually to arenas or even stadiums.
In 1973, I was the local album promotion man for Columbia in charge of Los Angeles and surrounding areas. At that time, Phoenix, Arizona was pretty wide-open spaces, no freeways, no fancy foliage and only two main roads. The town was attracting new residents and the mean age group was 25 yrs. old, same as me and Billy. Via groundbreaking, visionary rock radio station KDKB-FM and new concert promoter Danny "Cisco" Zelisko, many of our artists were actually famous in Phoenix before people in Los Angeles, only 372 miles away, even knew who they were. Nothing could be truer than for two of our artists that one day would become worldwide superstars—Billy Joel and Bruce Springsteen. Indeed, while I was still trying to get Los Angeles radio stations to believe in, and play Bruce's records, at the Celebrity Theater in Phoenix they would be announcing "The return of Bruce Springsteen!" to wild, screaming, adoring new fans.
It was the same for Billy Joel. Billy is so amicable on stage, so genuine when he talks to the audience, he feels like your best pal. At his first show in Phoenix he joked about rock stars putting a banana down their pants for photos to make them look more well-endowed. When he returned a year later, he was stunned to see many new fans smiling and throwing bananas on stage to greet him. Touched by this warm and fun gesture, and wanting to endear himself even further to the crowd he said, "I can't thank you all enough for coming to my show tonight. I know you could have easily bought tickets to see Rod Stewart who is playing across the street at the big arena in town. So, for all you people who chose to be here with me instead of seeing Rod, this is for you." Billy then launched into the greatest imitation of Rod Stewart I've ever seen. If you closed your eyes, you'd think you were hearing Rod wailing away on one of his most famous rockers.' The crowd went wild—they got to see Billy Joel and hear Rod Stewart all in the same show. What a giving thing to do, and what a great way to really connect with your audience. It's outside the box, non- scripted, and something that people would remember forever.
It turned out that Billy could do incredible impersonations of almost anybody, and it became a feature of his show to cover a Beatles' song or something from Joe Cocker or the Stones, and sound just like them. What a blast. He still does it to this day, and the thing is, he's having so much fun with the audience appreciating these iconic song memories together, it becomes a powerful unifying shared experience, bonding both Billy and his fans as one.
But it was harder for west coast radio stations in particular to understand and get into artists like Billy and Bruce who were writing with east coast sensibilities and referencing east coast imagery, like Billy's "Billy The Kid" from Oyster Bay, Long Island, or "Scenes from an Italian Restaurant." The giant Exxon sign Bruce refers to in his epic, "Jungleland" was not a brand of gasoline offered on the west coast at the time.
Because Billy wrote so many ballads and those were the songs that were played on the Top 40 stations, he would get wrongly slagged as a lounge act, or pop act who solely belonged on Top 40 radio. I used to take the entire tastemaker media from west coast cities like Washington, Oregon, and San Francisco, to see Billy live in concert so they could fully understand his power and artistry. Once they saw Billy Joel in concert, they realized that they were witnessing a rock show, and a much wider appreciation for him and his music grew quickly.
I would invite all of the radio, press, and a handful of the most important retail people to a giant dinner at some fancy steak house and then we'd all go to the show. Now this could be twenty people or more, and the bills were staggering. I'd call headquarters in New York and talk to my boss, Mike Pilot, just to make sure we were all on the same page. Although an expensive proposition, these dinners and shows worked like a charm. As soon as folks saw Billy Joel live, they were hooked forever.
"Hey P., I'm just calling to reiterate that I'm out here spending a lot of money."
The answer? "That's ok Rappy, we're making a lot of money."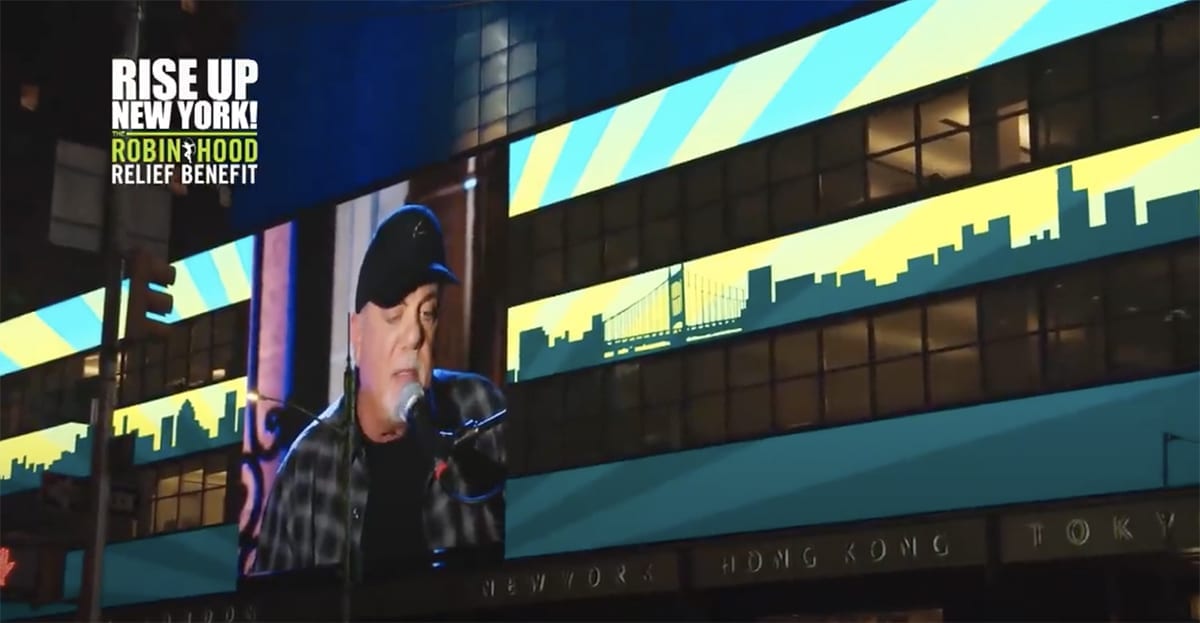 When I became the head of rock album promotion for the western region, I had a blast traveling with bands on the road. Once in San Francisco, I took Billy's original band members, drummer Liberty DeVitto, bassist Doug Stegmeyer, guitarist Russel Javors, and saxophonist extraordinaire Richie Cannata to dinner at one of my favorite restaurants, Marrakech. The restaurant features Moroccan food that you eat with your fingers and a wonderful red table wine that goes with whatever you order. The ambiance is superb, you feel like you are in Morocco, surrounded by elaborate geometric architecture, low lit in purple, red, pink, and orange colors, tapestries on the walls, and large round silver tables positioned a bit lower than usual with cushioned stools.
We were staying in Oakland so we all hopped into a station wagon and drove across the Oakland Bay Bridge into the Tenderloin district of the City. When you walked into the Marrakech at that time, you were greeted by a large beautiful tiled fountain spilling into a pool that was at least eight feet by eight feet. It was an odd place to put it because you had to carefully make your way away around this big fountain to get to your seats. After an incredible feast featuring unique dishes like lamb with roasted almonds and honey, a Bastilla (combination of chicken, chopped almonds, eggs, and couscous), vegetables, and enough red wine to sink a battleship we attempted to leave the premises. We were all a bit more inebriated than we thought. The tell was, as we were walking out of the restaurant, we failed to even see the fountain and walked right through it, pool and all, sloshing along without a care, our shoes getting soaking wet.
We got into the station wagon and because I was voted as the least intoxicated, I was designated as the driver. I can't remember who was riding shotgun, but Liberty positioned himself in the backseat next to the door on the passenger side. As we drove back across the bridge, we saw they were doing construction and had placed large orange cones all along the right side of the right lane. Liberty piped up from the back seat, "Hey Rap, every time you spot a cone, see if you can get really close to it." No sooner had I done so when Liberty quickly snapped open the side door to a complete forty-five-degree angle and knocked the cone right off the bridge. We continued across the entire bridge swerving to the right at every cone and knocking them all off the bridge one by one into the waiting bay below. "Whack…Whack…Whack!" I was getting into a rhythm, which I'm sure Liberty being the superb drummer that he is, really appreciated. We must have been really smashed because I remember no one being worried in the least about getting caught and paying for the ramifications of our actions (i.e. reckless driving, destroying city property, DUI, etc., etc., etc.).
In the early 80's Billy invited the Columbia promotion staff to his then, Lloyd Harbor house for lunch. It was a nice size house on a corner of Lloyd Neck beach with a pool overlooking a private dock, replete with a small Boston Whaler. There was also a carriage house with a built-in recording studio upstairs, and a large garage with the beginning of a nice motorcycle collection (Indians, Harleys, Ducatis).
Billy pulled me outside the back of the house and pointed down the beach. "You see that stone building wayyyyyyy down there?"
"Yeah."
"That's a fort, a real fort from the eighteen-hundreds. Some people just bought it and they're gonna make it into a house. Now, that's real money!"
"REAL MONEY??" I pointed to our surroundings, "What the fuck is this???!!"
He laughed, "Yeah, I know, I know. I've done OK."
Then we both had a laugh and discussed how things are so relative in the world. Some folks would think I did quite well, living in a nice size Tudor style house on the North shore of Long Island. To me, Billy was rich. To him, the people who were buying the fort were rich. The Pink Floyd guys were stupidly rich, buying expensive period race cars and airplanes, but would sometimes talk to me wistfully about "proper billionaires" who were involved in Formula One racing. And, so it goes. But the one thing that any rock star will tell you is, no matter how much money you have, it can't buy you the most important things in life.
Billy has always closed his shows with the words that celebrate everyman, each human being's right to have respect and belief in oneself, no matter what their place in life, "Don't take any shit from anybody."
On the Robin Hood "Rise Up New York!" TV concert, Billy was introduced by New York Governor Andrew Cuomo. His remarks were very heartfelt and touching. The Empire State Building synced its lights to Billy's performance of "Miami 2017." You know you're heavy when the Empire State Building syncs up its lights to your performance.
At the end of the song Billy stopped, looked into the camera and said, "Stay strong New York, please wear a mask, and that way you won't catch any shit from anybody." It was quintessential Billy Joel, representing the everyman. And it was a reminder that whether you are a rock star or the mailman, we're all in this together.
Stay strong and stay safe. Have patience, this will last a while, but it will not last forever.
Until next time,
Rap~
© Paul Rappaport 2020