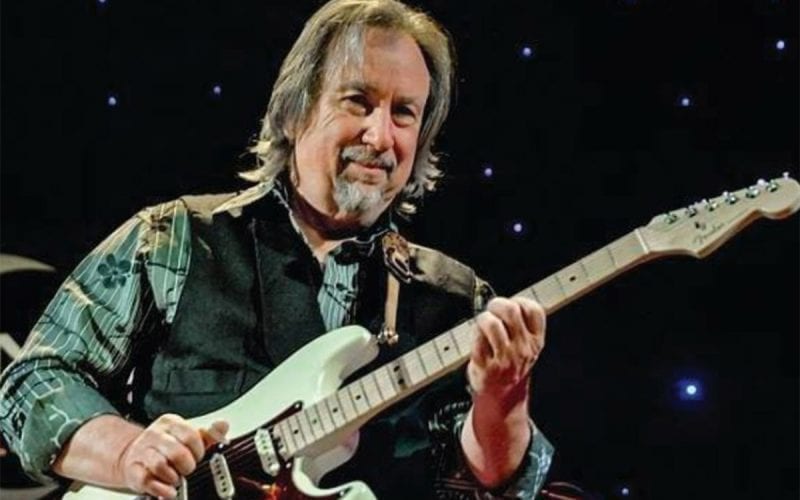 Any time my wife Sharon and I can see Jim Messina or Kenny Loggins on tour we try and go to the show.  Not only do we enjoy their music but they are also old friends.
Jim Messina built his reputation from being in the bands Poco and Buffalo Springfield and also acting as producer for the latter. He was an independent producer working for Columbia Records when he met Kenny Loggins, a little-known singer/songwriter and guitarist who was signed to ABC-Dunhill as a staff songwriter. Kenny had the ability to emulate any artist on that label and write a song for them quite quickly in their particular style.
His brother, Dan Loggins, was an A&R man ("artist & repertoire" are the people who search for and sign artists) for Columbia. Remember "Danny's Song"? That's him. Dan brought Kenny to the label and asked Messina to produce the album. The idea being, not only would Jim make a great record, but he could also lend his name to introducing the unknown Loggins to his well-established Poco and Buffalo Springfield audiences. During the course of making the album, Messina wound up contributing so much in terms of songwriting, arrangement, instrumentation and vocals, that an "accidental" duo was born.
With Kenny at the forefront, they decided to title the album Kenny Loggins with Jim Messina Sittin' In. If it hit, Kenny could go out as a solo artist but it also left room for Messina to join and make it an official duo with a band.
Because the artists and music emanated from Los Angeles, the Columbia Records branch office there took on the challenge of breaking the band out of their area. I had been a college representative for the company at UCLA in my junior and senior years, getting airplay for our artists on the campus radio station, having new albums reviewed in The Daily Bruin, and putting up posters in the local record shops when I was asked if I wanted a real job at the company upon graduation. My boss at the time was leaving to go to work for Warner Brothers, where he had gotten a great offer, and told me I should take his job. I did. I became the local album promotion manager at Columbia Records for Los Angeles and surrounding areas.
I was in charge of promoting Columbia albums to all the radio formats, and a fellow named Terry Powell was in charge of Top 40 promotion. Terry was quite a character, small in stature but very good looking and with a personality so big he came off larger than life. He was famous for running around the office or announcing himself as he entered a radio station by declaring, "The beauuuty is on duty."
In those days many artist's careers started at the FM rock format. If airplay on their albums became hugely successful, they eventually crossed over to Top 40. That path would be Loggins and Messina's. I was able to get Sittin' In, played at the local FM stations and had Kenny and Jimmy visit those stations for interviews and play live on the air. Not surprisingly, their singer/songwriter style and music, was felt as an extension of bands like Buffalo Springfield, Poco, and Crosby, Stills, Nash & Young. Their sound resonated with the L.A. crowd and fans began to buy the album.
We had the guys play a bunch of local shows and momentum really started to build for the band. In fact, we created one of the very first promotional T-shirt ever made, with the album cover of Kenny and Jimmy playing in a poker game printed on the front.
Now it was Terry's turn to convince the Top 40 stations in town to take a chance on the first single release. It would be difficult because radio stations in a major market like Los Angeles are not known for playing many new artists. They have the luxury of waiting for records to become proven hits elsewhere before they add them to their playlists.
Terry kept hammering the fact that the band was local and significant album sales had proven that people in L.A. wanted to hear more Loggins and Messina music. He got the budget to create a dozen gorgeous white rocking chairs with the album title hand-painted in black with that beautiful country style font, right across the front of each of the high back chairs. He gave them out as gifts to all the Top 40 key radio program and music directors in town. The Top 40 folks eventually caved; we'd worked so hard, they just had to say yes.
The project broke through in Los Angeles and the rest of the country followed. After months of hard work, Kenny Loggins with Jim Messina Sittin' In was certified a gold album, selling 500,000 copies. Kenny, Jimmy, and their managers Todd Shiffman and Larry Larson (who we lovingly nicknamed "Shifty and Larceny"), invited Terry and I to lunch to thank us and gave us both a stack of gold album plaques to deliver to all the local radio stations as a thank-you. The plaques were individually wrapped in brown paper. Kenny and Jimmy pointed to one and said, "You should open that Rap."
I said, "That's ok, I know what they look like. I want to keep the paper on for protection because I'm going to load them into my trunk."
They insisted, "Yeah, but you should open that one." When I tore off the paper, I was shocked to read the plaque. "Presented to Paul Rappaport to Commemorate the Sale of 500,000 copies Of Kenny Loggins with Jim Messina Sittin' In." Since I'd first walked into the Columbia Records offices and started working as a college rep, I dreamt of the day that I might actually receive a gold record, the kind I'd seen on the walls in the offices of the record execs there. Now, here it was — I couldn't believe it, I felt like I'd actually arrived. I felt like I was somebody. Little did I know then, that at the end of my thirty-three years career working for Columbia, I'd walk out of the building with over eighty gold and platinum albums to my name. For now, this was quite enough. I was over the moon.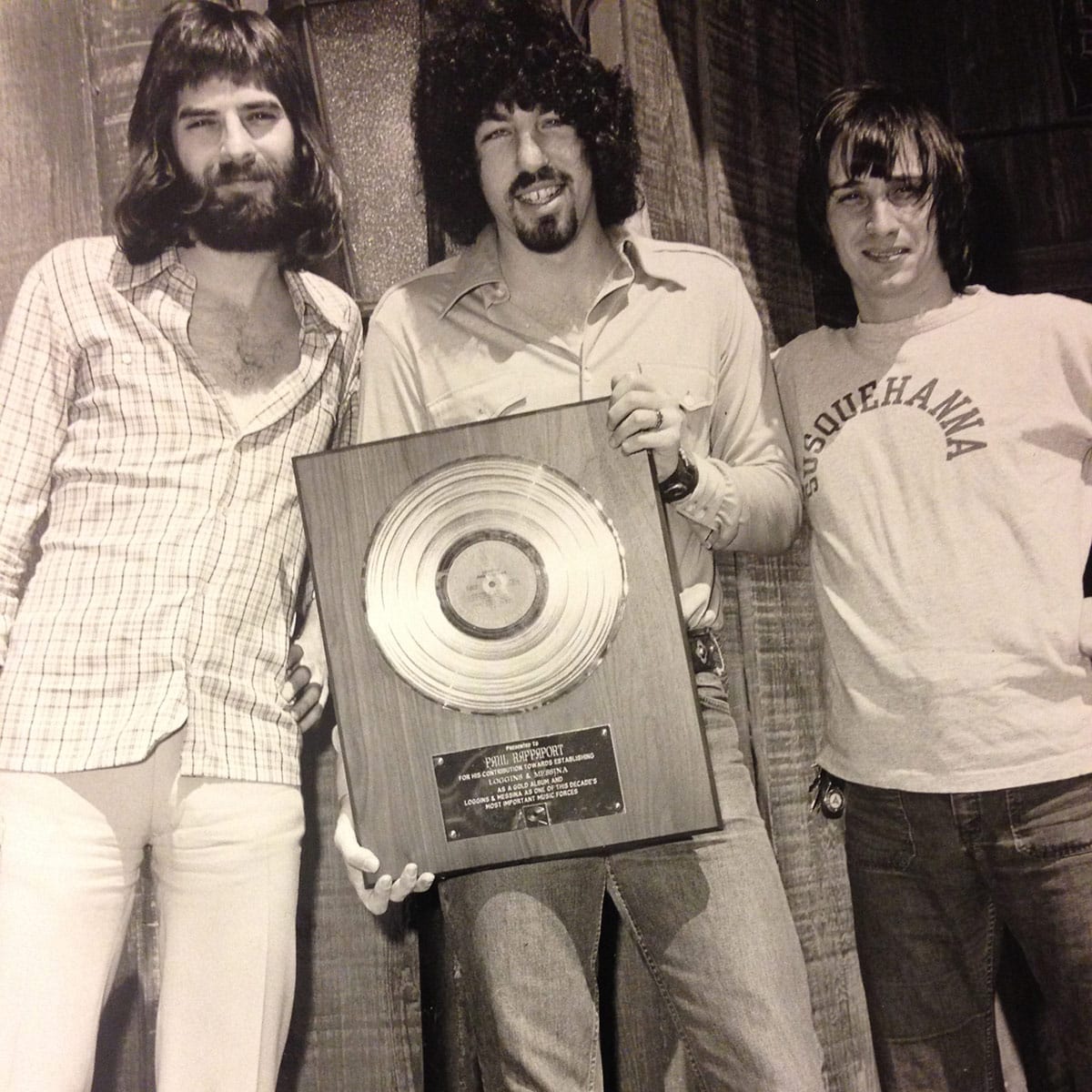 Kenny and Jimmy had six good years of success with some really great songs, very fine albums, and a fabulous live band. Kenny eventually moved forward as a solo artist.
Many years later when the duo reformed to do a reunion tour, Sharon and I saw them at The Jones Beach Amphitheatre in New York. After the show we went backstage and it was like old times. In those days the business was more like a family. The musicians and the record company folks all had close relationships.
The guys were reminiscing, "Hey, we even remember your first house on Otsego Street in North Hollywood!" Wow, that's pretty good for a couple of guys who'd had a lot of big experiences over the years.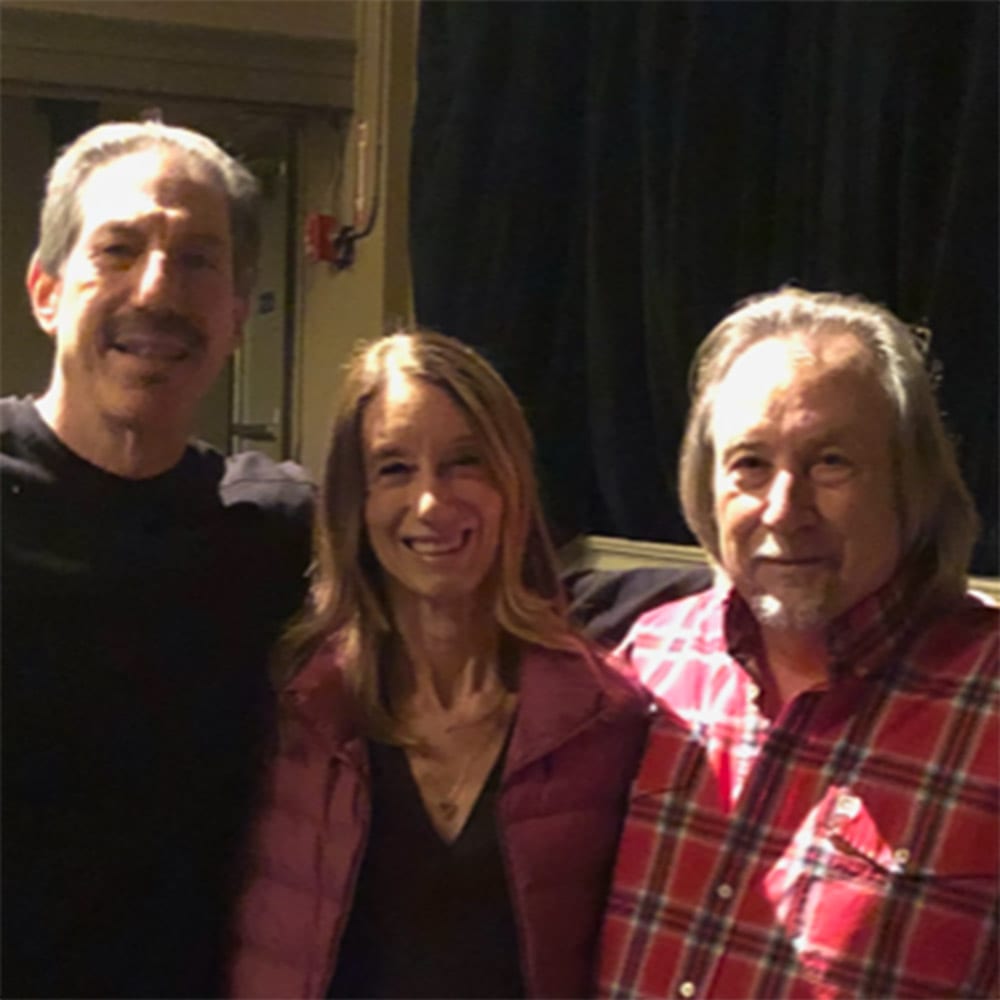 This year, on Friday March 6th just before the whole Covid-19 thing blew up, Sharon and I went to a local show at the Landmark Theater in our town of Port Washington, New York to see Jimmy Messina on tour as a solo artist.
He was great of course, and played not only Loggins and Messina songs, but some old chestnuts from Poco and the Buffalo Springfield. People (including me) had tears in their eyes hearing some of the songs that helped shape our lives. It was like a giant sing-along.
As we listened two things occurred to me. One was, a lot of these songs were album tracks, not necessarily hit singles. But the audience knew all these songs intimately because we used to listen to entire albums, really soaking up all of the material offered. I realized that because the music of today is mostly based on hit singles, when these kinds of artists finally fade, this sort of audience "shared experience," where everyone is transported to the same place in our collective memories, bringing about a universal knowing and a smile based on an entire book of songs, of deeper tracks, will fade as well.
Second, like the original Loggins and Messina band, and most bands of that era, Jimmy's band was comprised of consummate musicians. And like most bands of that era, when there are long jams in the middle of some songs, these guys are improvising, listening to one another to find the music in the room for that particular evening. Those jams are played a little bit different every evening. That takes courage and it's also an art form all its own.
I realized that when all this is gone, it truly will be an end of an era. Younger audiences may never know what it's like to hear a long incredible musical jam where just the music itself can move you to great heights.
We saw Jim after the show. He was totally surprised to see us and was amazed that we only lived three minutes from the venue. He asked his crew and the theater folks to give him some space for a while, so we could genuinely re-connect.
Jim Messina – Your Mama Don't Dance (Live, March 2020)
Jim Messina – Kind Woman (Live, March 2020)
We talked about the old days and music in general. I asked him about taking a chance each evening with the unrehearsed jams. He said, "It's always an adventure, for sure. But we're also professional musicians, so if one of us isn't feeling the muse on a particular evening, someone else in the band will pick up on that and begin to lead the way."
We also talked guitars and sound. I told Jim that I'd always known him as pretty much a "bare knuckled" guitar player, not using too many added sound effects, yet he had quite a large pedal board in front of him. I also saw that he wasn't using his signature Fender Telecaster guitar but had switched to a Strat. He explained that most of the electronic gear on that pedal board was designed to bring his guitar sound out of the main speakers sounding like you'd hear it on an album, in high fidelity. As far as the Stratocaster. "The Tele does one thing great, but it only does one thing. On this show I'm playing so many different songs from different eras that I need a guitar that can get all those different sounds. I can make the Strat sound like my old Telecaster, but I can also make it sound warmer with more rounded tones when I need to."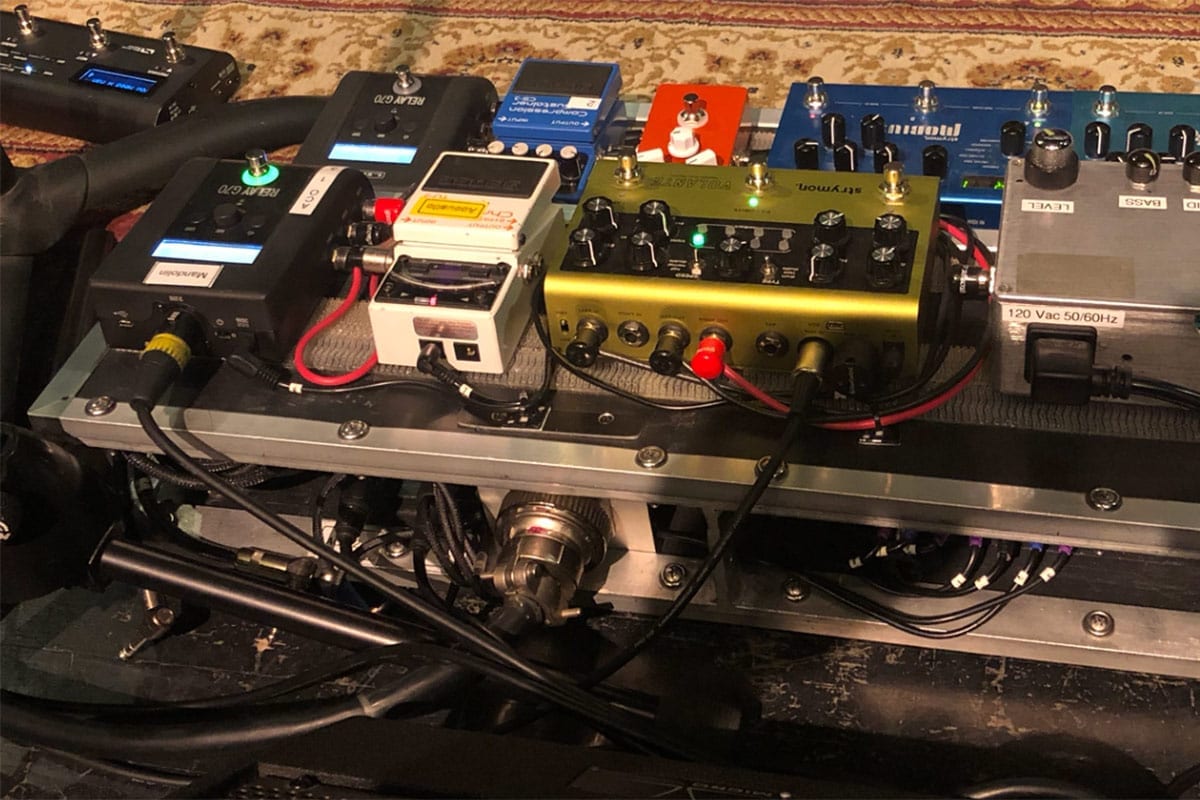 I never get tired of talking guitar, I love hearing the secrets of the trade.
As Joni Mitchell sang, "…you don't know what you've got 'till it's gone…". Yeah, I miss sports, but what I really miss is live music, especially even playing with my own band.
This Coronavirus is hell, but when it's over, and it will one day be over, all of us are going to have a much deeper appreciation for some things we've been able to take for granted. And I believe life will become more meaningful and will feel richer in so many ways.
Until next time, stay safe everyone. And remember, this is just for now, or a little while longer. Keep your spirits up!
Rap~
© Paul Rappaport 2020