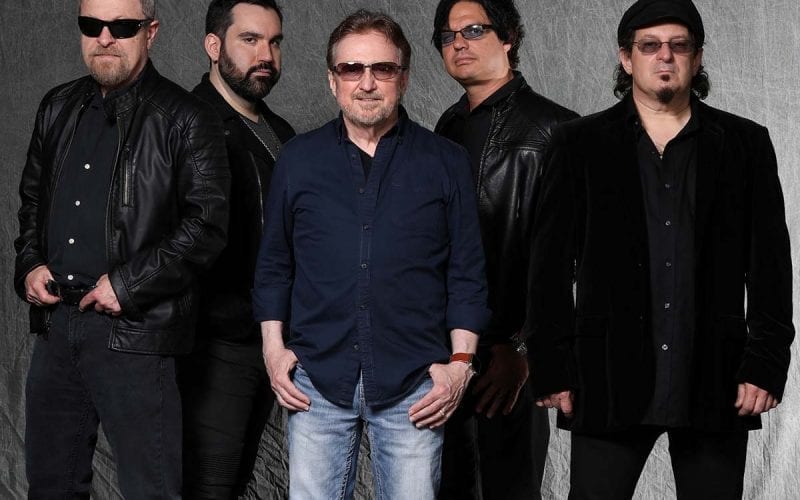 This October 9th Blue Öyster Cult will make rock history by releasing one of their best albums ever! Not many rock artists can make that statement during the later stages of their careers. I have heard the advance release, and if you like rock, and the way it's supposed to sound and feel, you are going to have your mind blown!
It's difficult for most artists to really uncork something of import later in their careers.
Everything is so different, the culture has changed, they have changed. They are not in the same place in life that they were when first starting out with something to prove, full of piss and vinegar. As long careers turn into businesses, and playing your hits on the road becomes your normal fare, for some artists the urgency to keep fresh and always moving forward is stunted.
There are a few rock artists who have defied the odds. David Gilmour, for example, is always pushing himself to keep learning, remain fresh and move himself to the next level. Bob Dylan, Joe Walsh, Neil Young and The Who, are a few other examples of artists who have made new albums in the later stages of their careers, which are quite formidable. Now, it's Blue Öyster Cult's turn to take the spotlight, and they have delivered in a most incredible way.
BOC, as many fans like to refer to them, may not be a household name like The Who or ZZ Top, but their special brand of sci-fi, intellectually philosophical hard rock/heavy metal music has them still touring to this day, and with a fairly large following. Indeed, in their heyday, when they were an arena act and flying high off hit records like "(Don't Fear) The Reaper," "Burnin' for You," and "Godzilla," bands like AC/DC, Cheap Trick, and Aerosmith opened for them!
The band remains incredibly vibrant due to their work ethic. After all these years, every time they perform, they still bring it. When you see a live Blue Öyster Cult show, you are blown away by the energy that flies off the stage given that the two original members, front-man Eric Bloom and renowned lead guitarist Donald "Buck Dharma" Roeser have been doing this since the early 1970's. It's as if every single night they play they still have something to prove. Perhaps that something is, even though the band remains shrouded in that wonderful mysterious persona, they just don't want to live off their reputation. They are out to prove how great they still are, and how much they still matter. Add that attitude to old school professionalism, and these guys keep getting standing O's every night.
Part of their on-stage success is that the band doesn't play their hits in a rote, over-rehearsed fashion, falling into the trap of being on autopilot and sounding like a jukebox, which plagues far too many other classic rock acts. During every show, with the band continually freshening up their setlist, there is plenty of room for the musicians to step out and show-off their talent. Whether that's Danny the bass player trading impromptu licks with Buck, or the latter being forced to up his game nightly, being constantly pushed by the band's other incredible guitarist Richie Castellano. And there are more than a few songs that don't end until Buck gives the nod. He knows when they've successfully drilled the audience into that magical euphoric state. Eric Bloom still sings like he's 30 years old and Jules Radino on drums is a major league engine that continually drives the band ever forward.
Most people don't know the importance of a band's rhythm section. If the drums and bass guitar aren't really good and locked in, providing that constant beat that makes you tap your foot or bang your head, it really doesn't matter how great the rest of the band is. BOC has it all—the rhythm force of Jules and Danny, the lightning riffs of guitar great Richie Castellano, the thoughtfully musical and uniquely talented Buck Dharma's renowned guitar phrasings, and Eric Bloom rounding out the whole picture as he and Buck trade lead vocals with those familiar voices we've known for all these years.
And that is precisely why the new record now. This latest incarnation of the band with Richie, Jules, and Danny, along with original members Eric and Buck, is so hot and has been so finely tuned with continual outstanding performances on stage (these guys still do over 80 dates a year) they just had to record it. They did, and Blue Öyster Cult captured lightning in a bottle!
Check these out! The first two advance tracks off the forthcoming release The Symbol Remains.
"That Was Me" Music Video
"Box In My Head" Music Video
These songs are really great and the power of the vocals and music sounds like the tracks could have been recorded in the mid 1980's. And yes, that is a cameo appearance by original drummer, Albert Bouchard playing "more cowbell." And the best part about all of this is, it's just the tip of a huge iceberg. Hence this blog is only Part 1. I will write more when the album is released early October.
Of all the bands I ever worked with, these guys are like family to me. It was one of the first bands I ever took under my wing as a promotion man and with their talent, both live and on record, I was able to help jumpstart their career.
It was January of 1972 and I was in my second year working for Columbia Records as the local album promotion man for Los Angeles and surrounding areas. The cool thing was back then, aside from working the priority projects, the higher-ups didn't mind, and in fact appreciated, if you decided to go out on your own to see if you could make something happen.
A lot of albums were released by the label in the early 1970's and not all of them came with a marketing or promotion plan. One day I was sitting at my desk in the Hollywood office and a new stack of albums were brought in. I was looking through them when I saw this: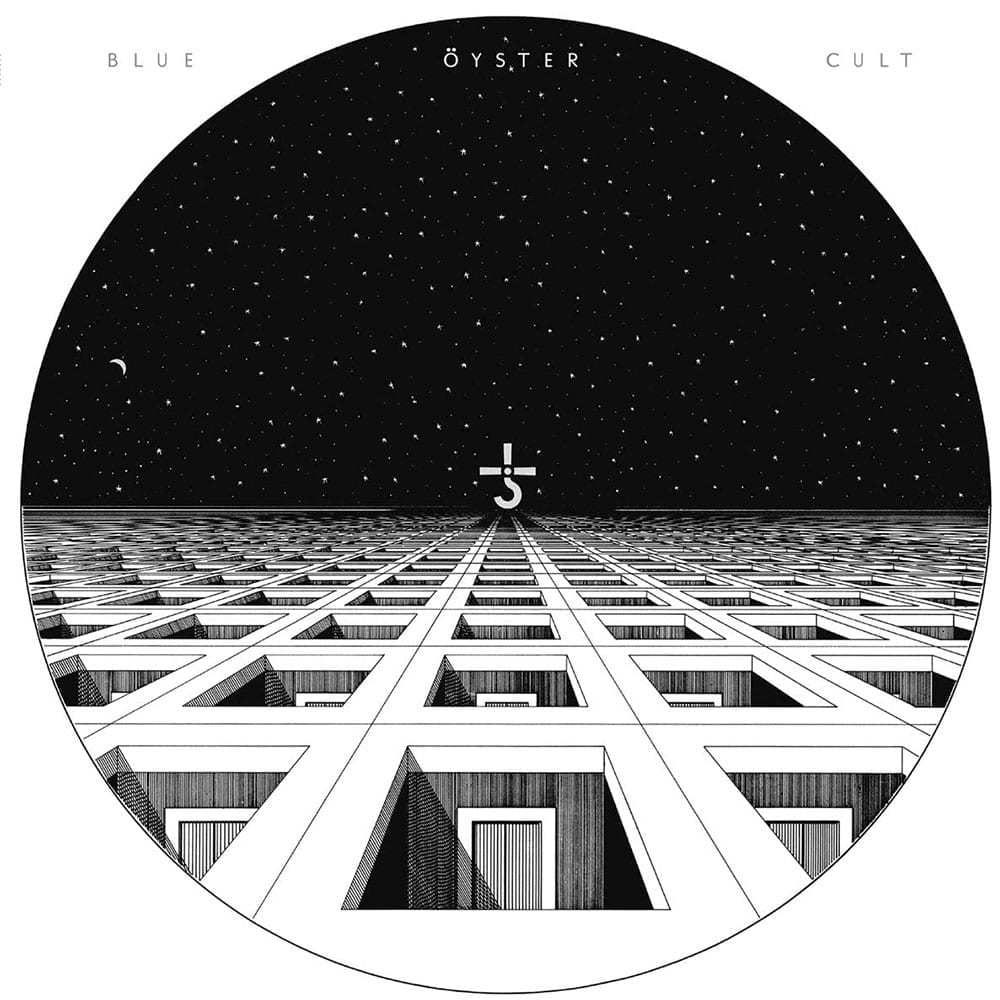 'Holy f*ck, who are these guys?!' I wondered. I was even more intrigued when I saw some of the song titles. If you saw titles like, "Transmaniacon MC," "Cities on Flame with Rock and Roll," "Before the Kiss, a Redcap," "Workshop of the Telescopes," and "She's as Beautiful as a Foot," you'd probably be pretty intrigued yourself.
I put the record on and the music was like I'd never heard before. It was hard rock, it was metal, but not in the traditional sense, a la Black Sabbath. Some of the guitar phrasings and riffs sounded like they came from another world. The band sounded like the album cover looked–deep, menacing, trippy, and the lyrics were very alluring.
I absolutely loved it and immediately took the album to my new friend Ron McCoy who was the program director of KNAC-FM in Long Beach, and who also did a day-time shift on the air. Serving the Long Beach and Orange County areas, KNAC did not have to compete with Los Angeles' more tightly playlisted FM stations like KMET and KLOS. Ron was more amenable to playing brand new bands he liked and turning his audience on to new music before it became popular. He had an ear for all good things musical. Ron was a very talented guitar player in his own right, and had been a child star as a country artist with a "stage sister" who recorded and toured under the name The McCoys. Now he was running a rock station and well into the popular rock acts of the day. I had a notion he would be impressed with The Blue Oyster Cult. He was, and upon hearing the album he added a couple songs to his daily show.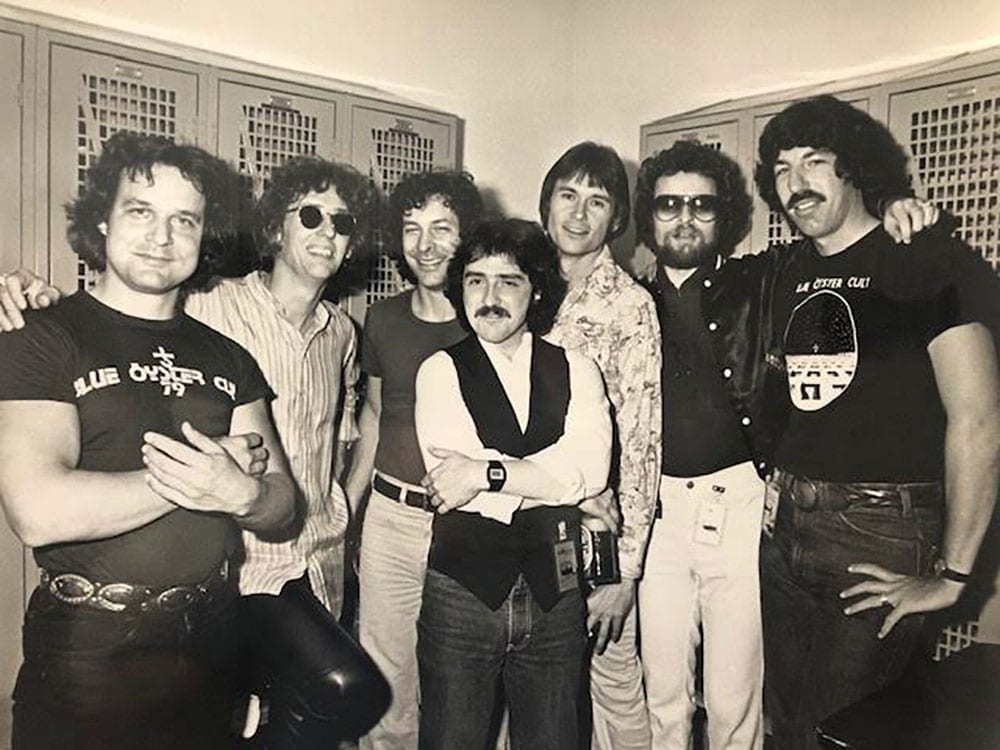 Ron got some decent response from listeners to this new music, but the game changer came when I was sent a test pressing of a live show the band had recently recorded. The performance was so hot the label decided to release its own bootleg EP of four live tracks. Amongst the four was a searing instrumental called "Buck's Boogie." The album had been a good intro for the band, but the live stuff was over the top. It was heavy and hard-driving, you could feel the energy this band was unleashing. And when Buck was let loose to improvise solos, it was clear that not only was this band destined for stardom, but Buck Dharma was a guitar God.
The Blue Oyster Cult Bootleg EP was released right on the heels of their first album. It was for radio airplay only and to also further their reputation as a band coming on strong in their live performances. I brought the EP over to Ron. He not only added all four tracks to his playlist, he began to play the living shit out of "Buck's Boogie." With all that BOC music on KNAC we began to sell Blue Öyster Cult albums in the Long Beach and Orange County areas.
I knew the next step to breaking the band would be an in-person live performance. But rather than trying to have an agent book them in a club or as an opening act, I proposed to Ron and the station owners Jim and Claudia Harden that since they had taken a chance on a new band and were reaping success from their airplay, that they should consider promoting a show, and after paying the band, they should be the ones reaping some benefits, instead of turning it over to a local promoter.
They liked the idea and then did me one better. The response to the music was now so strong, they decided to go big — they rented out the Long Beach Arena! This turned out to be even a better idea than I first thought because if they were going to try and sell that many seats, they would have to put even more Blue Öyster Cult music on the air, and in ultra-heavy rotation. They did, and tickets started to sell like hotcakes.
I figured if the label was going to go to the effort to fly the band and their equipment out for this show, we should do another in San Diego. I had made a new friend down there as well, Mike Harrison, who was running KPRI-FM. He'd built the station into a monster and liked what he saw happening in Long Beach. He added the music and rented out Golden Hall which held 6,000 people, for a show to be held two days after the Long Beach show. Now I had two stations playing the hell out of the Blue Oyster Cult and two shows selling tickets.
I wanted to do some kind of event marketing for the Long Beach Arena show, something so big it would draw citywide attention. I loved the BOC logo, kind of an upside-down question mark. In fact, it is the Greek symbol for chaos. I decided I wanted to project it, huge, on the side of the Long Beach Arena the night of the show, just like Batman's Bat Signal. It would gather attention from those driving by and perhaps even spawn more walk-up ticket sales. In those days modern projectors to accomplish something that big didn't exist. The only way to do it would be to cut out a steel plate with the logo and put it inside a Super Trouper spotlight that ran by burning a hot carbon rod inside. If you focused the spotlight the image could be a fifty by fifty-foot square or even larger.
It was something that had never been done before. To cut out the logo from steel would be extremely difficult, as it's the hardest metal there is. A friend turned me on to a guy who had his own foundry and, who agreed to try. His name was Jake Monroy and when he looked at me with wild eyes and said, "I really want to see if I can do this, because "I LOVE STEEL," I knew I had met the proper madman for the job.
Well Jake pulled it off, and the night of the show I gave the thick metal plate with the cutout BOC logo to the man working the huge Super Trouper on the outside of the arena. He placed it inside the lighting tube, lit the carbon rod, adjusted the lens, and voila, the logo lit up over fifty feet high and just as wide beaming across the arena wall. All the kids waiting in line outside starting cheering—cars in the parking lot started honking their horns. All of a sudden there were chants of "BOC! BOC! BOC!" The Blue Oyster Cult "Bat Signal" was so f*cking huge you could see it plainly from Ocean Boulevard, the main drag in front of the arena. With so much traffic, curiosity did bring a fair number of people to the venue and plenty more drove past now wanting to know what it was all about.
The band killed it that night. It was the first large size venue they'd ever played and they showed they could handle the big stage. We knew we probably wouldn't sell the entire arena's twelve thousand seats but I think the final count was close to eight thousand, which was a huge success.
Two nights later they repeated the feat in San Diego where they played two back to back sold-out shows at Golden Hall. The debut Blue Oyster Cult album was really starting to sell now at a good clip. With so many records selling in the area KMET and KLOS were forced to play this new and exciting act — even better, they began to understand the band's appeal and liked the music. The band was now, "broken" as we say in the biz, meaning well established, in the Los Angeles and San Diego areas.
Blue Öyster Cult blowing up so big in one of the largest markets of the country got the attention of local promoters all across America and they began to immediately book the band in healthy large theater size venues. Other rock stations across the country took notice and started to play the new album. BOC had arrived.
A year later the guys came back on a second tour. While they were in Los Angeles, I came around to a rehearsal to say hi and get reacquainted. I used to love talking guitar with Buck and was always interested in what new models he was playing. In a small office just outside the rehearsal hall, the band's colorful manager, Sandy Pearlman, sat me down and told me to open a black Gibson guitar case that was sitting in front of me. There, lying like a beautiful sleeping princess surrounded in deep purple velvet, was a 1962 red-wine Les Paul Junior guitar with a black P-90 pick-up on it. Sandy said, "Go ahead, you have Donald's permission to check-it out." The guitar had a gorgeous neck, a little wider and thinner than a typical Les Paul Standard. The action was incredible, it played like butter.
"Wow, Buck's one lucky guy, this thing's amazing."
"You really like it? Well, it's yours—a present from me and the band for everything you've done to really help explode our career."
I was dumbfounded — totally speechless. I remained in a complete daze as I went around and thanked every member of the group. A genuine bond developed and we became good friends.
The Passing Of Sandy Pearlman – One Of The Most Eccentric Characters Of All Time
I spent many years on the road with the guys and I promoted all of their albums from the beginning, when I was L.A.'s local album promotion man, through when I would become the head of national album rock promotion for Columbia Records in New York.
We're still friends to this day. In fact, I live five minutes away from Eric Bloom in the same town on Long Island, and I still have that fabulous Les Paul.
We had lunch together the other day after he played me the new record. It was pretty amazing after all these years to be looking across the table at one another. So much life passed, kids all grown up and with kids of their own. And yet, because we were lucky to grow up during a magical time in the music business, we have remained just big kids ourselves. The rock star and the record exec — still at it.
So, I have to admit to being a bit biased when I write stories about Blue Öyster Cult. But I am so excited about the release of this new album. Not just because we're friends but because I am so incredibly proud of them. These guys have really pulled one out of the hat.
I will write more about the album itself when it's released. But if you choose to pre-order it, I guarantee you there is so much great music on it, you will be glad you did!
Until next time keep rockin',
Rap~
© Paul Rappaport 2020