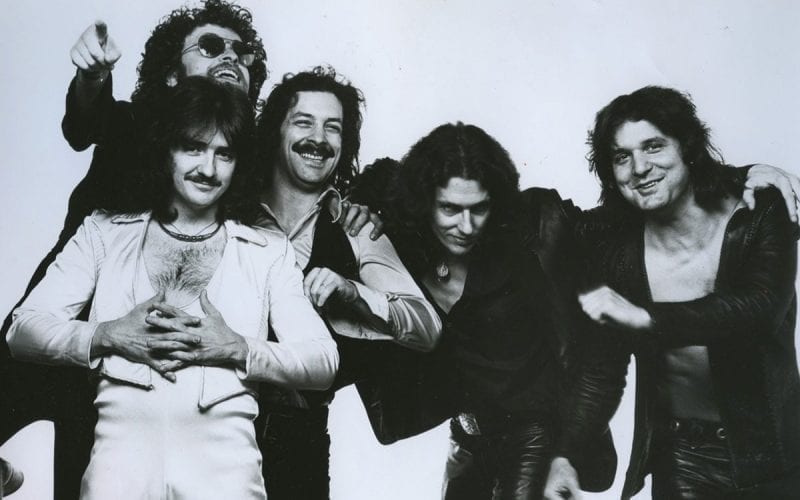 It never fails. In this business you eat a late lunch but then have to run to catch a show. You get there in time to meet the band but then the show starts and you're starving.
Dressing room food is usually meager as best. Tonight I tried my luck at the Best Buy Theater snack bar. The two items that looked the best were the Sun Chips and the Gummy Bears—yep, another rock and roll dinner—ugh!
But the 40th Anniversary Blue Oyster Cult show WAS F*CKING KILLER!!! After 40 years this band still brings it and they are playing better than ever.
The highlight for me was when all the original members gathered at the end of the evening for a few songs and they launched into "The Red And The Black"!! OMG, it was stellar!!
I go wayyyyyyyyy back with these guys. I was just a young promotion man working for Columbia Records in Los Angeles when one day an album shows up with the most far out cover I'd ever seen, and the name of the band was equally out there.
I got into the music and really wanted to help make them happen.
I turned my buddy, Ron McCoy, the program director of Long Beach's rockin' KNAC on to the band and he started playing them. He got listener requests, so he played them more.
I decided to put on a big concert at the Long Beach Arena for the band and approached the husband and wife who owned the radio station. I said, "Look, I can go to the local promoter and set this up, but why don't you rent out the arena and promote the show yourselves and YOU make all the money!!" They thought that was a brilliant idea. In order to sell tickets they asked Ron to play the Blue Oyster Cult all that more often on their radio station which, in turn, not only sold tickets, but plenty of more albums as well!
I wanted to do something spectacular so I had their famous logo cut out on a steel plate, then put it into a Super Trouper spotlight, and projected it on the side of the Long Beach Arena—it had to be at least 100 feet by 100 feet!—the entering crowd went nuts when it lit up, and traffic along Ocean Blvd. turned into a bonnified traffic jam as everyone slowed to check it out!
The whole thing was a huge event. It turned out to be the biggest show the band had played to date. We did a similar gig in San Diego two nights later with Mike Harrison at KPRI.
After that, the band was seen as a larger venue size act, and their career really started to take off.
The band are all great guys and we became friends.
On their second tour they came to town and wanted to show me a cool guitar they had just picked up—it was a 1962 Les Paul Jr. I was always interested in what guitars Buck was playing and from time to time he'd show me a lick or two.
They knew I was a player and would really appreciate this fine instrument. So, I picked it up out of the case and started playing it—what a fabulous feel and look. I told Buck he had really found himself a nice piece. They said, no that's not Buck's guitar—that's YOUR guitar! We can't thank you enough for all you've done for us. Really man, thanks for everything—enjoy!
Wow, I was totally overcome. In this business you don't get many thank-you's. This one was a doozer!! It was my favorite go-to guitar for years and years and I enjoy playing it to this day–the neck is a bit wider than most but also thinner. So the action is very fast and it has an original hand wound P90 pick up!
Every now and then and I will tell you when I believe there is a good piece of product worth buying. This is definitely the case for the new Blue Oyster Cult 40th Anniversary box set the "Complete Columbia Records Collection"! You get all the albums newly mastered, plus rarities discs with some really cool tracks on them, download cards for some great live concerts, and a DVD! It's like 17 discs in all, for only a little over 100 bucks! So much great stuff for such a reasonable price.
My friend Bruce Dickinson put it all together and he did a fabulous job.
You should definitely buy it, and then crank up The Red And The Black!
Are you hip to Absinthe? It's a green, distilled, highly alcoholic 90% proof anise flavored spirit derived from botanicals (wormwood oil). Painters like Van Gough and writers from back in the day used to get high on it—claimed if you drank enough of it you'd see green fairies and the like. It's very trippy stuff, outlawed here in the States (I get it from friends in France), and there's a great ritual where you slowly drip ice water over a sugar cube on a special Absinthe spoon laying across the top of your glass (about 6 to 8 parts water per 1 part Absinthe). Anyway, if you drink enough you will get really stoned, maybe even hallucinate—in some ways similar to a Jagermeister high in my opinion.
Anyway, the point I want to make is that the Blue Oyster Cult are the Absinthe of rock and roll! Something so trippy and unique yet packs an all-powerful punch that takes you to very far away places.
Nothing else is quite as exquisite as this band in rock. THAT IS WHY THEY SHOULD DEFINTITELY BE PLACED IN THE ROCK AND ROLL HALL OF FAME—somewhere between, Lou Reed and the Velvet Underground, Patti Smith, and Black Sabbath.
As the stage announcement has bellowed for years…"HERE THEY ARE FROM NEW YORK CITY, THE AMAZING BLUE OYSTER CULT!!"
Rock on guys,
Rap