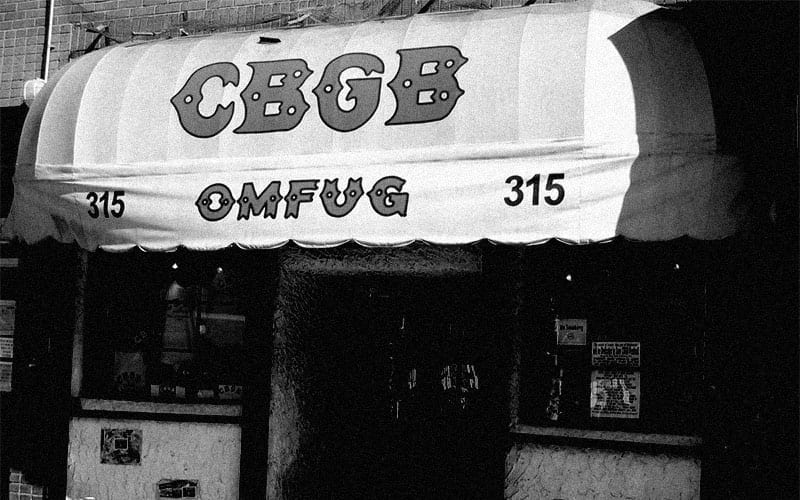 October 15, 2006 – Patti Smith headlines the final night of the infamous club, CBGB in New York City, which closes due to $300,000 owed in unpaid back rent. She says, "CBGB is both the scrappy symbol of rock's promise and a temple that no one wanted to see go." With an open booking policy, its founder, Hilly Kristal, nurtured New York rock's greatest generation, including the Ramones, Blondie, Talking Heads, Television and Sonic Youth, and in turn those groups made CBGB one of the few rock clubs known by name around the world.
October 15, 1996 – Tommy Lee of Mötley Crüe is charged with assault for attacking cameraman Henry Trappler who took pictures of Lee and his then-wife Pamela Anderson Lee as they were leaving Hollywood's Viper Room. Lee attacked Trappler, who was treated at the hospital for a broken pelvis. Lee is eventually sentenced to four months in prison.
October 15, 2003 – Bruce Kulick, who played guitar with Kiss from 1984 to 1995, is shot in the right leg in front of the Rainbow Bar and Grill in Hollywood. A second bullet grazes the left side of his head. The shooting occurs at 1:20 a.m. following a heated argument outside the club. Minutes after the altercation, the 21-year-old suspect returns with a 9-mm handgun and starts firing indiscriminately into the crowd. Kulick, who is standing in front of the club at the time, was not the intended target of the shooting, according to police. The gunman is later sentenced to 10 years in prison and Kulick completely recovers.
October 15, 2003 – Mike Smith, the former lead singer of The Dave Clark Five, suffers a fall at his home in Spain. While trying to climb a 7-foot gate after locking himself out of his villa, Smith fell heavily on his head and cracked his spine in three places. He was left permanently paralyzed from the waist down and in his right arm, with very little movement in his left arm. He would remain a near-quadriplegic until his death in 2008 from pneumonia, a complication of the original injury.
October 15, 1979 – John Lennon and Yoko Ono donate $1,000 to provide bulletproof vests for New York City policemen. The city had been too financially strapped to provide officers with proper protection.
12 Rock & Roll Romances That Inspired the Music
October 15, 1973 – Keith Richards and his partner Anita Pallenberg are both charged with possession of heroin and intent to traffic following a police raid on Nellcôte, their rented villa in Nice, France. Keith is banned from entering France for two years, which means no touring there for the Rolling Stones.
October 15, 1973 – The U.S. Supreme Court upholds a 1971 FCC directive that bans radio stations from playing songs that glorify drug use in a 7-2 vote.
Classic Rock Birthdays
October 15, 1941 – Don Stevenson, vocals, drums (Moby Grape)
Rock Remembrances
October 15, 2020 – Gordon Haskell, best known in the U.S. for his work with King Crimson, dies of cancer. He was 74. Haskell replaced Greg Lake as vocalist and bassist of King Crimson in 1970 for two albums. He later had a massive solo hit in the UK in 2001 with "How Wonderful You Are" – knocking "Hey Jude" and Frank Sinatra's "My Way" out of the top requested slots ever at BBC Radio 2.
October 15, 2004 – Bill Eyden, a session drummer, dies after a lengthy illness. He was 74. Eyden was hired to play on Procol Harum's "A Whiter Shade Of Pale." Beginning in the late 60's he played with many of the jazz greats in England and ended his career as a member of Bill Le Sage's Bebop Preservation Society.