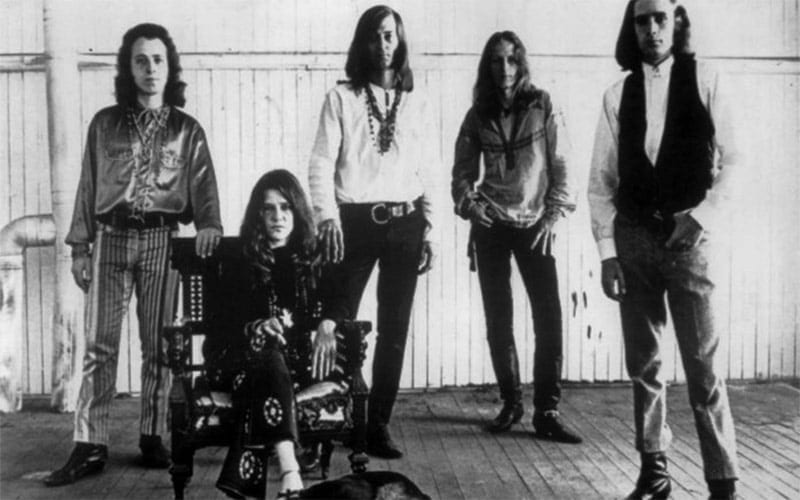 Of course the blues have influenced rock 'n' roll, well,… ever since there's been rock 'n' roll! But, you may not know that many of the songs you know and love were actually initially recorded back in the 1930's. In fact, some songs on the list may date back hundreds of years! Here's a good starter list for your new "Blues Rock" playlist.
01

"Back Door Man"

Original version: Howlin' Wolf
Covered by: The Doors

This classic Chicago blues style track was written by the prolific Willie Dixon. Released in 1961 as the B-side to "Wang Dang Doodle," the song references a man having an affair with a married woman and having to leave by "the back door" when her husband came through the front door.

The Doors gave the song a different sexual meaning in their cover released on their debut album in 1966. Led Zeppelin also referenced the song in "Whole Lotta Love" in 1969: "Shake for me girl, I want to be your back-door man."
---
02

"Black Betty"

Original version: Lead Belly
Covered by: Ram Jam

"Black Betty" was recorded in the 1930's by musicologists John and Alan Lomax for preservation in the Library of Congress' Archive of American Folk Songs and was officially recorded by Lead Belly in 1939. But, the first versions of the song were from unknown African-American folk artists.

The term "Black Betty" may refer to whiskey or a bottle of liquor, but other meanings have also been mentioned included it being a reference to a musket, a leather whip, or a jail wagon. Ram Jam's version became a rock classic in 1977, although there were initially calls for a boycott due to the lyrics.
---
03

"Crossroads" or "Cross Road Blues"

Original version: Robert Johnson
Covered by: Cream

Has any other blues musician had more of an influence on music than Robert Johnson? Of course, the legend is that Johnson sold his soul to the devil so he could be the best guitar player in the world. And supposedly, the place where this happened was at the "Crossroads."

Listening to the original, it's hard to deny his talent. Cream recorded several blues standards but their version of "Crossroads" became one of their most well-known songs. Eric Clapton even got a big nod from Rolling Stone when they ranked it at #3 on their "Greatest Guitar Songs of All Time" list, in recognition of Clapton's guitar work.
---
04

"I Can't Quit You Baby"

Original version: Otis Rush
Covered by: Led Zeppelin

Yet another song written by Willie Dixon makes the list, becoming a hit for Otis Rush in 1956. Led Zeppelin later covered the song for their debut album in 1969, the second Willie Dixon song on that album. Zeppelin performed the song live regularly during their early years, and Rush's original single was inducted into the Blues Foundation Hall of Fame in 1994.
---
05

"Piece of My Heart"

Covered by: Big Brother and the Holding Company
Original version: Erma Franklin

One year before Big Brother and the Holding Company (led of course by lead singer Janis Joplin) released "Piece of My Heart" in 1968, the original version was released by singer Erma Franklin, Aretha Franklin's older sister. The song went to #10 on the R&B charts, but Joplin's version became her signature song and biggest chart success. Interestingly, Franklin's single was released again in 1992 in the UK, after a successful run in a Levi's commercial, and peaked at #9 on the pop charts.
---
06

"Statesboro Blues"

Original version: Blind Willie McTell
Covered by: The Allman Brothers

Unbelievably, "Statesboro Blues" was first released in 1928 by Blind Willie McTell, who favored using twelve-string guitars, which was quite unusual for the time. The song is written in a "Piedmont" blues style, which is characterized by a fingerpicking technique with a syncopated melody. The Allman Brothers made the song famous (it's ranked #9 on Rolling Stone's list of the "100 Greatest Guitar Songs of All Time"), and a staple of their live shows.

Bob Dylan was such a fan of McTell that he wrote up to four songs about him, including "Blind Willie McTell" in 1983.
---
07

"Sweet Home Chicago"

Original version: Robert Johnson
Covered by: Foghat

Although Johnson died at the young age of 27, he gave the world many blues standards, including "Sweet Home Chicago," first released in 1937. Virtually every blues artist in the world includes this one in their repertoire, as do many rock acts. We chose Foghat as our favorite cover, although we could have easily picked Stevie Ray Vaughan, Eric Clapton, Fleetwood Mac, or a host of others.
---
08

"The House of the Rising Sun"

Original version: Unknown
Covered by: The Animals

This classic folk song has unknown origins, perhaps even dating back into the 17th century. The oldest known recording of the song (called "Rising Sun Blues" at the time) came out in 1933 by Appalachian artists Clarence "Tom" Ashley and Gwen Foster. The Animals released the song in 1964, and it was famously recorded in just one take. The song rocketed to #1 in the U.S., the UK and France, and became one of the most covered songs in history.
---
09

"Time Is on My Side"

Original versions: Kai Winding & his orchestra, Irma Thomas
Covered by: The Rolling Stones

First recorded in 1963 by jazz trombonist Kai Winding and his orchestra (with backup vocals from Dionne Warwick and Cissy Houston), the song came to prominence in 1964 when Irma Thomas recorded her version with expanded lyrics by songwriter Jimmy Norman. The Rolling Stones released their cover in 1964 on the 12 X 5 album. It became their first Top Ten hit in the U.S.
---
10

"When The Levee Breaks"

Original version: Kansas Joe McCoy and Memphis Minnie
Covered by: Led Zeppelin

McCoy and Minnie were a husband and wife duo who first recorded this song in 1929. The lyrics referred to the Great Mississippi Flood of 1927 which killed hundreds and forced several hundred thousand people to evacuate their homes. Led Zeppelin placed the song on side two of Led Zeppelin IV, as the last track on their 1971 release. Page called the song "the most subtle thing" on the album, which became one of the best-selling records of all time, certified 23X platinum in the U.S. alone.
---
11

"You Shook Me"

Original version: Muddy Waters
Covered by: Jeff Beck Group, Led Zeppelin

The origins of this song are quite complicated, although it was inarguably brought to prominence in 1962 by Muddy Waters. Waters actually overdubbed vocals onto an Earl Hooker instrumental titled "Blue Guitar." Hooker at the time was unaware he had even been recorded when he was playing the riff. Willie Dixon later added lyrics for Waters.

Jeff Beck and Rod Stewart recorded the song in 1968 for the Jeff Beck Group album Truth. Interestingly, Zeppelin's John Paul Jones (who was a studio musician at the time) played organ on the song. Zeppelin recorded the song for their own debut album in 1969, and were accused of stealing aspects of Jeff Beck's version.
Backstage Access:
Are Modern Day Blues Players Losing the Plot?