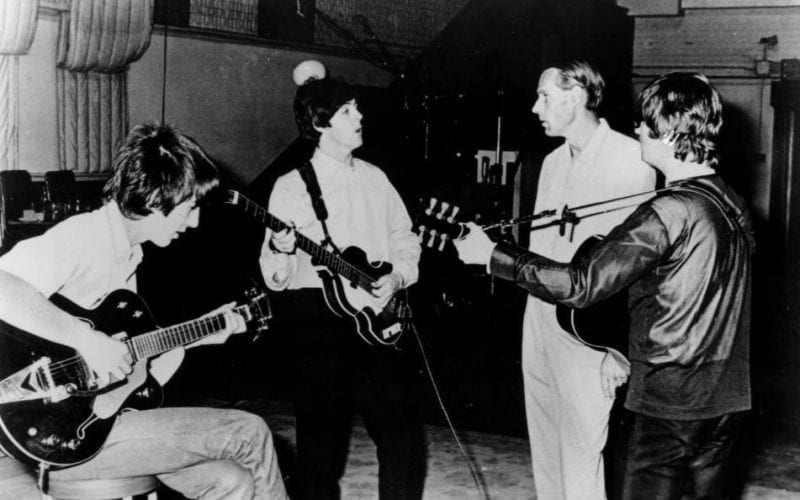 "Scrambled eggs. Oh, my baby, how I love your legs. Not as much as I love scrambled eggs."
Paul McCartney once sang those words with Jimmy Fallon to the tune of "Yesterday" on Late Night with Jimmy Fallon, putting Fallon in rarified air singing the original lyrics with the man who wrote them. (If you haven't seen it, you can watch it in the player below).
Until Fallon got McCartney to go along with the idea on that December night in 2010, Paul had really only ever sung "Scrambled eggs. Oh, my baby, how I love your legs. Not as much as I love scrambled eggs" as a placeholder — nonsense words with the right number of syllables to fit the melody — until he replaced them with, "Yesterday, all my troubles seemed so far away. Now it looks as though they're here to stay."
Various accounts all seem to say that the melody to "Yesterday" came to Paul McCartney when he was still 21, perhaps in the weeks between JFK and Ed Sullivan. And there is no debate about where the melody that drives the #1 pop song of all time (according to both MTV and Rolling Stone) came from: McCartney heard it in a dream. Later, Keith Richards received the guitar lick and title line of "(I Can't Get No) Satisfaction" in his sleep; Richards had no recollection of having recorded that lick mid-snooze, though, while Macca's experience went a different direction.
"I woke up one morning with a tune in my head," Paul has said, "and I thought, 'Hey, I don't know this tune — or do I?' It was like a jazz melody. My dad used to know a lot of old jazz tunes; I thought maybe I'd just remembered it from the past. I went to the piano and found the chords to it, made sure I remembered it and then hawked it round to all my friends, asking what it was: 'Do you know this? It's a good little tune, but I couldn't have written it because I dreamt it.'"
"The song was around for months and months before we finally completed it," John Lennon once said of the McCartney-penned tune (credited to Lennon-McCartney). "Every time we got together to write songs for a recording session, this one would come up. We almost had it finished. Paul wrote nearly all of it, but we just couldn't find the right title. We called it 'Scrambled Eggs' and it became a joke between us. We made up our minds that only a one-word title would suit, we just couldn't find the right one." It was Lennon who, according to McCartney, eventually came up with "Yesterday" as the single word to replace "Scrambled Eggs." The late Beatles producer George Martin recalls having to sell Paul on the idea that "Yesterday" was a good title for the song. "He thought it was perhaps too corny. I persuaded him that it was all right."
In late May of 1965, McCartney and his girlfriend, Jane Asher, flew off to holiday on the Portuguese coast. On the way from the airport to their borrowed villa, Paul finished the lyrics to "Yesterday," scribbling them on an envelope in the back of a chauffeured car. He still has that envelope, he told Howard Stern.
On June 14, 1965 — four days before McCartney's 23rd birthday — "Yesterday" was recorded at Abbey Road Studios. The Beatles did try it with drums and even with Lennon on Hammond organ, but Martin thought it best to keep it simple. In the end, it's nothing more than McCartney's Epiphone Texan steel-string acoustic guitar and a string quartet supporting his voice. "We agreed that it needed something more than an acoustic guitar, but that drums would make it too heavy," Martin remembered. "The only thing I could think of was strings."
Paul performed just two takes that day, with take 2 being the winner. Three days later he laid down one more vocal as the string quartet played a score he'd written with Martin; that was then overdubbed onto take 2, and it was finished.
10 Non-Beatles Hits Produced by George Martin
With McCartney as the only Beatle performing on it, the band vetoed releasing it as a single in their native England. Instead, it was simply included on the Help! album in most of the world in the summer of 1965 (in the United States, it first appeared as a stand-alone single that September). Oddly, because The Beatles didn't issue "Yesterday" as a single in the United Kingdom, Matt Monro wound up having the first hit with it over there; his recording went Top 10 in the UK in the fall of 1965, around the same time that it was hitting #1 in the US. Monro was the first to cover it, but many have followed; "Yesterday" is one of the most recorded songs in history with more than 2,000 covers.
"It was fairly mystical when I think about it," McCartney has said. "It was the only song I ever dreamed."
Paul McCartney & Jimmy Fallon Sing "Scrambled Eggs" to the Tune of "Yesterday"