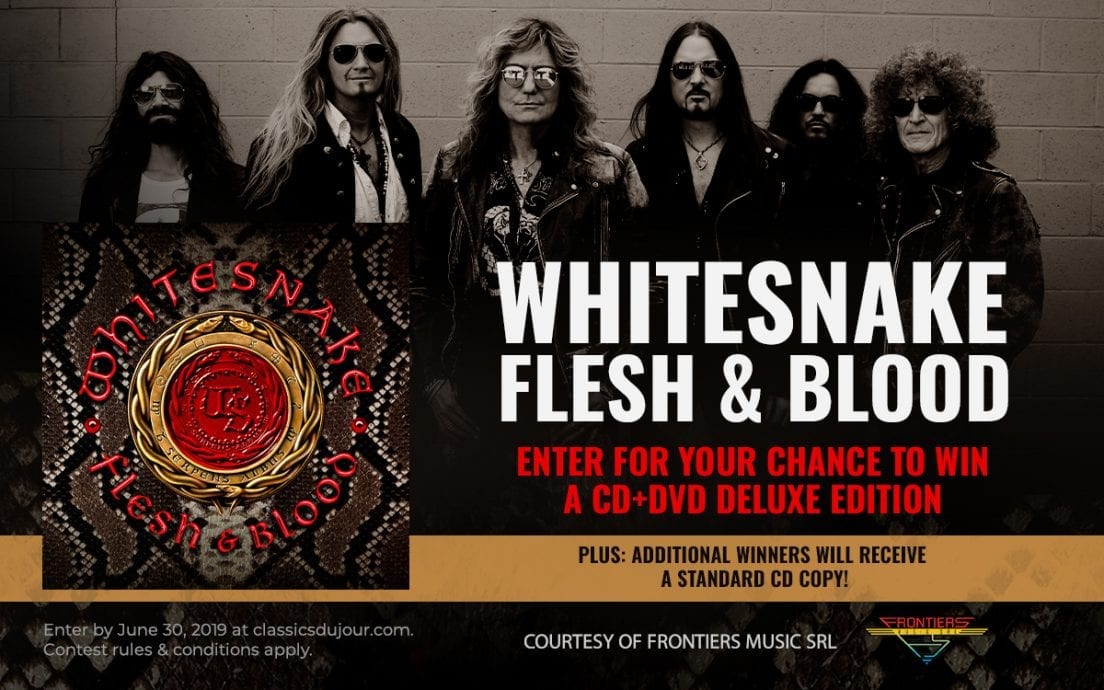 Enter for your chance to win Whitesnake's new album FLESH & BLOOD in Deluxe CD+DVD Edition!
Fresh off celebrating their 40th anniversary, rock legends Whitesnake return with their latest studio album, Flesh & Blood. This album follows the 2011 critically acclaimed studio album Forevermore and 2015's The Purple Album, a reimagining of Deep Purple classics from Whitesnake mastermind's David Coverdale's time in that band. The 13 original, visceral tracks on "Flesh & Blood", the band's 13th studio album, are "all killer, no filler", as the saying goes.
The CD+DVD Deluxe Edition of Flesh & Blood includes two studio bonus tracks (CD), "Shut Up & Kiss Me" (classic jag version) (VIDEOCLIP), "Shut Up & Kiss Me" (club mix version) (VIDEOCLIP), a behind-the-scenes of the "Flesh & Blood' video, plus three DVD audio tracks (remixes of album tracks).
Enter through June 30, 2019 for your chance to win a CD+DVD deluxe edition copy. Plus, additional winners will receive a standard CD copy!
Courtesy of
Frontiers Music Srl
Amazon
iTunes
CONTEST DATES: Jun 04, 2019 - Jun 30, 2019
---
This contest is now closed. Please
click here
to view our current contests!
Congratulations to our winners!
GRAND PRIZE WINNER:
Merrick T - Ball Ground, GA

ADDITIONAL WINNERS:
Paddy E - Las Animas, CO
Mark C - Sunset, UT
Sandy K - Independence, KY
Dana S - Steubenville, OH
Jeff W - Canal Fulton, OH
Bret A - Mckinleyville, CA
Scott A - Fountain Green, UT
Yvan M - Quebec, Quebec, Canada
Harry F - Columbus, OH