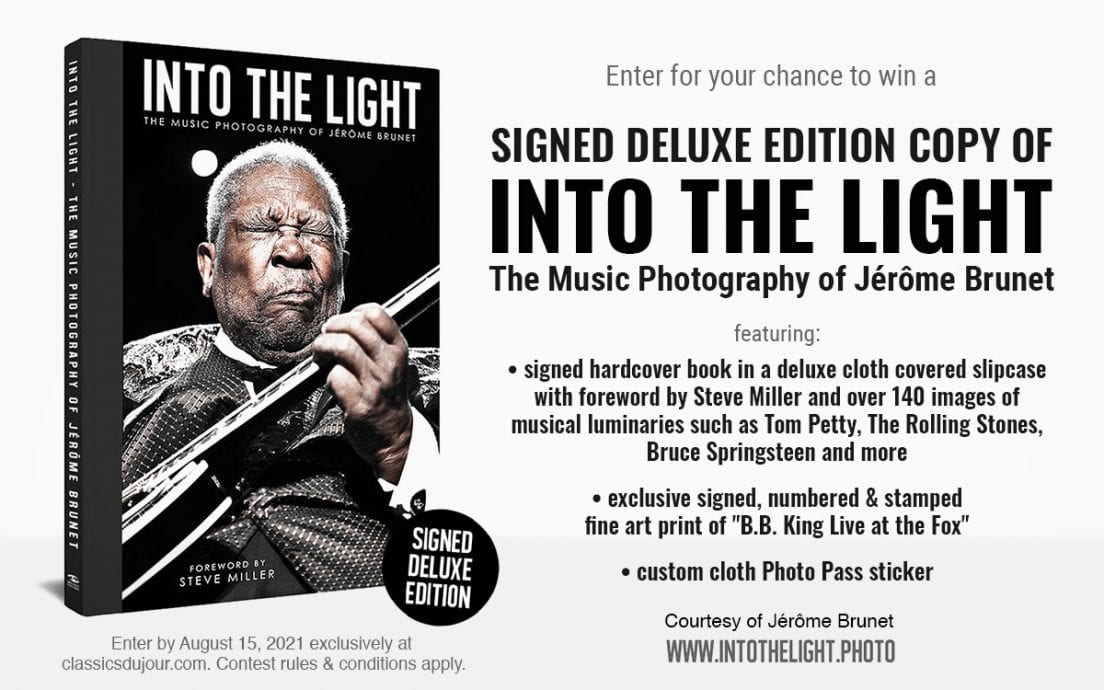 Enter for your chance to win a Signed Deluxe Edition Copy of Into The Light: The Music Photography of Jerome Brunet
Into The Light is a stunning twenty-year retrospective coffee table book by award-winning music photographer Jérôme Brunet. It features a foreword by rock legend Steve Miller and showcases more than 140 images of musical luminaries such as B.B. King, Eric Clapton, Tom Petty, Bruce Springsteen, The Who, Pink Floyd, the Rolling Stones and many more.
This signed deluxe edition includes the autographed hardcover book in a deluxe cloth-covered slipcase, an exclusive signed, numbered and stamped 8.5×11″ fine art print of "B.B. King live at the Fox" and a custom made 3×4" cloth Photo Pass sticker.
About Jérôme:
Jérôme Brunet has shot a veritable who's who in the Blues, Rock and Soul genres. His award-winning photographs have been published internationally in Vanity Fair, Rolling Stone, Time, Billboard, Popular Photography, American Photo, Guitar World, Variety and The New York Times.
"After twenty years into my journey as a music photographer I thought it was time to put my work "Into The Light" and share this collection with music and art lovers everywhere. As a musician and music fan, photography has allowed me to channel my passion and I hope you enjoy these photographs as much as I did taking them." – Jérôme Brunet
Enter now using the form below for your chance to win this beautiful coffee table book. One winner will be chosen at random.
Courtesy of Jérôme Brunet Photography and  www.IntoTheLight.photo
Into The Light is available now in standard and deluxe edition at www.IntoTheLight.photo
CONTEST DATES: Jul 16, 2021 - Aug 15, 2021
This contest is open to legal residents of the United States of America
---
This contest is now closed. Please
click here
to view our current contests!
Congratulations to our winners!
Julie S - Lakewood, CA