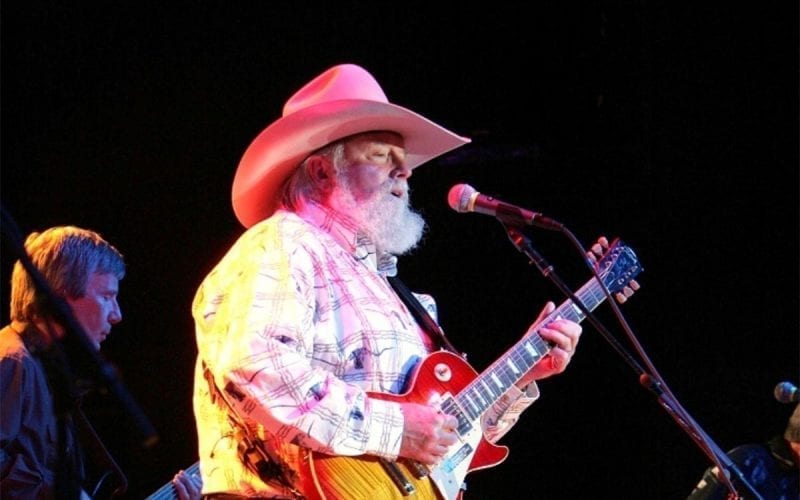 Country music legend and fiddle virtuoso Charles Daniels died Monday after suffering a hemorrhagic stroke. He was 83 years old.
Born on October 28, 1936, Charlie Daniels was a proud son of Wilmington, North Carolina and the only child of William and LaRue Daniel. According to Rolling Stone the "s" at the end of his name was the result of a mistake on his birth certificate.
After co-writing Elvis Presley's 1964 hit "It Hurts Me", Charlie Daniels made his way to Nashville, Tennessee. There, he found himself an in-demand session musician, playing fiddle, bass, and guitar for the likes of Leonard Cohen, Marty Robbins, Pete Seeger, Flatts & Scruggs, and Claude King, among others.
In 1969, he joined his "It Hurts Me" co-writer Bob Johnston in the studio to record Bob Dylan's Nashville Skyline album. He would appear on three consecutive Dylan albums. Around this same period, Daniels had his songs cut by country superstars Barbara Mandrell and Tammy Wynette. He also began work as a producer, working with the likes of  Gary and Randy Scruggs and the Youngbloods.
But Daniels was perhaps best known for his ferocious fiddle playing with the eponymous Charlie Daniels Band, which paved the way for southern rockers such as Lynyrd Skynyrd and Alabama. His crossover hit  "The Devil Went Down to Georgia" earned a Grammy Award in 1979 and spent a pair of weeks at #3 on Billboard's Hot 100. 
Daniels was a noted patriot with songs like "In America" – a response to the Iran Hostage Crisis – and "This Ain't No Rag, It's a Flag" – in response to the September 11th attacks. In 2014, Daniels co-founded the Journey Home Project which helps connects veterans with non-profits that provide health care, education and career resources.
A member of the Country Music Hall of Fame and the Grand Ole Opry, Charlie Daniels continued to perform and record music up until his death. His final album was 2018's Beau Weevils — Songs in the Key of E.